Holler at this Flight of Pilsners
I was perusing Instagram a few days ago and saw a great post from Holler Brewing. If you haven't seen it yet, please go to their twitter or Instagram accounts and find the video, it is great. I was instantly intrigued. Then he said you can get a flight of them and I was sold, so I cleared some weekend plans and headed to the brewery to have all the pilsners.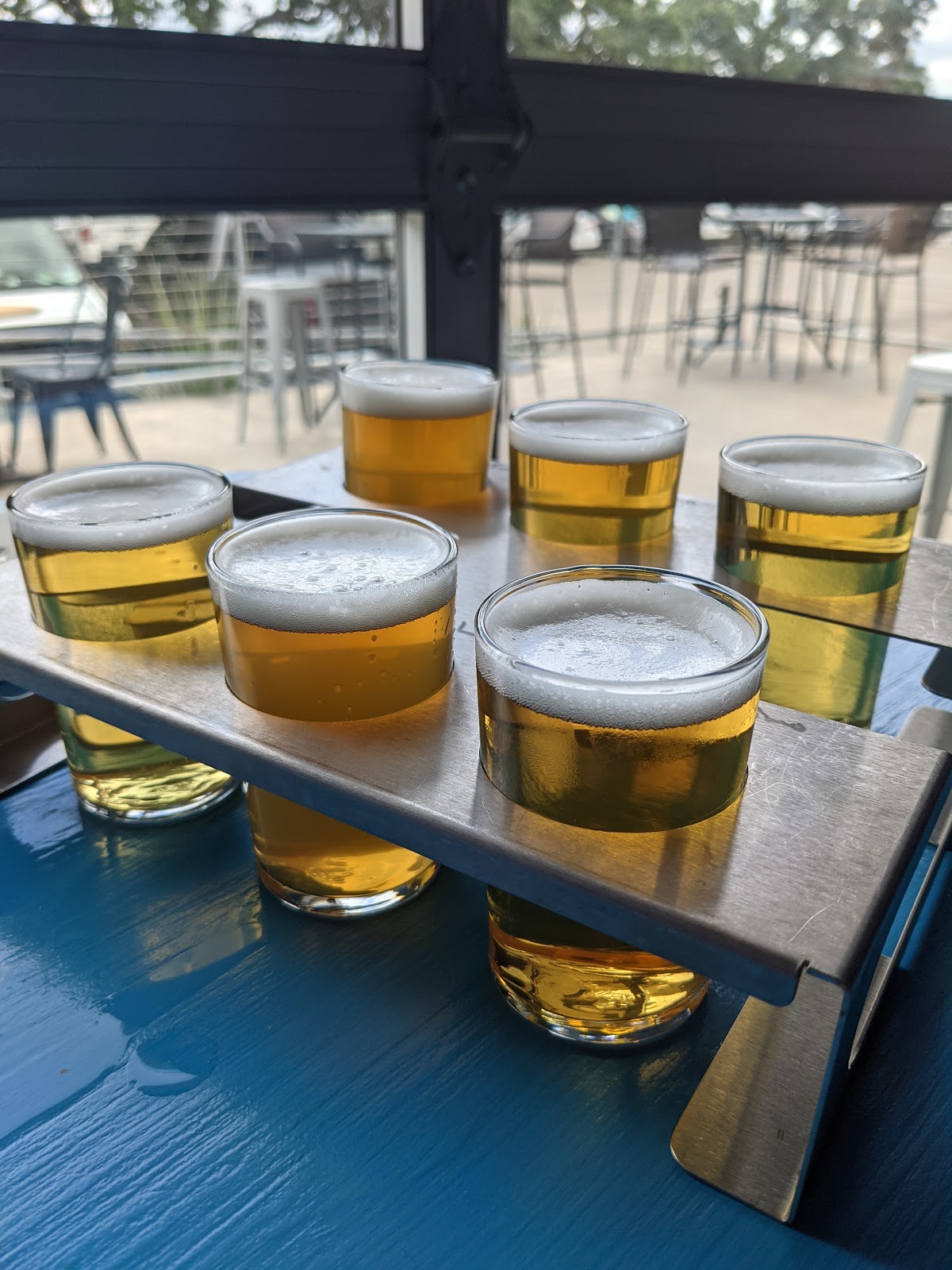 The six pilsners in question are Dollar Pils Y'all, Czech my Phone, Czech it Twice, Patio Daddy-O, Foux DU Fafa, and Bravissimo. Coming into the flight, I have had half of these, but for science I knew I had to have them again.
I started with Dollar Pils Y'all, a 5.4% ABV german pilsner that I have had many times. This is one of my favorite beers Holler does, and one of my favorite lagers in town. The nose had slight bready notes that led to a herbal brightness on the palate. It rounded out with a nice light bitterness making a crisp and easy drinking pilsner.
Next I had the Bravissimo, a 5.3% ABV pilsner made with Italian pilsner malt and Hallertau Saphir hops. This was a sweeter malt note on the nose with hints of lemony herbs. The palate was very balanced leading to a slight bitterness on the aftertaste.
I decided to stick with European for the next lager and had the French style pilsner, Foux du Fafa. This 5.7% tall glass of lager features Barbe Rouge hops and French pilsner malt. Like the previous two, this one also had a slight grainy sweetness on the nose, though here, that sweetness carried through to the taste. There was enough bitterness from the hops to keep the aftertaste dry, but not enough to leave any bitterness.
After having a few European styles, I had the pilsner I was most excited to try, the Patio Daddy-O. This 5.4% bad boy is dry hopped and brewed with Nelson Sauvin hops, that lend the light beer a great passion fruit nose. That flavor was also prominent in the taste, but was balanced by the malt. For the amount of times I've had an IPA that was smothered in those hops, it was refreshing to encounter them used tastefully and with a balanced approach. This is your modern Juice Bomb IPA drinking beer drinker's Pilsner.
I finished with the Czech my Phone and Czech it Twice. Czeck my Phone is a 5.6% Czech style lager and Czech it Twice is that with even more hops. I have had Czech my Phone before and it was what I was expecting, a nice amount of breadiness balanced by a little bitterness and herbal hops. A great example of the style and I would have told you it wasn't missing anything. Then I had Czech it Twice. With the same grain nose as the OG, but accompanied by much stronger herbal and grassy notes and a more pronounced bitterness, it scratched all the itches that I didn't know I was missing in Czech my Phone.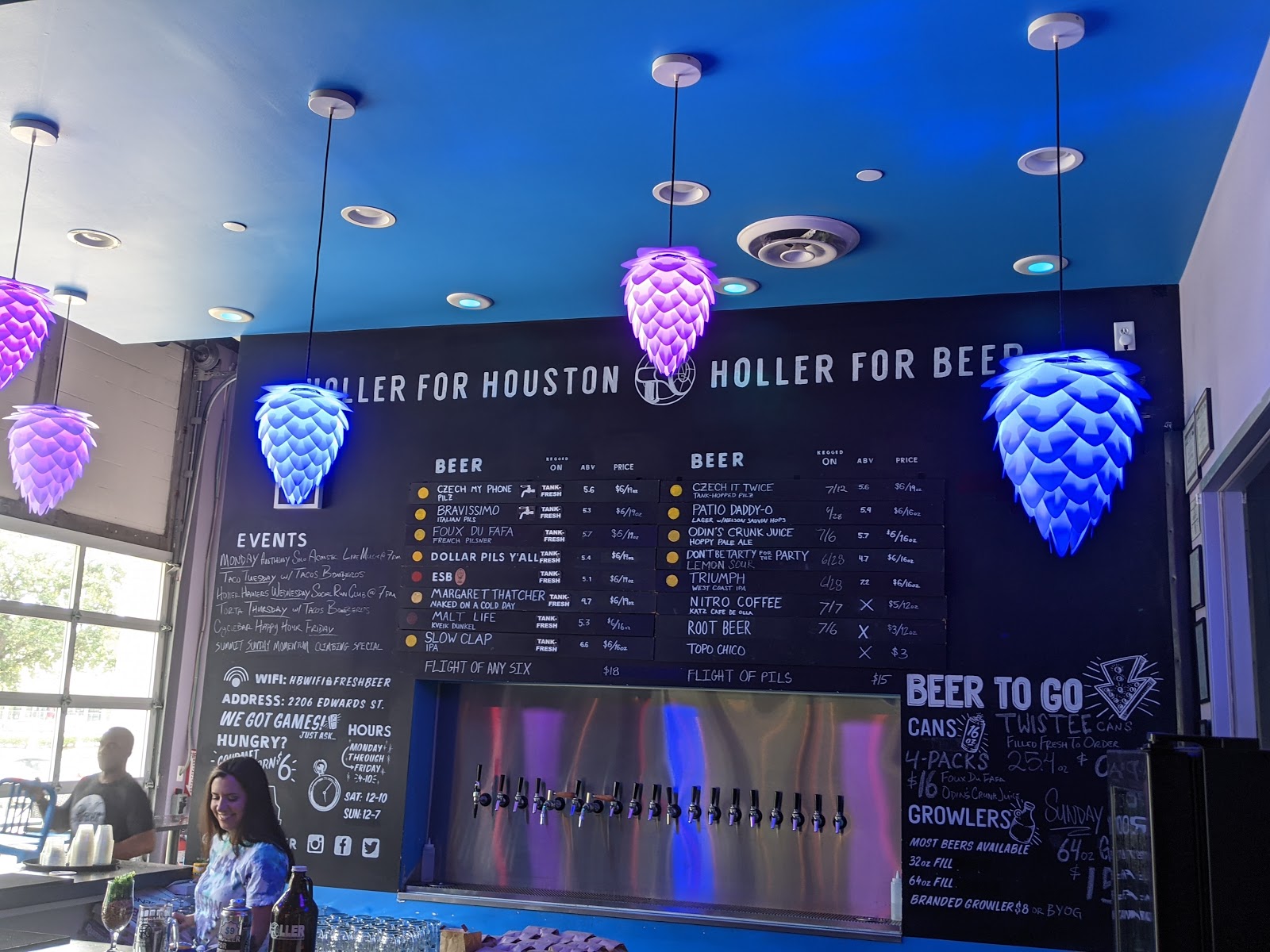 You might think that having six Pilsners in a flight would be boring, and if they were not as well done, I would agree with you. The team at Holler have proved that wrong though, where you can taste the subtle differences between each of the 6 lagers side by side. Oh and to make it even more fun, Dollar Pils and Bravissimo are also available as slow pour pints to add even more variety. So please go in and give Holler all your money so they keep making these amazing lagers for us all to enjoy!
Cheers, and Happy Drinking.