Town In City Brewing – Helping Give Houston A Small Town Feel
You can drive by this place 100 times without noticing a brewery is there; I know I did. In the age of social media and the craft beer explosion you would think that there was no way a new brewery could open its doors without a flood of publicity, especially in an industry that is so outspoken. But that's exactly what happened here and it's the perfect symbol of what this brewery is trying to achieve. We live in the 4th largest city in the country and Houston is constantly criticized for being too spread out and lacking a cultural theme. We are known for working long hours in downtown and then suffering through extreme traffic commutes as we escape back to our suburb dwellings. But don't get bogged down with the big city routines – there's a lot of fun out there to be had!
Town In City Brewing Company is doing a great job of fueling the wave for our cultural improvement. The Houston Heights area has become a popular destination for young and adventurous Houstonians, it's also one of the few historical districts in Houston.
Just like the neighborhood, this brewery exudes the aura of a small picturesque town within a huge city – hence the name.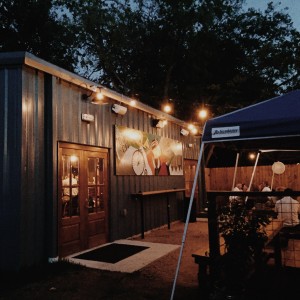 Town In City Brewing is located at 1125 West Cavalcade Road, which is dangerous because it's walking distance from my house. The founders, Justin Engle and Steve Macalello, chose to host the grand opening on "White Linen Night" on August 1st, always a highly anticipated event where thousands of people wear ridiculous clothes and flock to the neighborhood for shenanigans. Town In City even named one of their IPAs after the event. I wasn't able to visit during the grand opening but I walked over a few days later to scope out what was destined to be my new home-away-from-home.
As you stroll up the relaxed atmosphere is almost immediate with the long patio tables, outdoor lighting, and custom artwork on the walls. The new tap room is what you would expect: lots of hardwood, steel, and friendly faces behind the bar. (Please note that they are only open to the public Wednesday-Sunday.) Town In City Brewery categorizes its beers into 2 sections: City Series and Community Series. Beers in the City Series are currently representations of classic English brews, but there will be more adaptations to come. The Community Series is for brews inspired by friends/family/random people and each beer has a unique story behind it.
I look forward to the Community Series and will make one of my life goals to have a beer named after me!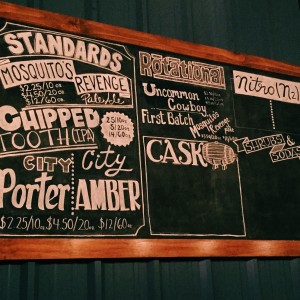 When I arrived, they had the White Linen IPA, Chipped Tooth IPA, Mosquito's Revenge Pale Ale, and City Porter on tap (there are even more tap options and an on-site food truck now). Since it was a steaming hot day here in Texas, I opted for the pale ale and posted up on the large patio. Mosquito's Revenge is hopped with three varieties of American hops and drinks very easy. It's a friendly beer that I would suggest for any craft beer newbie, and at only 5.5% ABV it won't put you on your butt.
The moral of this story is if you're living in Houston and starting to get the urge to move away or try another city — go stop by and visit Town In City Brewery in The Heights. Order up a tasty beer, put your sunglasses on, and I promise you'll want to stay forever. And if you see me there I might even buy you a beer.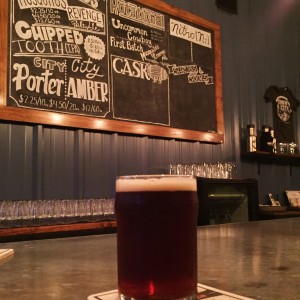 Cheers to the beers y'all!
Please visit the brewery's social media pages below: