El Carlito – No Label's International Champion
El Carlito has returned to defend his title! Well… more like titles at this point, as El Carlito kicked off a new era for No Label Brewing Co. in Katy Texas.
El Carlito, NL's award winning German style wheat ale/Weizenbock, has won several knockout awards in the last 3 years including 2021 in the US Open Beer Championship, 2022 Texas Craft Brewers Cup, and most recently – a 2023 New York International Beer Competition. Since then, No Label Brewing has been dominating the regional beer award circuits since the 2021 win. Tom Paynter, Marketing Director of No Label Brewing explains "El Carlito is our first beer in over 8 years to win an international medal, nabbing the US Open medal right after we won two crushies in Summer 2021. Those two things essentially kick-started this era of No Label." Speaking of awards, No Label cleaned up in the recent Craft Beer Marketing Awards last month.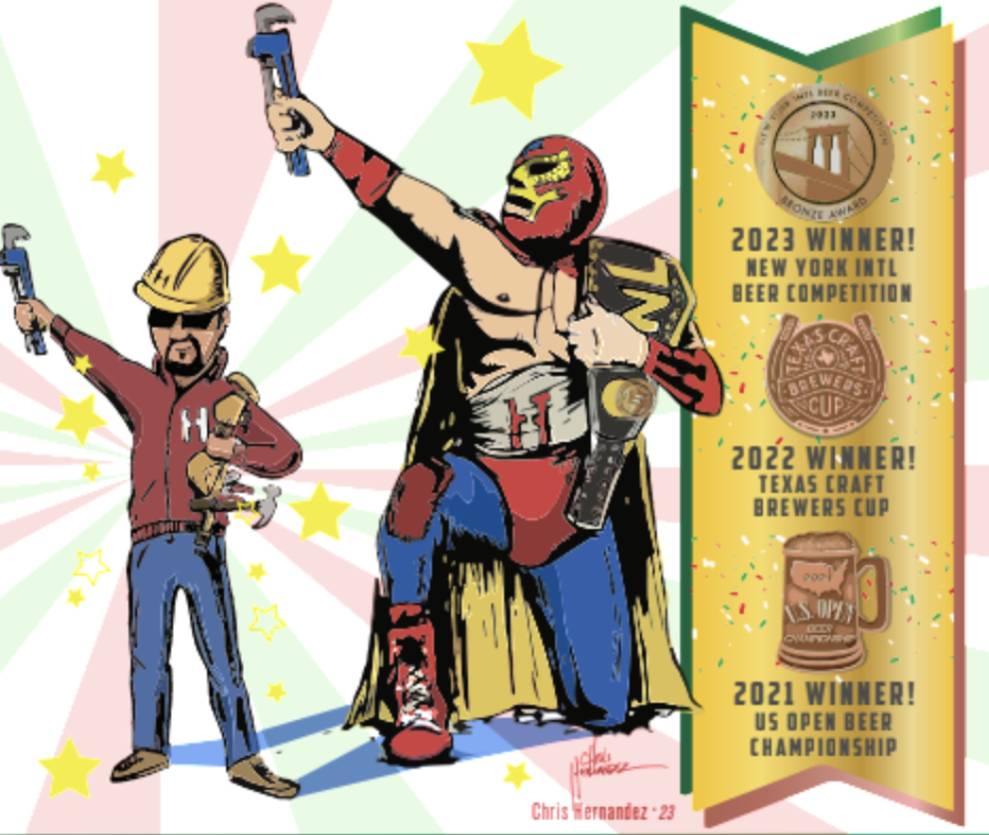 No Label Brewing Co.'s 2023 Craft Beer Marketing Awards include:
Global Crushie for Best Can Design on a 32-ounce crowler for "Bottle Cap Crowler"  
Global Crushie for Best Can Design on an 8 to 15 – ounce can for "Mind Your Own Business Sour IPA" 
Global Crushie for Best Can Design on an 8 to 15 – ounce can for "Cali Boy West Coast IPA"
Global Crushie for Best Tap/Tasting Room Experience/Creative Brewery Mural or Installation for "Rail Line Label Wall," by artist Chris Hernandez
Gold Crushie for Best Use of Retro Branding for "Old Katy '800,'" which honors the heritage of the MKT Rail Line in the historic Rice Silo Yard 
Global Crushie for Best Brand Identity / Unique Logo Design for "Year 12 Logo" designed by Design Riot
Global Crushie for Best Brand Identity / Use of Icon or Mascot in Logo or Branding Mascot, for "Murkey Myers DDH DHIPA," a celebration of Michael Myers 
Global Crushie for Best Brand Identity / Logo Typography for "Cali Boy Sales Sheet"
Gold Crushie for Best Brand Identity / Beer Release Calendars
Global Crushie for Best Merchandise Design / Most Creative Line for 'Murkey Myers DDH DHIPA" 
Gold Crushie for Best Ingredient Collaboration for their collaboration with Hound Song Brewing Co.
No Label has always had a special place in my heart. El Hefe, their widely known Hefeweizen was one of my first true loves of my craft beer journey. German style beers especially hefeweizens and any clove dominate beers were always my beer of choice.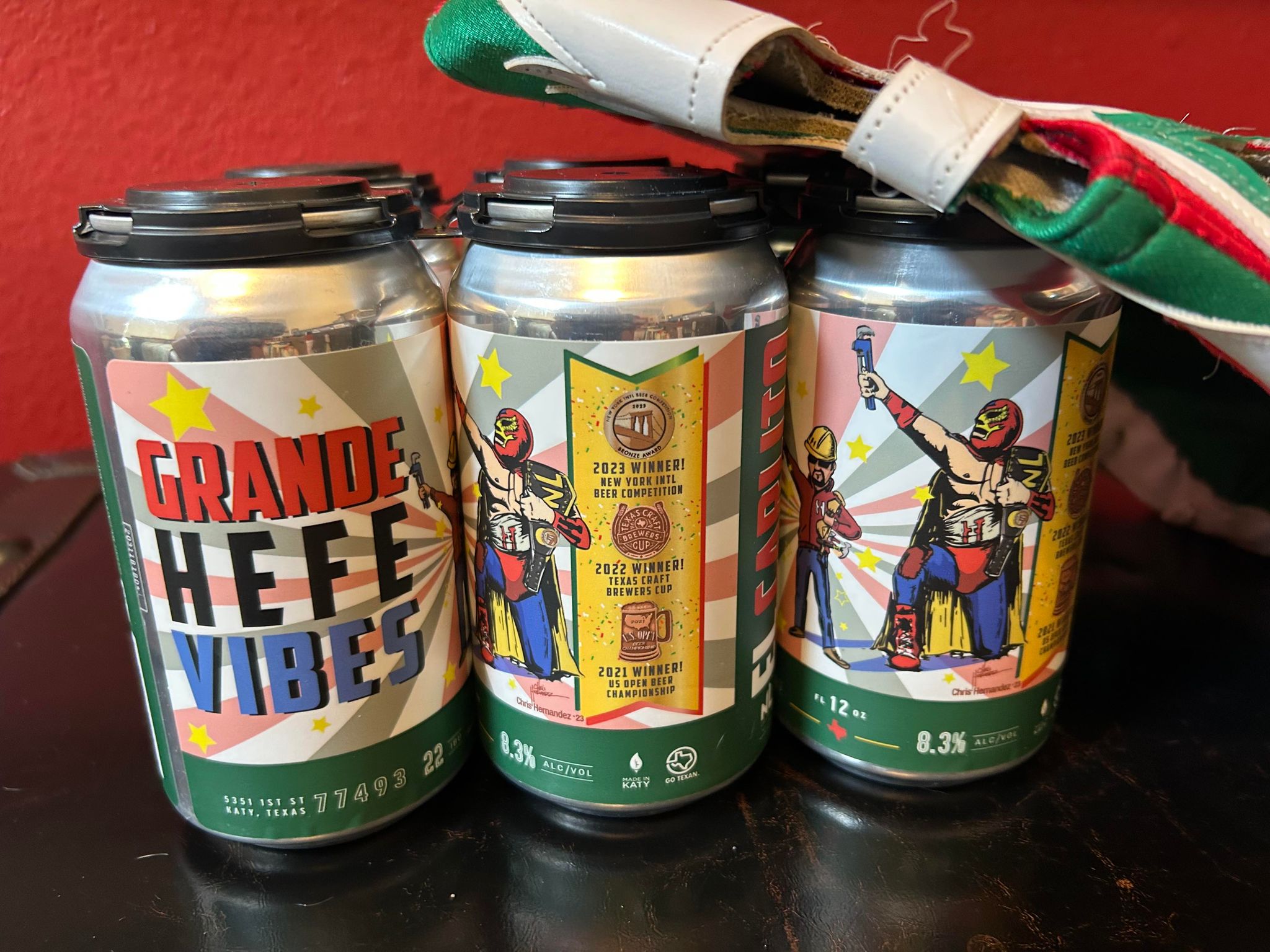 When I was told El Carlito was close in taste to El Hefe, I had to get my hands on it. El Carlito is if El Hefe took steroids – and boy, that might an understatement. While enjoying, the first thing I notice is the fragrant aroma of banana and clove that pops out of the glass. Additionally, there is a nice balance of dark fruit esters (think plum or raisins) that lures you in for more. The aroma travels straight to the back of your nose, leaving with a slight fruity after taste. Visually appealing too, El Carlito pours a deep gold with a fluffy slightly off-white head. It provides a refreshing banana and dark fruit upfront that is followed by a mild wheat flavor as the taste lingers in your mouth. The wheat flavor really smooths out the initial sweetness of the fruit and it's a beautiful example of what balance you want in your German ales. At a bold 8.3% abv, El Carlito drinks much easier than what the ABV suggests, and this could still be a summer crusher for many. Imagine getting all your housework and yard work done on the weekend and popping open a can as a reward – this is definitely THAT beer. One quality I love about El Carlito is its medium body and creamy tongue as it warms the palate but still light enough to enjoy without the feeling of being weighed down. 
In recent news, Houston breweries, especially No Label Brewing, have been really driving home what we've known for a while – our beer scene as a whole can compete with most distinguished beer cities out there. With great beers like El Carlito who displays his championship belt proudly on the face of the can, it really feels like a representation of what this beer (and No Label Brewing Co) has to bring to the table. Exciting stuff!
This beer was released just a few weeks ago on Cinco de Mayo and if you are lucky – you might be able to find six packs out in the market at various H-E-Bs and Total Wines. If all else fails, drive out to Katy and enjoy El Carlito on tap in the brewery. With so many fun weekend activities scheduled, No Label always makes the drive out west worth your time. Bringing a non-beer friend? They carry other options to enjoy like cider and sodas. Speaking of things to do, there is a playground to keep your kids entertained while you enjoy a beer. Things get a bit busy during the weekend so check their Facebook page to learn about upcoming events.
Until next time!
No Label Brewing Co. is located at 5351 1st St, Katy, TX 77493.