Flying Saucer Downtown Ending Glass Night
There has been some talk and a bit of grumbling among the Houston Beer Knurd community with the Flying Saucer's decision to end their glass night at their downtown location. Manager Joshua Justice reached out to Houston Beer Guide to offer some information about the decision.
Kenneth Krampota: Why did you decide to cancel the glass night?
Joshua Justice: Demand for glass night has waned here recently and as more and more bars begin to offer glass nights, we felt the need to take the lead and offer something new, different and unique. Kind of like glass night used to be.
KK: It appears that the Sugar Land location is continuing their glass night, is this a location specific decision?
JJ: It is. Some other Flying Saucers have moved on from Glass Night as well but this was a decision unique to us.
KK: What has been the reaction? Has anything made you rethink your decision?
JJ: A bit mixed but once we've explained the reasoning and shared what we have up our sleeve for Wednesdays going forward, the response has been overwhelmingly positive. No turning back.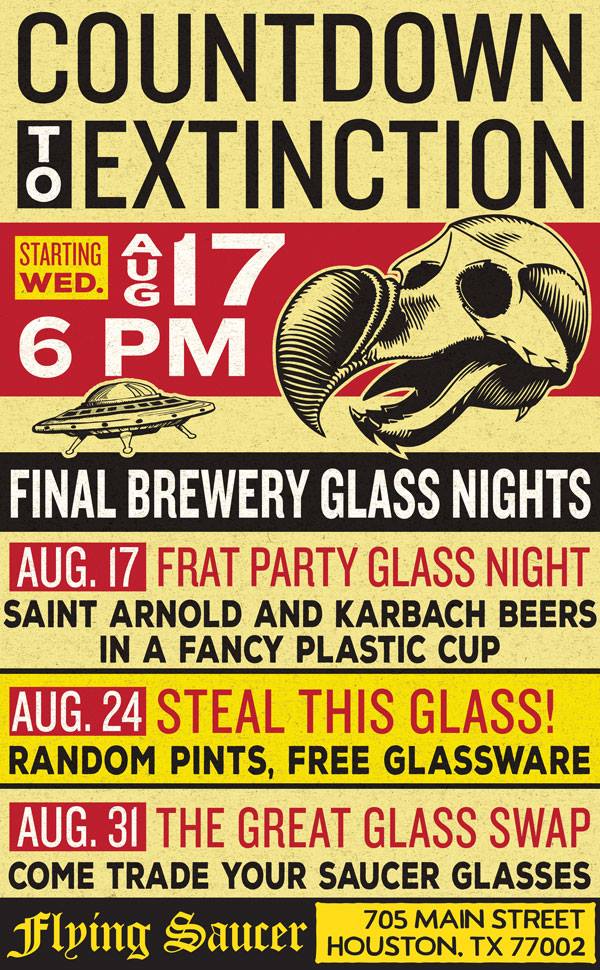 KK: You've had a few events to countdown the ending of this, and the last one is on the 31st, a great glass swap. Is there anything you'd like to tell us about that event?
JJ: We want all the hardcore glass collectors out that night. We will have almost our entire collection of old brew glasses out and on display (and on sale).  Feel free to bring glasses to trade, sell or giveaway. It will be a great chance to try to pick up that elusive Cheech and Chong 420 glass.
KK: What are you planning to replace the glass night with weekly?
JJ: Flight Night. We are going to debut Flight Night September 7th with Hitachino White Flights. We will be pouring Hitachino White, Kiuchi no Sizuku ( a spirit made with distilled White) and a cocktail made using both. Upcoming flight nights include Sierra Nevada/Mahrs flights, Oktoberfest flights and more.
KK: Finally, I know a lot of people collect beer glasses, what should we tell them to do with all of the extra cabinet space they'll have?
JJ: Don't go collecting gnomes or Wedgewood plates just yet. Flying Saucer glasses like 420, John Lennon and Texas Independence day aren't going anywhere. Plus we will always have special glasses on sale when we find cool glassware (Das Boot anyone?) Glass night might be dying, but we will still be the best place in town for cool glassware.