For All the H: A beer collaboration with/for friends
If you know anything about this trio clan of brewery business owners, you know they are always up for fun and celebrating. Call it brewers luck (brewers skill if you ask me!) – it's not every year that your friends would also win a World Beer Cup in the same competing year. If you don't know how big of a deal this is, let me share that the World Beer Cup is the most prestigious beer competition in the world, being often referred to as "The Olympics of Beer Competitions". With Saint Arnold's gold cup for Weedwacker back in 2018, there is now only a total of 4 World Beer Cup winners in Houston area. So what do you get when you combine friendship, beer brewing and your love for the city? How about special beer collaboration and tap takeover parties around the city to celebrate! No Label Brewing in Katy, Vallensons' Brewing in Pearland, and True Anomaly Brewing in Downtown just kicked off their week of celebrations with special beer release of 'For All the H' Hazy Pale Ale – a beer brewed to commemorate their accomplishments in the 2022 World Beer Cup.
Category 25: Fruited American-Style Sour Ale – Total 163 Entries
Gold: Pink, Vallensons' Brewing Co., Pearland, TX
Category 95: Imperial India Pale Ale – Total 174 Entries
Silver: Cali Boy, No Label Brewing Co., Katy, TX
Category 31: Wood- and Barrel-Aged Sour Beer – Total 82 Entries
Bronze: Sea of Waves, True Anomaly Brewing Co., Houston, TX
I asked Tom Paynter, with No Label Brewing how this concept got kicked off in the first place. He mentioned it was heavy on his mind during his trip back home from Minneapolis. After pitching the idea, the brew teams talked back and forth over a couple weeks to work it in the brew schedule and a beer style was decided among the group. No Label was the obvious choice for production given the capacity of the brewhouse. No Label and Vallensons' had teamed up with before with the launch of Spa Day IPA back in June 2021 so the label was modified to include True Anomaly as well.
"It's such a rarity to win a World Beer Cup and it just so happens that we're all actually good friends – which made it easier to ask Vallensons' and True Anomaly to join us on this crazy adventure," said Tom Paynter, No Label's Co-Owner and Marketing Director. "Collaborations are hard enough, but a three way collaboration – GET OUT OF TOWN!," says Paynter. "I just hope these guys are still my friends after this week.
No way Tom, I am staying in town for this release. And you should too!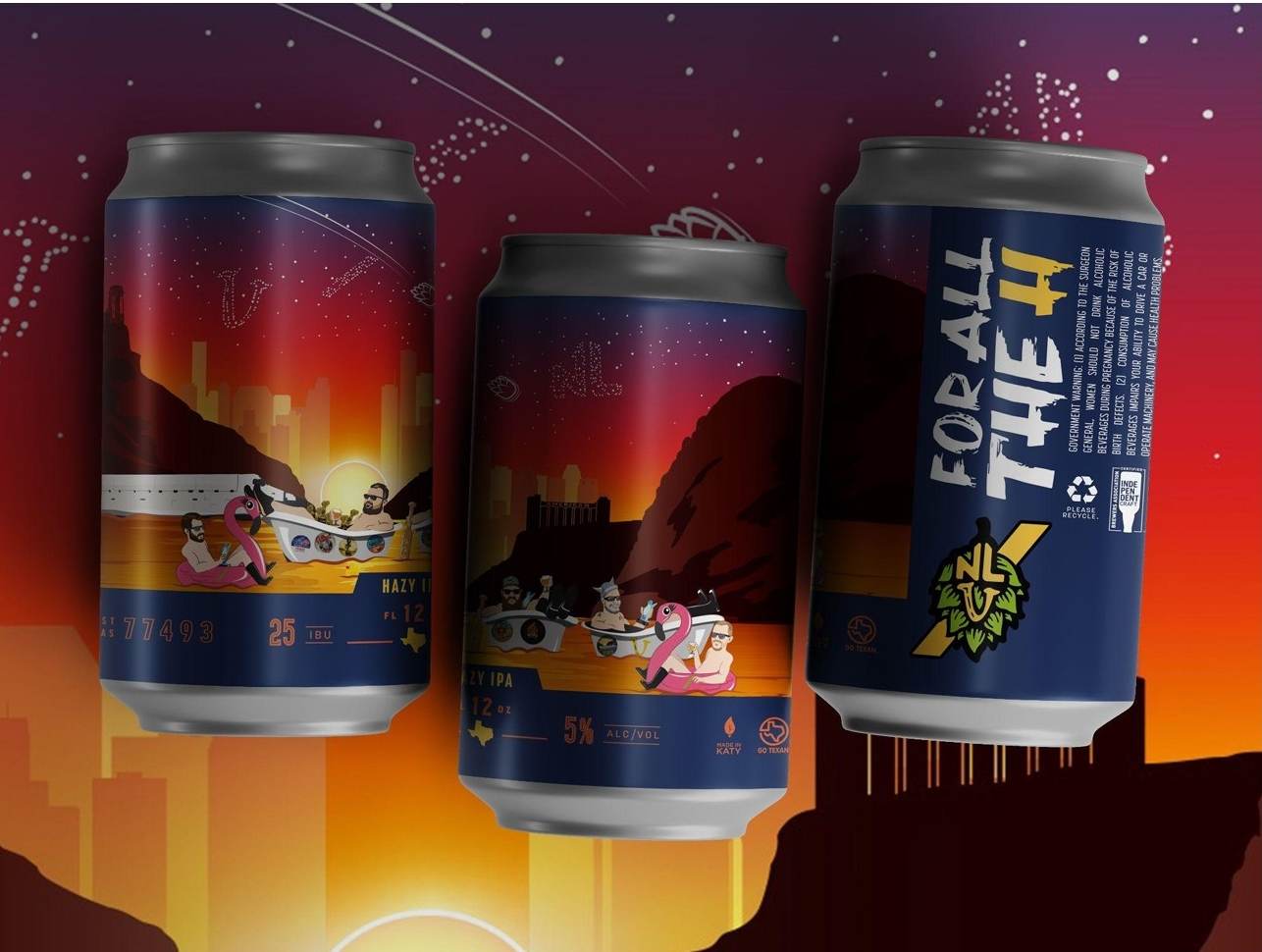 This collaboration beer is a 5% Hazy Pale Ale. According to Untappd (listed under No Label Brewery), it pours pale gold and extremely hazy. This beer features a combination of New Zealand and American hops and tasters can expect the dried apricot and grapefruit aroma with subtle hints of citrus and pine in the finish. The flavor is much like the aroma with grapefruit in the forefront and hints of stone fruit, citrus and pine in the finish. Creamy tongue mouthfeel on a medium body with low bitterness and a dry soft finish. Interesting profile! With shared imagery and similar profile, this beer sounds very much like the Spa Day IPA release.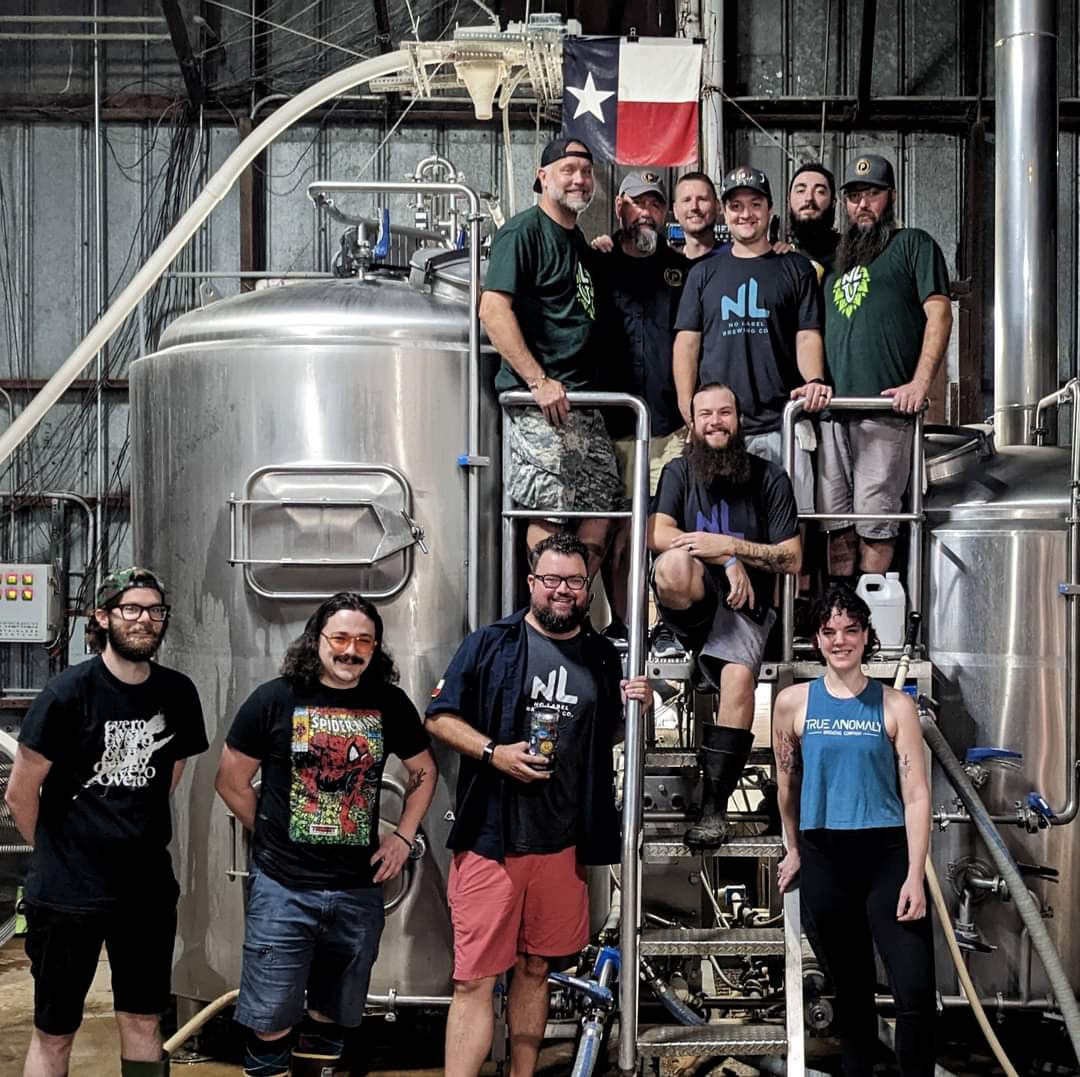 This beer has a week long release schedule kicking off at No Label Brewing, where it was produced and labeled. The party then will moves to Vallensons' for a Thursday evening release event. (Being this is one of two breweries in my hometown of Pearland, come say hey!) Finally, the celebrations will blast off north into Downtown Houston at True Anomaly Brewing for the final release event. Six packs of this beer will only be available at each brewery. Each brewery only received 2 halves and 20 cases so this beer is super limited. During the launch party at No Label this past Saturday, six-packs sold out within hours.
In addition to the taproom parties, Triple Brewery Tap Takeovers featuring beers from all three breweries, including Vallenson's which has never distributed their beer outside of their taproom will be happening all across the city. There will be a total of 7 taps at each tap takeover with 5 happenings this weekend.
Celebration Schedule This Week:
Saturday, November 12th – Taproom Party, No Label Brewing, Katy, Texas
Tuesday, November 15th – Triple Brewery Tap Takeover, Thistle Draftshop, Spring, Texas
Wednesday, November, 16th – Triple Brewery Tap Takeover, Nobi Public House in Webster, Texas
Thursday, November 17th – Taproom Party, Vallensons', Pearland, Texas
Friday, November 18th – Triple Brewery Tap Takeover, Growler Spot, Fulshear, Texas
Saturday, November 19th – Taproom Party, True Anomaly, Downtown Houston
So grab a pint of this beer (and 6-pack to go if you can) in your area and cheers to Houston beer friendships and out of this world brewing accomplishment taking place in our great city!
Cheers!