Project Halo Brewery's Disco Demon Triple Black IPA & Challenge Coin Membership
Project Halo Brewing in Fulshear Texas may be new to the scene but they're hitting the ground running, inside of a vibrant colored taproom that reminds me of being in an ice cream parlor but even better because there's local craft beer for sale instead.
Did you know Project Halo Brewing is a woman & veteran owned nanobrewery? Project Halo gets its name from the military background that both owners, Melissa and Steve Mendez, have. Melissa, Project Halo's head brewer, has designed the taproom to feel so welcoming and familiar. One thing that draws me to them is the displays of Hispanic heritage in their beer names and in the taproom décor. From the hanging piñatas to the color sugar skulls accents, the vibe in the taproom is cool, collected and in order. The flight boards are uniquely shaped like a painter's palette and the full pours accompany beautiful glassware that's unique and really brings the one of a kind experience together.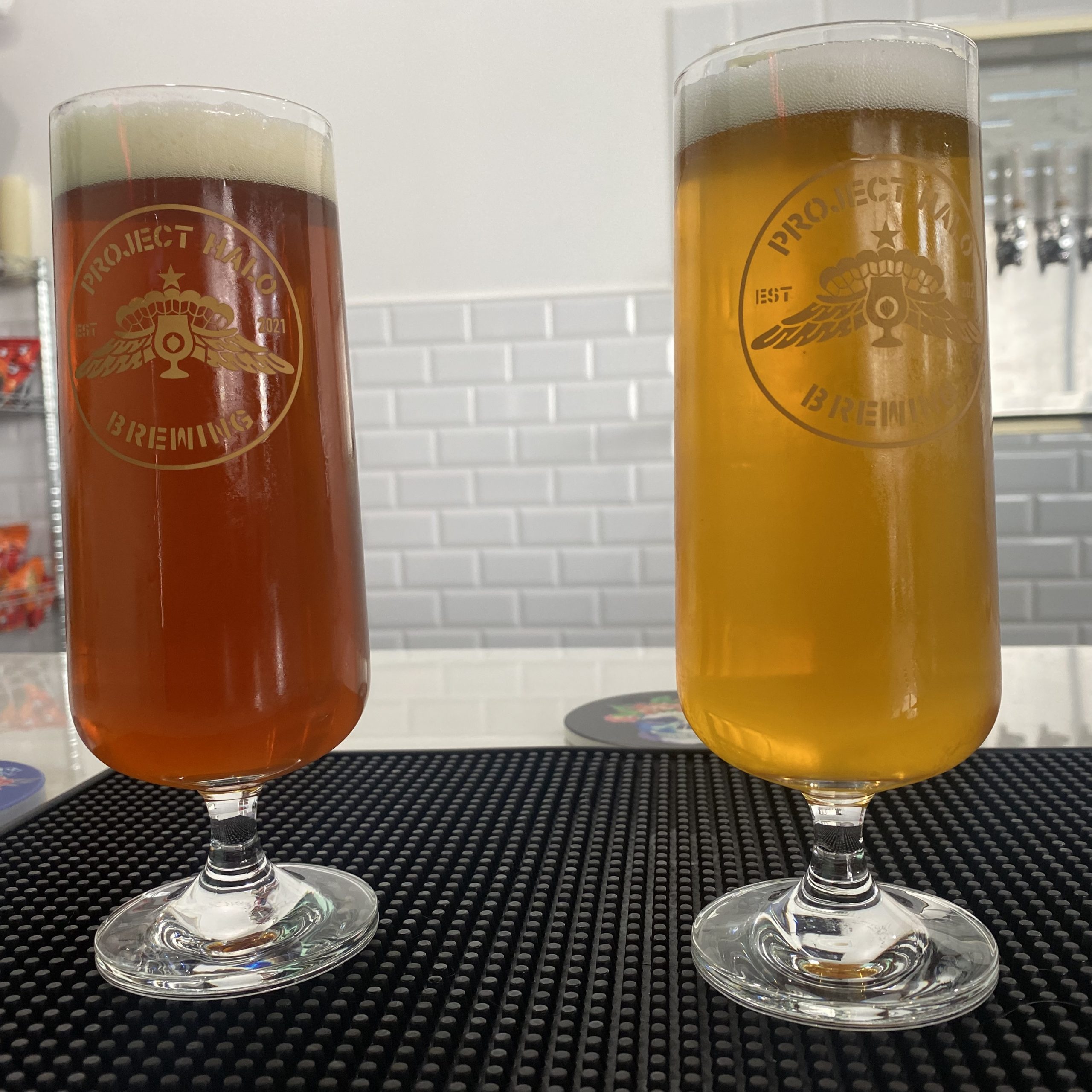 Speaking of one of a kind, Project Halo recently announced a cool annual membership club, called The Halo Team. In true military fashion, it involves a tradition with Challenge Coins as a perfect perk to the membership. But first, let's talk beer…..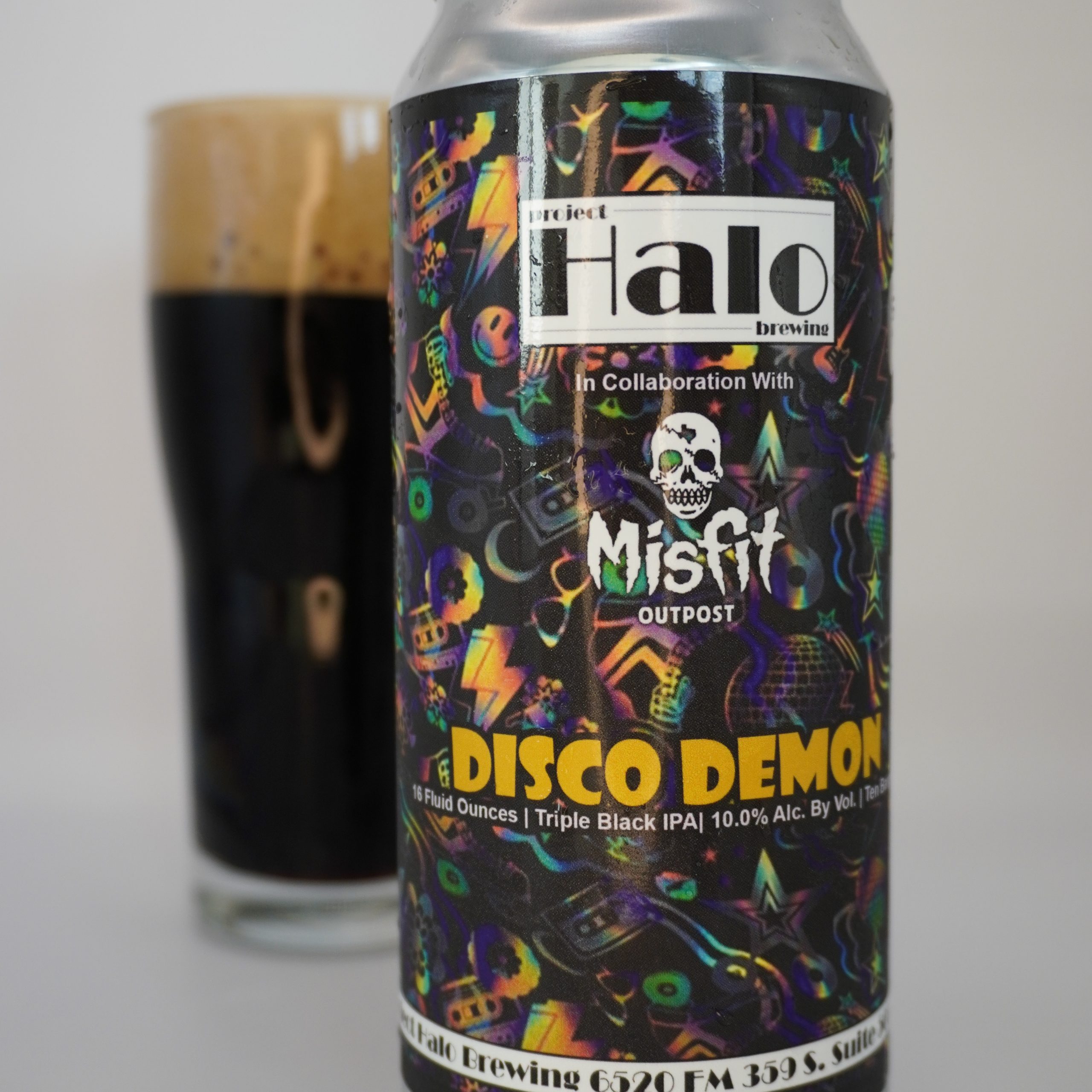 On my last visit, I decided to have a pour of the new Triple Black IPA, Disco Demon. Disco Demon is a collaboration conducted with our friends at Misfit Outpost and comes in at 10% abv. Disco Demon pours as dark as night and doesn't allow light to pass through living up to the demon name. The head is a dark tan color that really stands out and shines in the glass for that ultimate picture opportunity. You know when a beer looks good enough to drink. The nose has a beautiful hop aroma that reminds me of mild grapefruit pith and leads the way to a nutty aroma that reminds me of hazelnut spread. After admiring the beauty of the pour and the welcoming nose I dive right in and I immediately notice how smooth Disco Demon and how easy it is to drink for a 10% beer. The initial sip is roasty with no overpowering bitterness. Pretty well balanced with the roast presence with most of the hops coming through on the back end, resulting in a bold grapefruit flavor that sticks around but isn't astringent. The mouthfeel is creamy and full of body. Disco Demon really is an absolute pleasure to drink. In addition to being easy to drink, what I love the most about Disco Demon is the balance of this beer's tasting experience. Nothing overpowers another element in this beer – just a perfect blend of roasty and hoppy flavors, resulting in a traditional true to style brew. Another bonus beyond the beer is Project Halo Brewery is very dog friendly inside and outside, a huge plus for those of us that have our four legged friends in tow.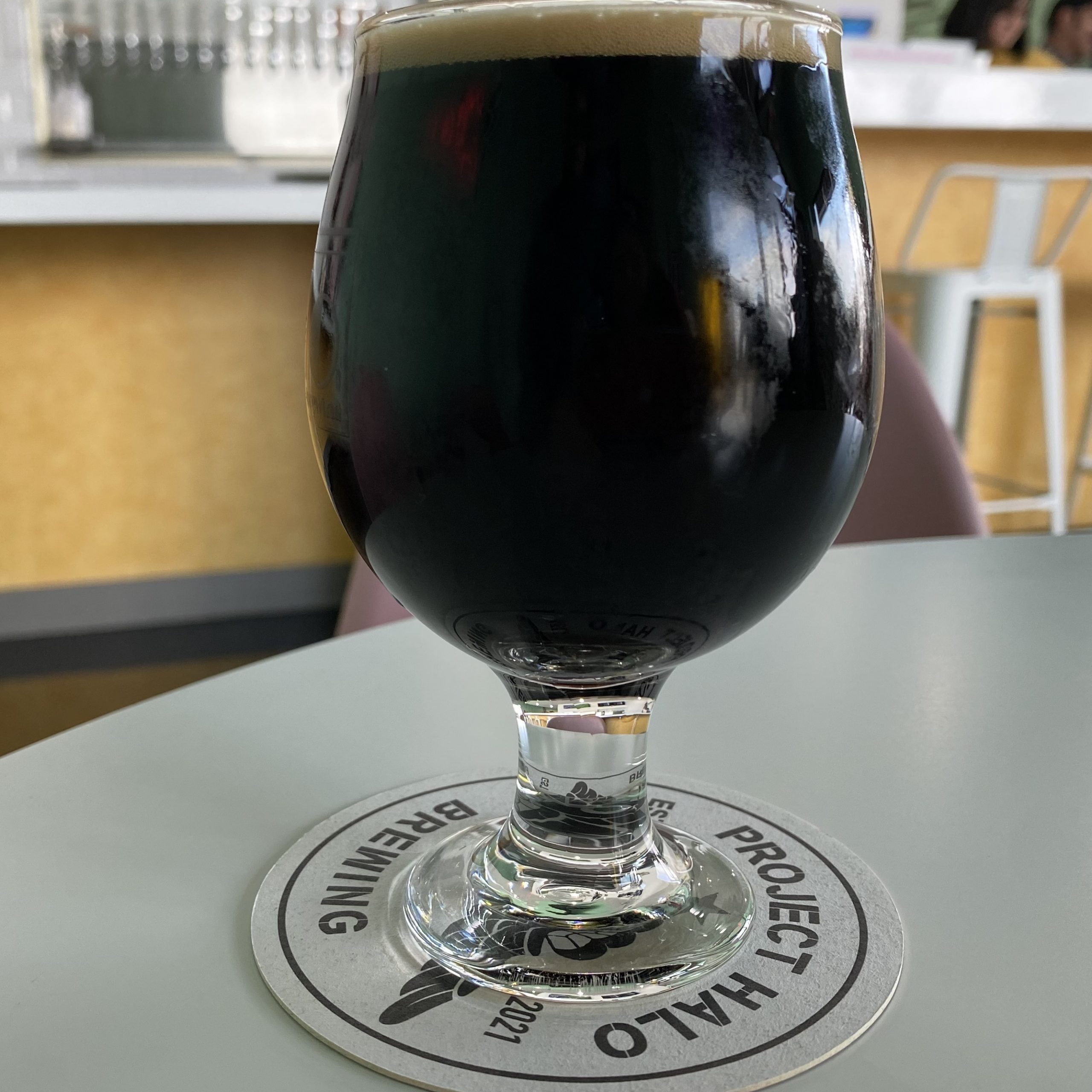 If this beer alone was any indication on what to expect from the beers coming out of this brewery, I just knew I made the right decision to sign up for their annual membership. In the Halo Team membership, you receive a t-shirt that is exclusive to the halo team and a challenge coin to carry. New to the concept, I asked Melissa and Steve what a challenge coin was. The challenge is proof in the military that you are part of a small and close unit, in this case – the brewery membership club. Accepting the coin comes with the term challenge. You must be willing to challenge a friend or membership holder to see if they have their coin on them. If they do not have their coin, they buy you a beer. If they can reveal their coin to you, then you must buy them a beer. Challenge accepted! Such a cool and unique addition to a membership club that you don't see very often.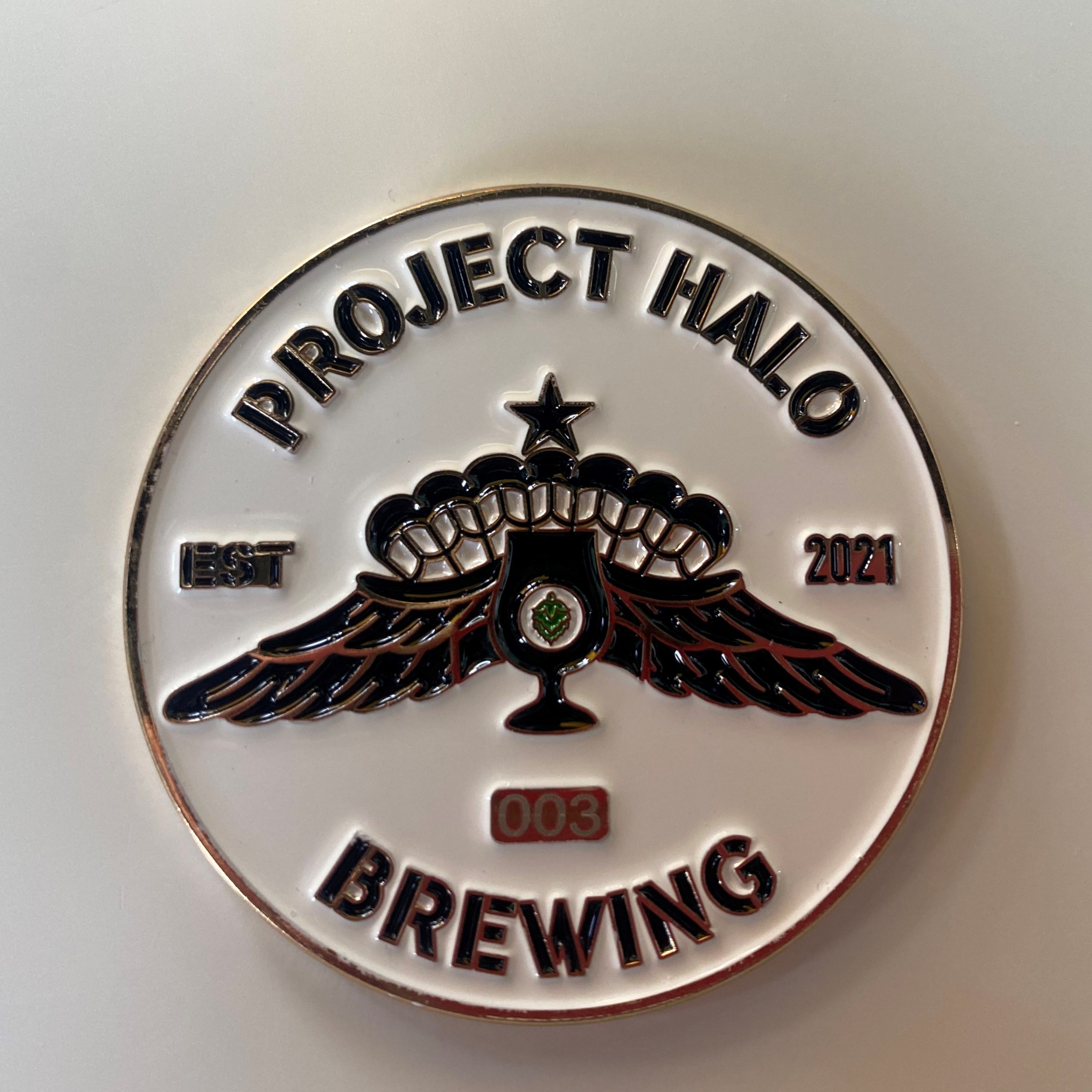 Another benefit of joining The Halo Team is every time you visit the brewery you will get 20oz pours for the price of a pint (8.5% abv or lower), 15% off all beer to go, and one bottle of a barrel aged beer per year. They added a new perk being crowlers to-go of Special One-Off-Kegs on tap. I've heard what is in the works for this upcoming year and let's just say, its definitely something to look forward to. The biggest perk to being a part of the The Halo Team is you will get access to 4 annual events that is only open to members (Don't forget your coin during these events – that could be a very expensive mistake!)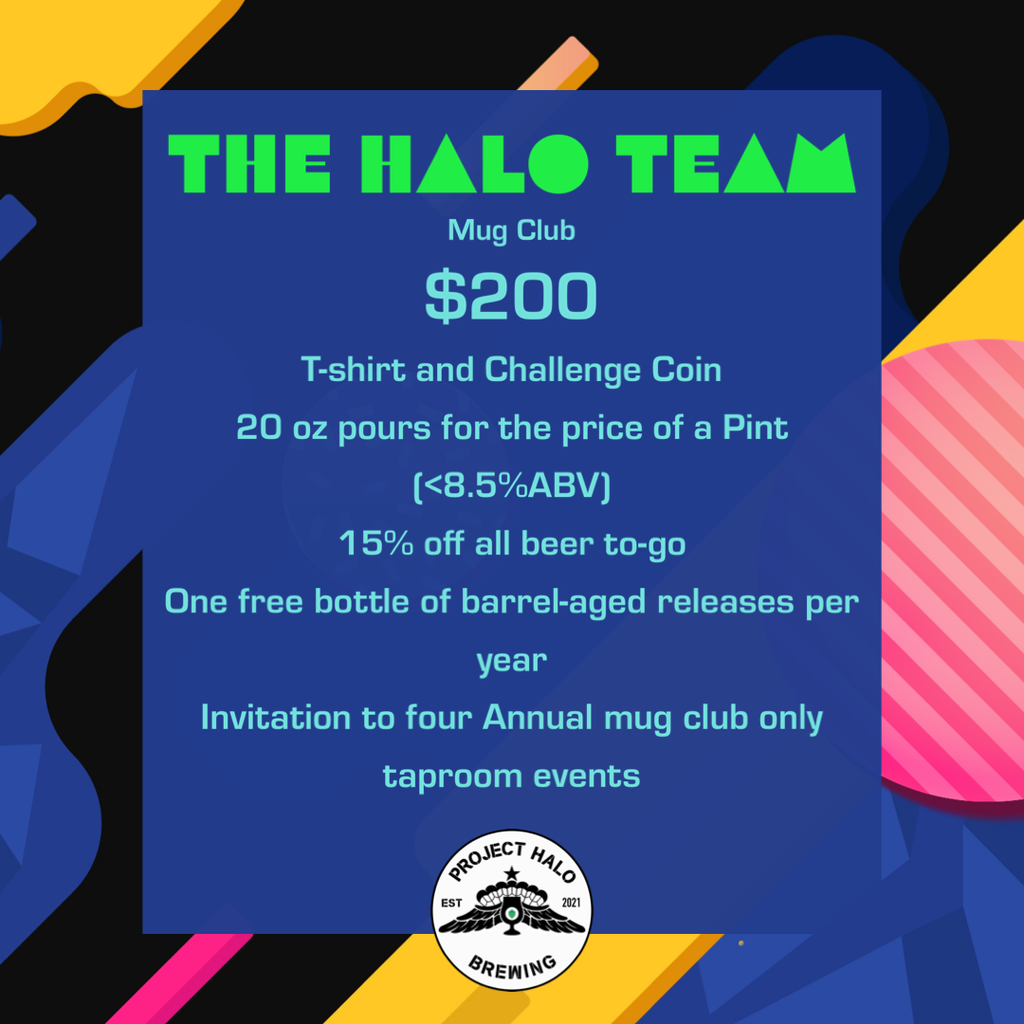 Unfortunately, the registration for the club is now closed. If you are interested, visit the brewery and tell them Houston Beer Guide sent you – there could be a chance you can get in. If not, there is always next year.
Anyways, hope to see you at Project Halo soon for more delicious beers. The first mug club night is Feb 11th so don't you worry, I'll have my coin on me! Feel free to challenge me.
Cheers!