Bars Culture Houston Beer Month
5 stellar reasons to visit Star Sailor HTX
Of all the bars and craft pubs in Houston, a select few stick out to me as "true craft beer centric pub eateries" in this city. To name a few, I'm talking about Petrol Station (RIP), Nobi Public House, Hughie's, MoonTower Inn, Thistle Draftshop, Hop Stop (RIP), The Regal Beagle, Saucer, Cobble & Spoke, Hay Merchant, Axelrad, and The Cove to say the least. From north to south, this city is jam packed with friendly faces pouring delicious Houston suds. While the pandemic has forced many of us to stay home and skip the happy hour detour on the way, these local bars are still banking on our support with weekday visits for dinner (and beers!) away from home These spots all offer different hang out vibes, kitchen offerings and people watching worthy crowds depending on location but all provide a unique way to experience Houston beer. Star Sailor HTX is no different and has mastered to take everything I love about craft beer pubs – all bundled up into one chill yet super cute beer bar.
So what makes an exceptional craft beer pub in Houston? Coincidentally enough, Star Sailor hits the mark on all my top criteria points. Here are just 5 reasons you should drive to the Heights for a visit to one of Houston's newest craft beer bars and boutiques. Star Sailor HTX is located at 1710 W. 18th St. Houston Texas in the heart of Greater Heights.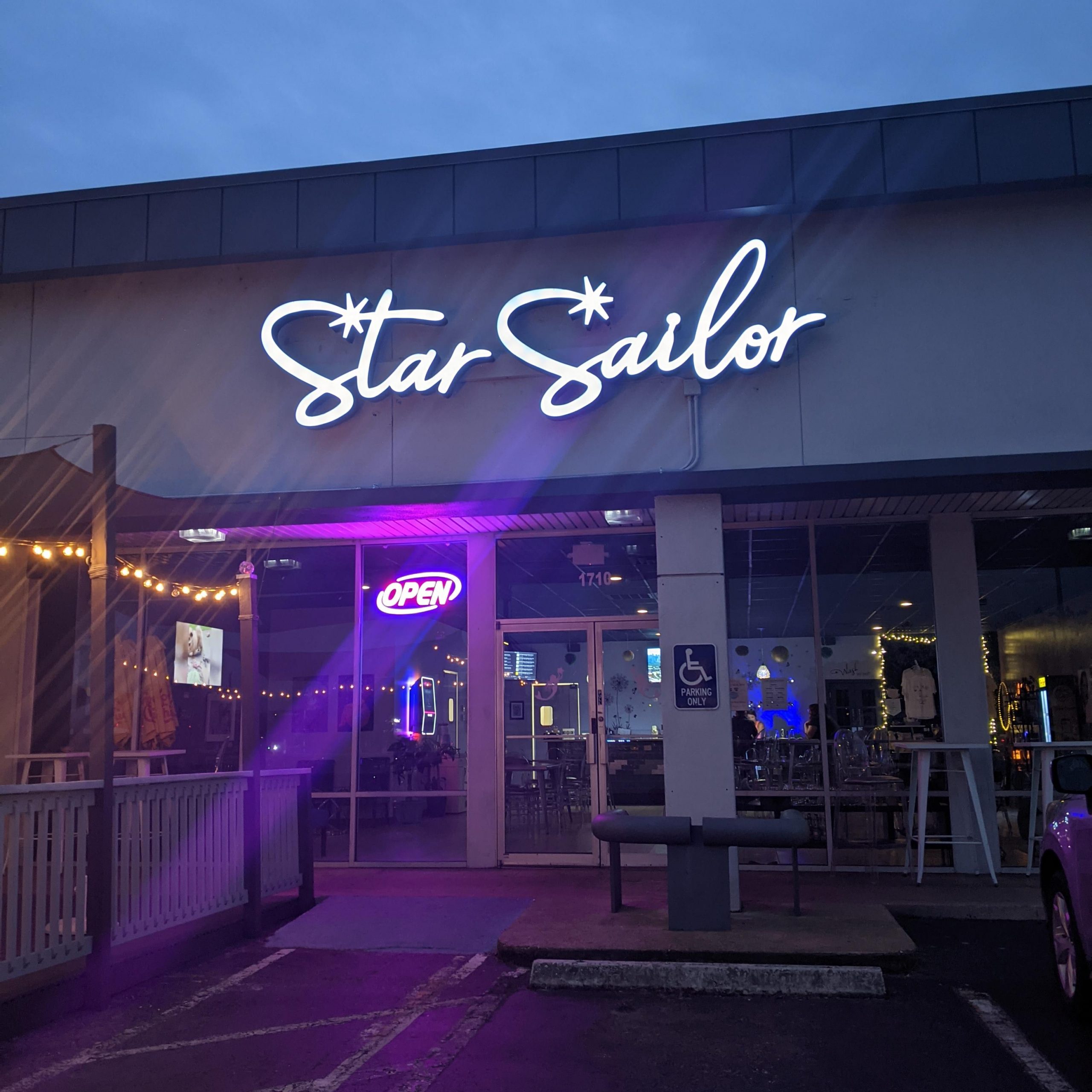 1. Shop: The Boutique
Talk about supporting local – this bar has it all! Star Sailor features a beautiful selection of local wares including Pop Soap body products, scented candles, branded Stella clothing, Hoppy Heat hot sauce, Space City Snax michelada mixes, and hand crafted jewelry created by the talented The.Gypsy.Girl – a long time #Houstonbeer supporter, and so much more! Check the entry table for free #ProperGlassware to take home for your collection. On occasion, you might even see Budz Bee Farm honey jugs and jars from the bees I help raise in Pearland. #shamelessplug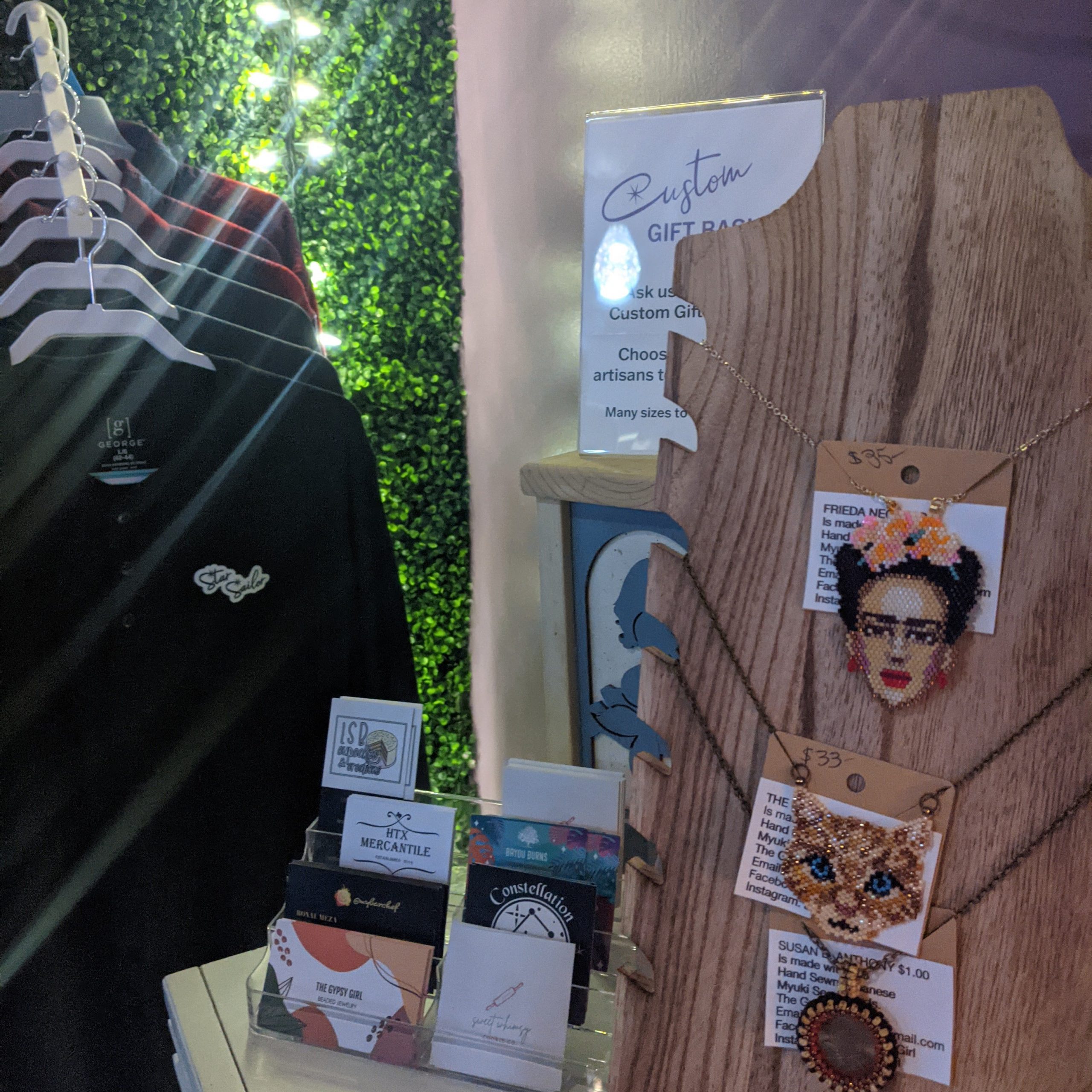 2. Beer: Booze Selection
The brew selection here at Star doesn't disappoint and the full beer menu can always be found on a rotating TV screen in the corner area at the bar, convenient for staring at while ordering. Thank goodness, there is no chalk boards here – cringe. Expect to always see H-town offerings including Equal Part Brewing, Holler Brewing, Spindletap and Independence Brewing (in cans) from our friends in Austin on the daily. Stouts, crispy lagers of all sorts, fruity sours and of course, IPAs every day of the week. If you don't like beer – first what are you doing here and second, dont worry – Star has a selection of wine, meads and ciders for your delight! We know you guys like seltzers too – no short selection here with everyone's favorite Topo Chico offerings. Sundays are mimosa days and Star makes a great brunch spot. Still new to that "craft life" or and need something to maintain your cool? Yellow Bellys (Coors Banquet in 12oz stubby bottles) are always cold here and honestly, oh so satisfying. Overall, something for everyone. Check!
3. Food: Burgers & Breakfast Tacos & Kitchen Collabs
Looking to have more than 3 beers or wanna kick it for a while with friends? Don't forget to feed that empty stomach with quality kitchen meals while you are here. I haven't tried the famous 'David Flores smash burger' yet but I hear it's a must have. On my last visit to Star, I indulged with one of my favorite morning meals – simple bacon breakfast tacos complete with red salsa on the side for dinner. During my birthday party at Star I snacked on the cheesy quesadillas, which served its purpose as a beer sponge and easy handheld dinner while hanging out. Being no strangers to the 'fellowship of the kitchen', you will often see food collaboration and events happening to add to your dining/beer pairing experience. Keep an eye out for these ticketed events as they go fast! Maybe I can convince David to make pozole soon for me one day? *wink wink hint hint*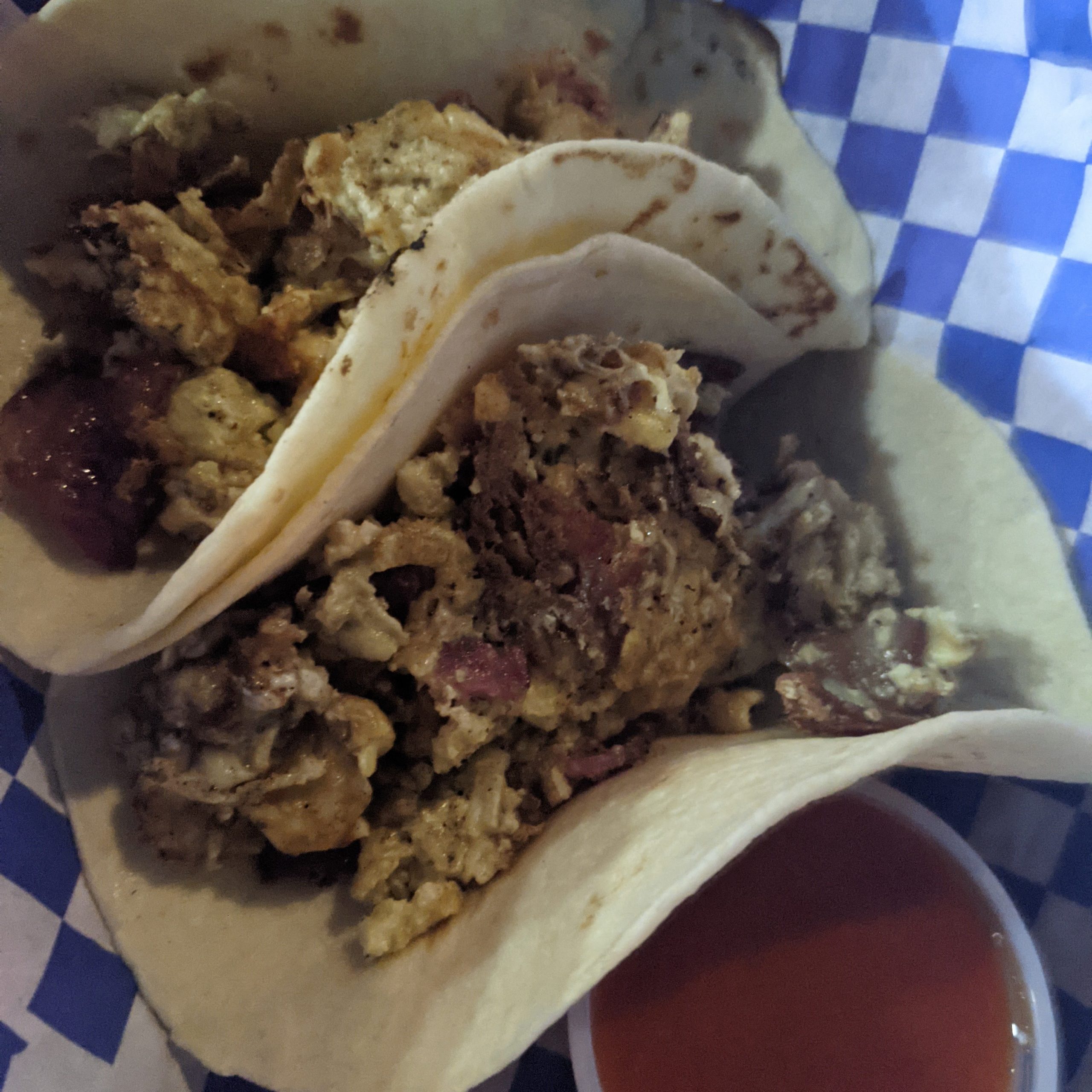 4. Community: Showing Love to #HOU
In true Houston beer culture, Star Sailor understands the value of giving back to the community. This bar has raised funds each month through beer and food purchases towards organizations like Meals on Wheels America and Planned Parenthood. Recently, they wrote a donation check to the Montrose Center – a local organization that helps address the gap in accessible and affirming mental health services to the LGBTQ+ community of HTX. Check out the recent Texas Beer Experience podcast (starting at 9:30) at Star Sailor to learn more about these charity events from Marin herself. It's so much easier to spend money on beer when I know I am contributing to a greater cause. Keep up the amazing work!
5. Service: The queen mermaid herself, Marin Slanina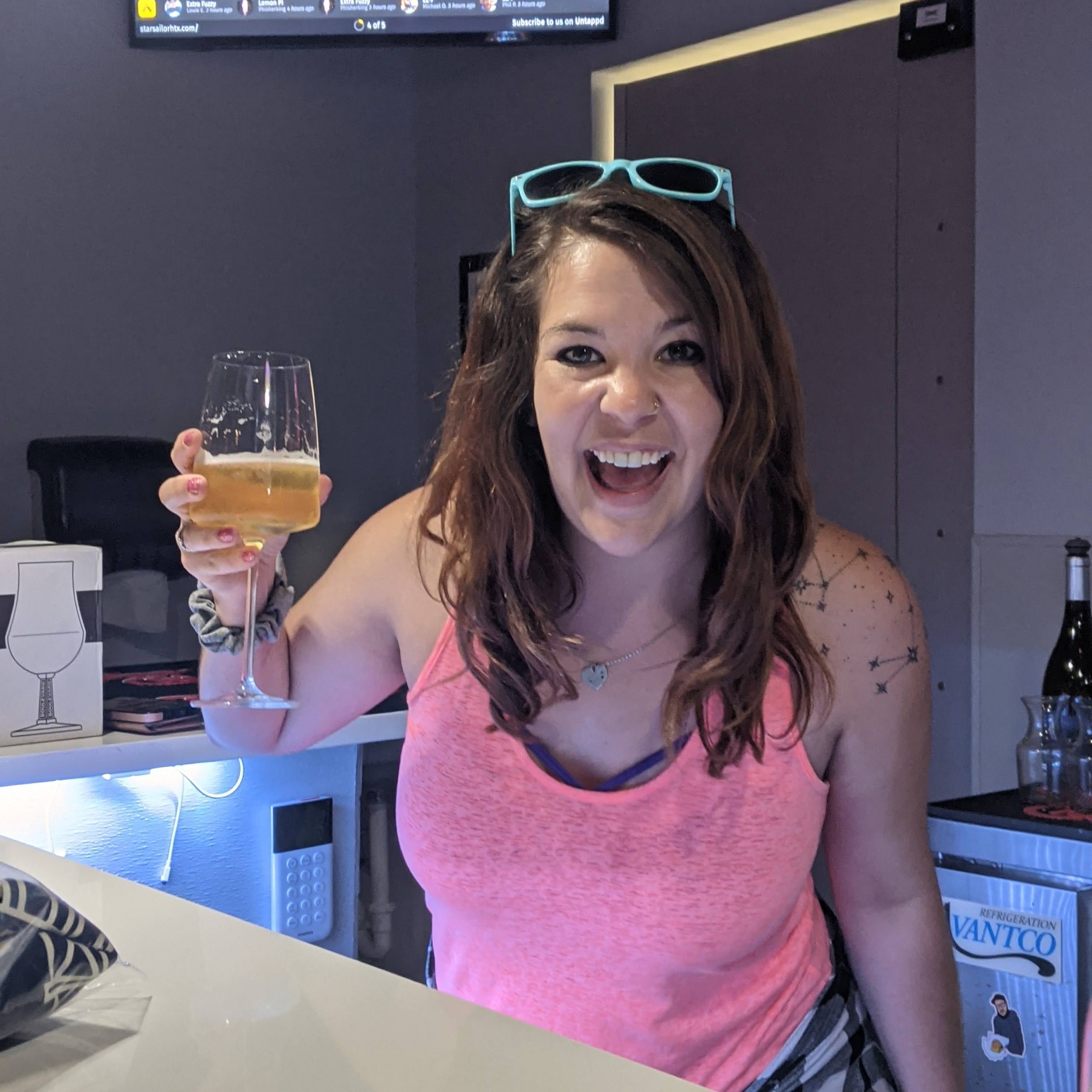 Anyone that has been in the local beer scene long enough in Houston knows that owner, Marin Slanina is our #HoustonBeer sweetheart. From years of running operations at B-52 Brewing in Conroe TX then giving Urban South HTX liftoff last year, Marin has a few years of hospitality under her belt and that charm has certainly rubbed off on her baby, Star Sailor. If she is not here in Houston, she's shaping the future with her role as Chief Culture Officer at Wiley Roots Brewing Company in Greeley, Colorado. Smart, talented, dedicated and charming – one thing is for sure, she will make you feel right at home at Star Sailor. As a result, the staff mirrors that energy and passion she brings and always provides that Texas sized WELCOME. Don't blink – Marin is a super busy lady running this operation but you can always count on her to make time for #HOU. Facts.
Houston Beer Guide is closing out Houston's first "beer month" with tasty beer, good friends, and as always, the best H-town party you can imagine right here at Star Sailor. Stickers and #HoustonBeer tees will be available for sale alongside other cool vendors pop ups. Bar opens up at 3pm so expect ongoing traffic all afternoon. Many HBG contributors will be present so introduce yourself and let us know why YOU love Houston beer. For you night owls, reverse happy hour at 9pm with $3 beers. Oh my! Did someone say dance party? Check out the official taplist tomorrow morning. We hope you will join us in celebrating Houston beer!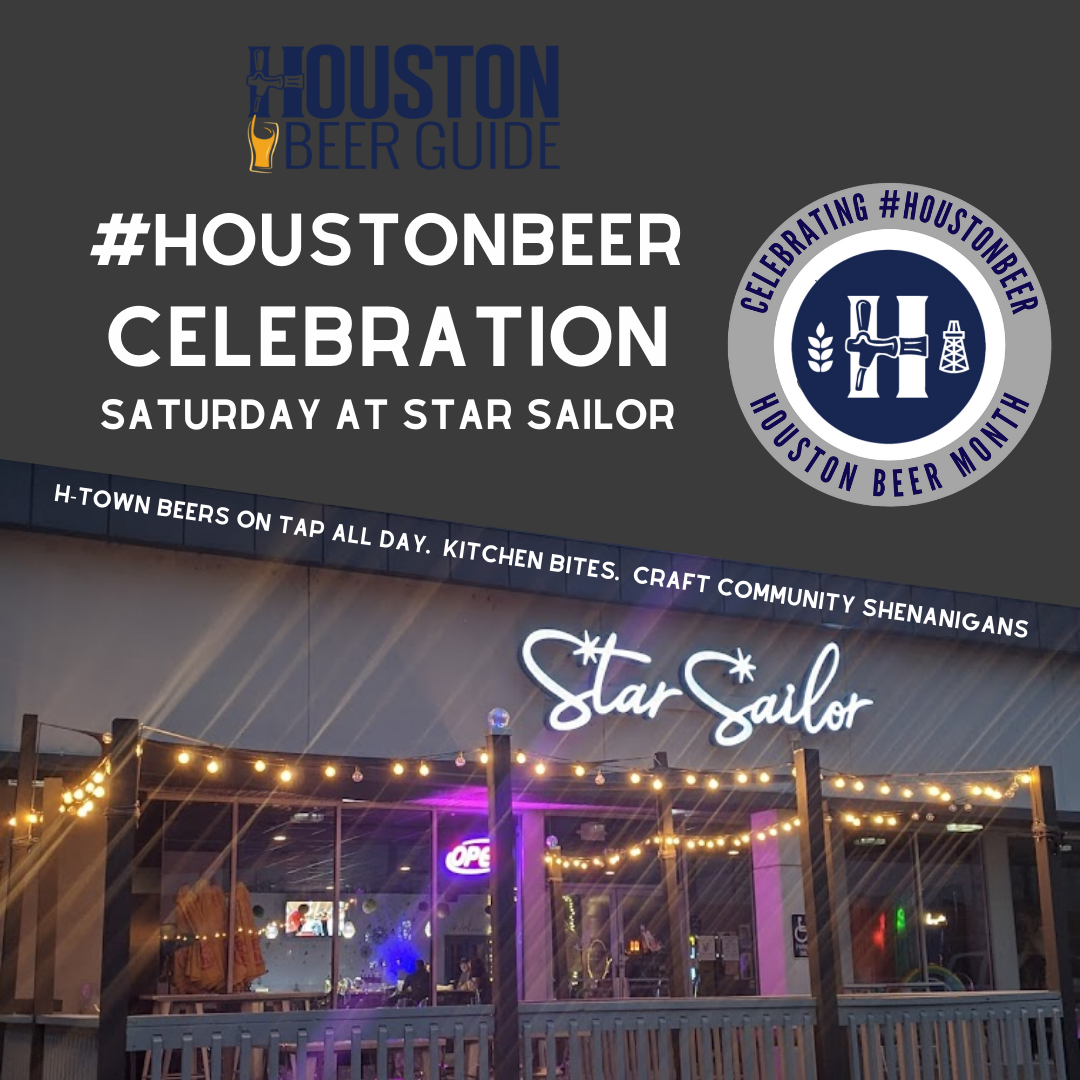 If you can't make it out this weekend, no worries!
Swing by Star Sailor any day of the week, have a burger + beer and give some high-fives to the whole Star crew for me!
Cheers!