Beer Festivals Events Legislation
#HoustonBeer Shows Up for 2023 Texas Craft Brewers Guild Brewers Festival
On Saturday, September 30th, the gates opened at Fiesta Gardens in Austin for the 2023 Texas Craft Brewers Guild Craft Brewers Festival. The festival, which is a one-day event, is a chance for Guild Member breweries from all across the state to gather and either introduce themselves to first time patrons or catch up with long time fans. Most importantly, the festival serves as a major fundraiser each year for the Craft Brewers Guild, which helps the support member breweries, breweries in planning and provides political action support aimed at helping change Texas laws to benefit and grow the craft beer industry.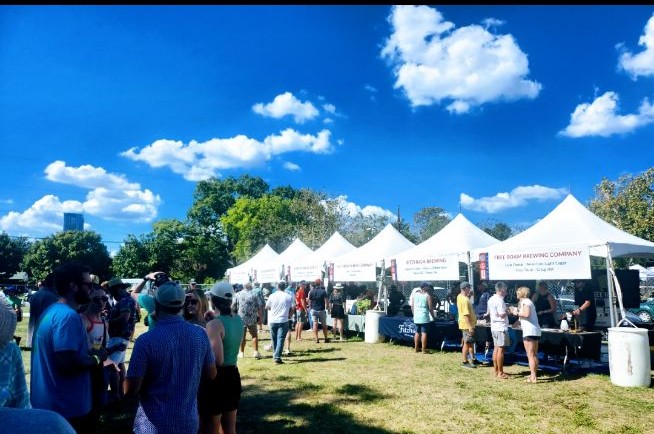 Houston Guild member breweries always represent the city well at the Craft Brewers Festival, and this year was no exception. Nine different breweries from the greater Houston area participated in this year's event. Four as sponsors of event: Saint Arnold, No Label, Lone Pint and True Anomaly. The other participants were Eureka Heights Brew Co., Excalibur Brewing, Galveston Bay Brewing, Galveston Island Brewing, Great Heights Brew Co.
Saint Arnold has been a supporter of the Texas Craft Brewers Guild going back to its inception in 2009.
"Saint Arnold was a founding member of the Guild and our owner, Brock Wagner, was an inaugural Board member. The Guild has been integral in helping to change laws in Texas to create an atmosphere where small and independent breweries can actually thrive."

Lennie Ambrose, Chief Marketing Officer at Saint Arnold Brewing
Lennie also acts as a member of the Board of Directors for the Craft Brewers Guild.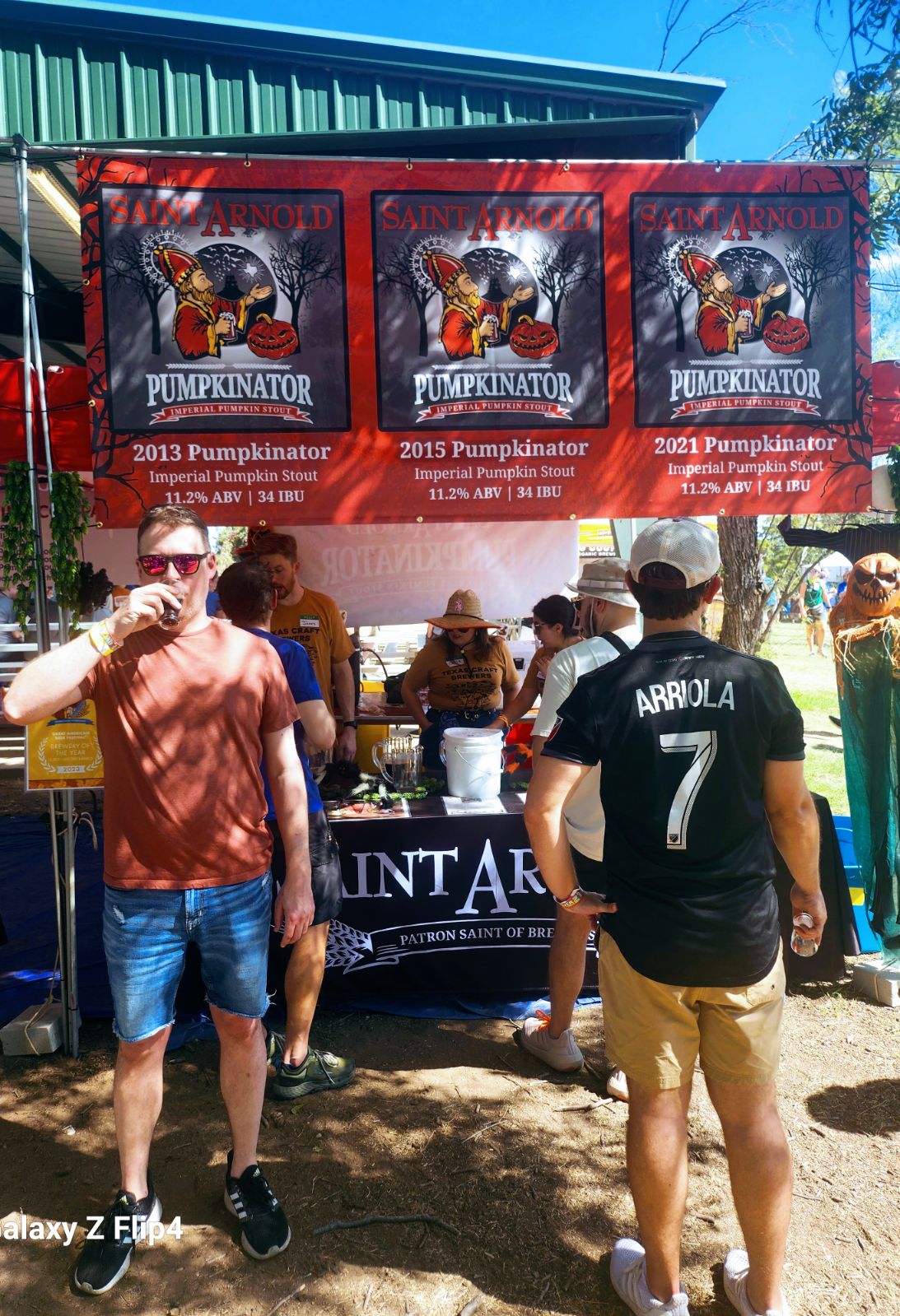 The festival itself was held on a hot Saturday afternoon in south Austin, hosted by the Fiesta Gardens event space. Entry into the event was quick and very organized, being handled by numerous volunteer staff to make sure that lines to get into the event did not back up and slow down. The brewery tents themselves were sorted out in numerous different sections and placed in alphabetical order. Many of the sponsor tents were arranged around the center pavilion of the space, giving them central access to the event, and some highly coveted shade.
One of the main attractions at the event was the True Anomaly tent. True Anomaly was named Large Brewery Group Brewery of the Year back in February at the Craft Brewers Guild Brewers Cup awards. This distinction is not taken lightly by the brewery.
"Being named the 'large-brewery group,' Texas Brewery of the Year has already had such an amazing impact, and we're exceptionally proud of the beers that got us into the spotlight. True Anomaly brews a wide variety of styles, though I think most know at this point that the heart of our beer program is driven by Belgians, Saisons, and Barrel-aged projects that push the boundaries of exploration. It's these exact beers that were recognized during the competition which led to the Brewery of the Year distinction, and not just for True Anomaly. The 'small-brewery group' Texas Brewery of the Year was also recognized largely by their experimental styles."

Michael Duckworth of True Anomaly
Both True Anomaly and Vector Brewing partnered to release a special, experimental collaboration Japanese Rice Lager for the Brewers Fest called Daikuko. The release was a 4.1% alcohol by volume crushable brew made with sushi grade Yamada Nishiki rice and hopped with Japanese Sorachi Ace.
My first stop at the Brewers Fest was at the Eureka Heights tent for a taster of 713 Pils, a brewery staple and personal favorite. Prior to the Festival I reached out to Eureka Heights for a comment as to why they believe the Craft Brewers Guild is important and the importance of participating in the festival.
"We believe that the Texas Craft Brewers Guild is incredibly important to the craft beer industry in Texas. They provide a ton of educational and networking opportunities, as well as provide a unified voice for legislative matters. The community of craft breweries is incredibly strong in Texas, and the Guild is a big reason why. Plus, the festival is a blast."

Casey Motes, Co-Founder of Eureka Heights Brewing
Casey Motes is also a member of the Craft Brewers Guild Board of Directors.
While tasting my 713 Pils, I began conversing with another patron at the Eureka Heights booth named Ben Tillman. Ben is a native Houstonian turned Austin transplant who attends the Brewers Fest annually and likes to catch up on the offerings from his home town. He joined my venturing around the festival and was asked what he looks forward to the most at the event Houston beer wise. Ben said, "I don't get to go back home too often, and getting Houston beer up here (in Austin) is kind of hit or miss, so I try to check out the Houston breweries to see what kind of stuff they are coming out with and compare it to what Austin has to offer. I don't do social media like Insta or anything, so I enjoy sampling the Houston beers at this festival."
Another stop on my list was Galveston Bay Brewing, which had a special release available at the Pink Boots Society booth, called Katie and the Giant Peach, a fruited blonde ale. Unfortunately, Katie and the Giant Peach was floated before I could even get a taster. Alas, gone means gone. This was one of those beers that I had interest in trying while at the festival and had reached out ahead of time to the Head Brewer of Galveston Bay Brewing Skyler Forshage for some info on.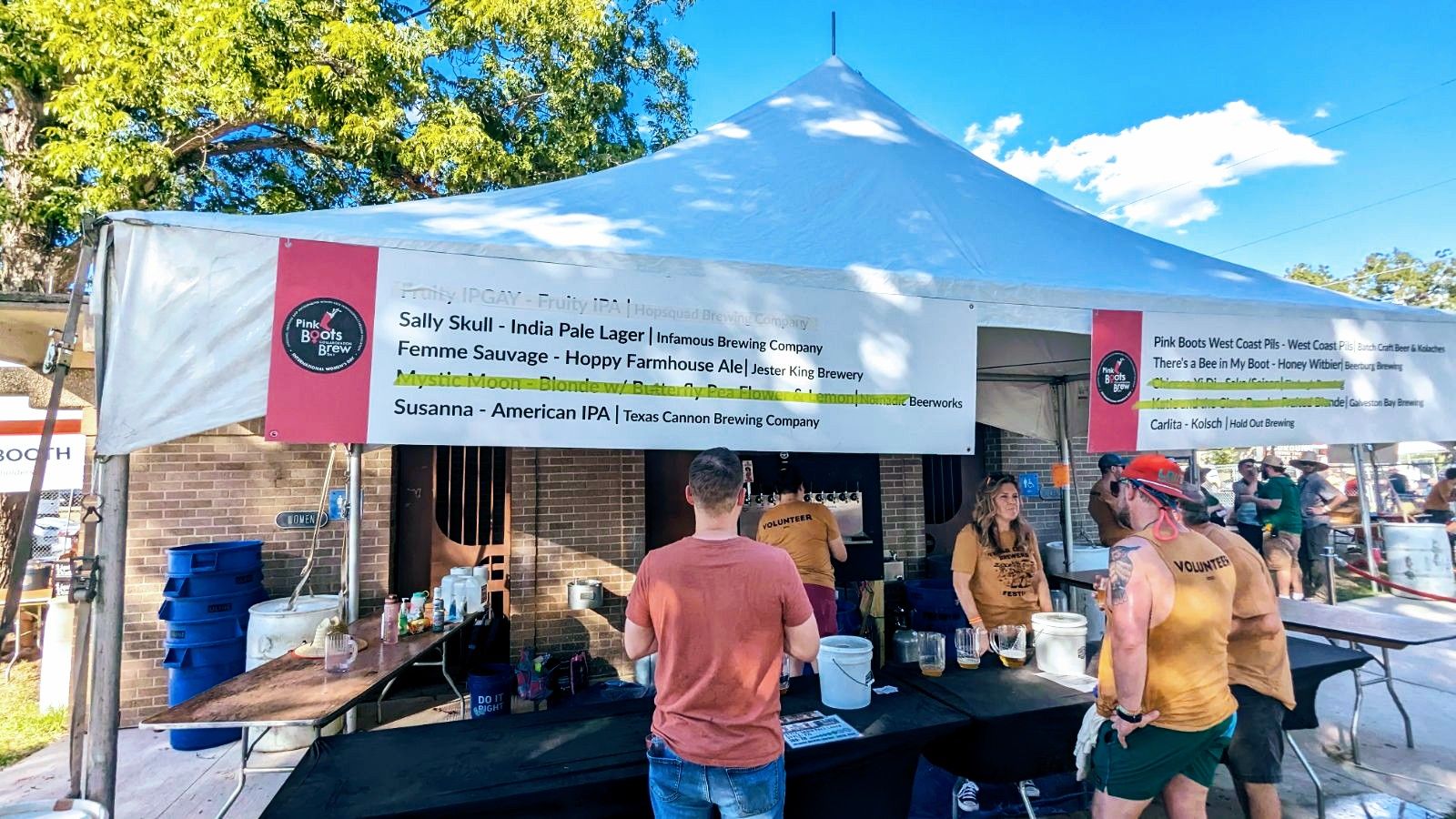 "In addition to our support for the festival, we're strong advocates of the Pink Boots Society, recognizing the vital work they do, especially here in Texas. This year, one of our lead bartenders and Pink Boots member, Katie (Rawson), led our Pink Boots Collaboration Brew Day, helping to create a unique blonde ale recipe featuring roasted peaches, fresh peach puree, and the latest Pink Boots hop blend. Katie is no stranger to brewing and in fact she's helped out in nearly every aspect of the brewery over the years from brewing and packaging to managing the bar so it was really cool to have her involved in this year's collab."

Skyler Forshage – Brewer at Galveston Bay Brewing
I guess this means a trip to the Galveston Bay brewery for me to try this beer out.
Overall, this year's fest was an amazing experience.  I ran into several good friends, both fans of craft beer and people in the brewing industry. It was great getting to spend some time with him over some beer and with mutual friends.  
This festival was extremely well organized and loved by all that attended. There was a lot of excellent craft beer from around the State to sample, and the staff, both brewery affiliated and volunteers, were welcoming and provided as much information about the beer they were serving while trying to keep the lines moving. There was plenty of water stations and portable restrooms throughout the event as well. Friendly people and plenty of beer can't help but equal a good time.
I would like to finish this off by offering a special Thank You to the staff at the Texas Craft Brewers Guild for assisting me in providing answers to several questions for this story and being exceptionally friendly to a newbie covering this event!
Some of the beer samples I had at the event include:
2013 Pumpkinator Imperial Pumpkin Stout – Saint Arnold Brewing (Houston)
713 Pils – Eureka Heights Brew Co. (Houston)
Avalonian Double Hazy IPA – Excalibur Brewing (Spring)
Bishops Legacy Kentish Strong Ale – Hell or High Water Brewing (Liberty Hill)
Daikuko Rice Lager – True Anomaly (Houston) & Vector Brewing (Dallas) collaboration
Excelsior! IPA – Galveston Island Brewing (Galveston)
Full Grown Jack Imperial Pumpkin Porter – Tupps Brewery (Austin)
Festbier – Fast Friends Beer Company (Austin)
Mexican Lager – Front Yard Brewing (Spicewood)
Ponderosa Fruited Kettle Sour – Back Unturned Brewing Co. (San Antonio)
There's a Bee in My Boot Honey Witbier, Pink Boots Release – Beerberg Brewing (Austin)
Follow the Texas Craft Brewers Guide on Instagram at @txcraftbrewers and on Twitter X @TxCraftBrewers. All photos taken and edited by and used with permission of Sophia Panda.