OktoBEERfest This Weekend at Back Pew Brewing
Back Pew Brewing is widely known for having some of the best lagers in Houston and their OktoBEERfest each year is a great opportunity for them to showcase their specialty. As a German lager lover, I make sure to never miss this event.
This Saturday October 7th, Back Pew Brewing will be hosting their annual OktoBEERfest at their brewery – also known as the Sanctuary. Located in Porter TX on several acres of land, Back Pew has a spacious outdoor space with plenty of shade to stay cool in while enjoying some great beers. Don't worry about parking either – the ample onsite parking space and event parking attendant will get you in and out with ease. To top it off, Back Pew is always pet and family friendly and will be pulling out all the stops to make an enjoyable experience for all that attend.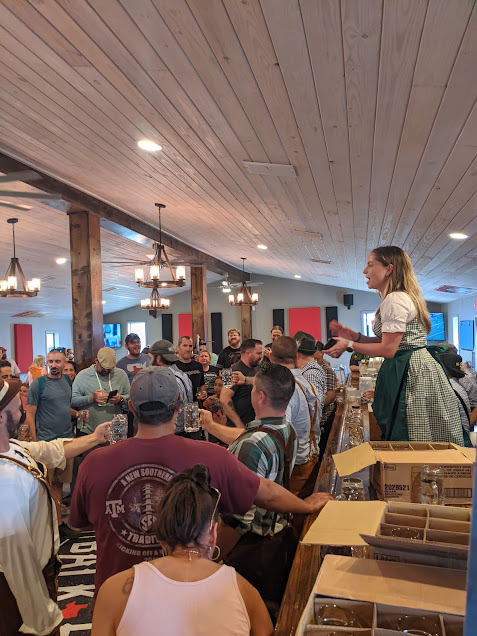 Like any true Oktoberfest event, there are plenty of activities to accompany good ole beer drinking. This year's fun includes a stein holding contest, stein racing, keg toss, and more games that I don't want to spoil that are sure to give you a laugh. The popular Homebrewed Brass Ensemble will be on the main outdoor stage with all the polka and beer drinking songs you can handle. If you've never had the fortune of experiencing them do yourself a favor and get a good spot-on site to hear them play. You can also bring your lawn chairs and create your own area for a bit more space to yourself. One of my favorite parts of OktoBEERfest is pairing the vast combo of lagers with delicious bites from local food truck, The Sauerkraut. Their amazing lineup of German food including beer brats and my personal favorite, the Schruben, can't be beat. Don't skip out on the pretzels that pair excellently with light drinker Kingsbrau on tap. The Webster Melting Company will be providing a variety of sandwiches during the event while Rosalia Urbano will be serving up delicious offerings including tacos and quesadillas. Still not enough? Gastrocraft is also joining in the fun with a full German inspired menu PLUS a limited amount of Corned Beef Reubens.
Our favorite feature, of course – BEER! While a few of my personal favorites are making a return, I know that I'll be starting with Mast to Marzen 6.2% abv. This beer is a more traditional style for Oktoberfest, that holds nutty/darker flavors, while still meaning for all day drinking. Huzzah to that!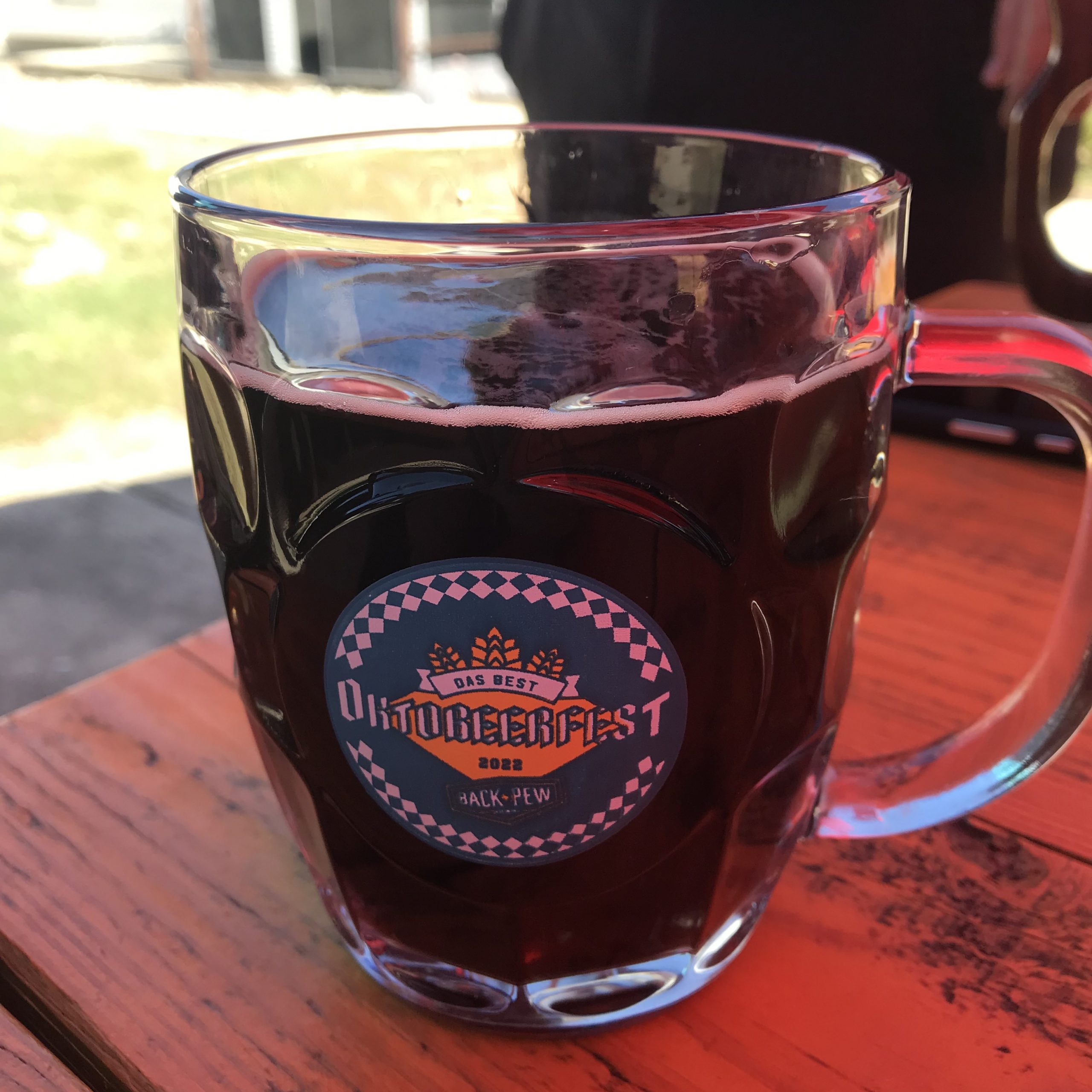 While you are there, be sure to try the newest beer Damned Dunkle – which will also be available in six packs to go. This limited run of packaged cans will go quick so snag your beer to go upon arrival.
Check out the full list of beer available for this event below.
Year-round Offerings:
Blue Testament
Hyper Light
Satyrs Swill
Lucy Wheat
Tanuki IPA
Apple Ale
Seasonal Brews:
King of the Helles
Kingsbrau
Me Beer
Black Habit

Oktoberfest Specific Beers:
Erica (German Pils)
ExALTation (Altbier)
Double Stanges (Kolsch)
Mast to Marzen (Marzen)
Back Pew Vator (Doppelbock)
Berliner Weisse
Damned Dunkel (Dunkel)
Zwickelbier (A lager brewed in collaboration with Nobi Public House in Webster)
Vienna Lager
Son of Satyr (Low ABV variant of Satyr's Swill)

The event kicks off at noon – we hope to see you there! This might be your last chance to celebrate Oktoberfest season so don't forget to dress for the occasion – lederhosen and dirndls are welcome! It's time for beer drinking, excellent food with friends and merriment for the whole family.