Out of this world micheladas w/Space City Snax
When life gives you limes, make micheladas!
The word "michelada" is a Spanish portmanteau that combines "chela" (slang term for beer) with "ada" for "helada," meaning cold, and "mi" for mine — basically "my cold beer". I used to not be a fan of micheladas until I tried a michelada made with mix from Space City Snax. If you order a michelada in the U.S., you'll likely receive a mexican lager spiked with spicy V8 like tomato juice, hot sauce, and lime at a minimum. Just like craft beer, micheladas flavors and additions have exploded in the market with fun toppers like bacon, mexican candy, and even sliders! I like to say that micheladas are to beer, the same way a bloody mary is to vodka where it's not just the mix that adds value to the beverage. In many ways, there is no wrong way to dress up a michelada and Space City Snax has lots of options for you to explore so that you can create your very own michelada medley.
Recently, I enjoyed the lime michelada with Turkey Forrest Brewing's Lightning Strike cream ale and dressed my michelada fully loaded with cucumbers, a pretzel stick, olives, drips sauce and some additional spices to top it all off. I don't know what I enjoyed more the beer with the michelada mix or taking the fruit off and eating it with the drip sauce. This is a drink you can literally make a meal from and makes a great addition to brunch. Space City Snax motto is 'The Spice is Nice' and let me be the first to tell you – the motto holds true.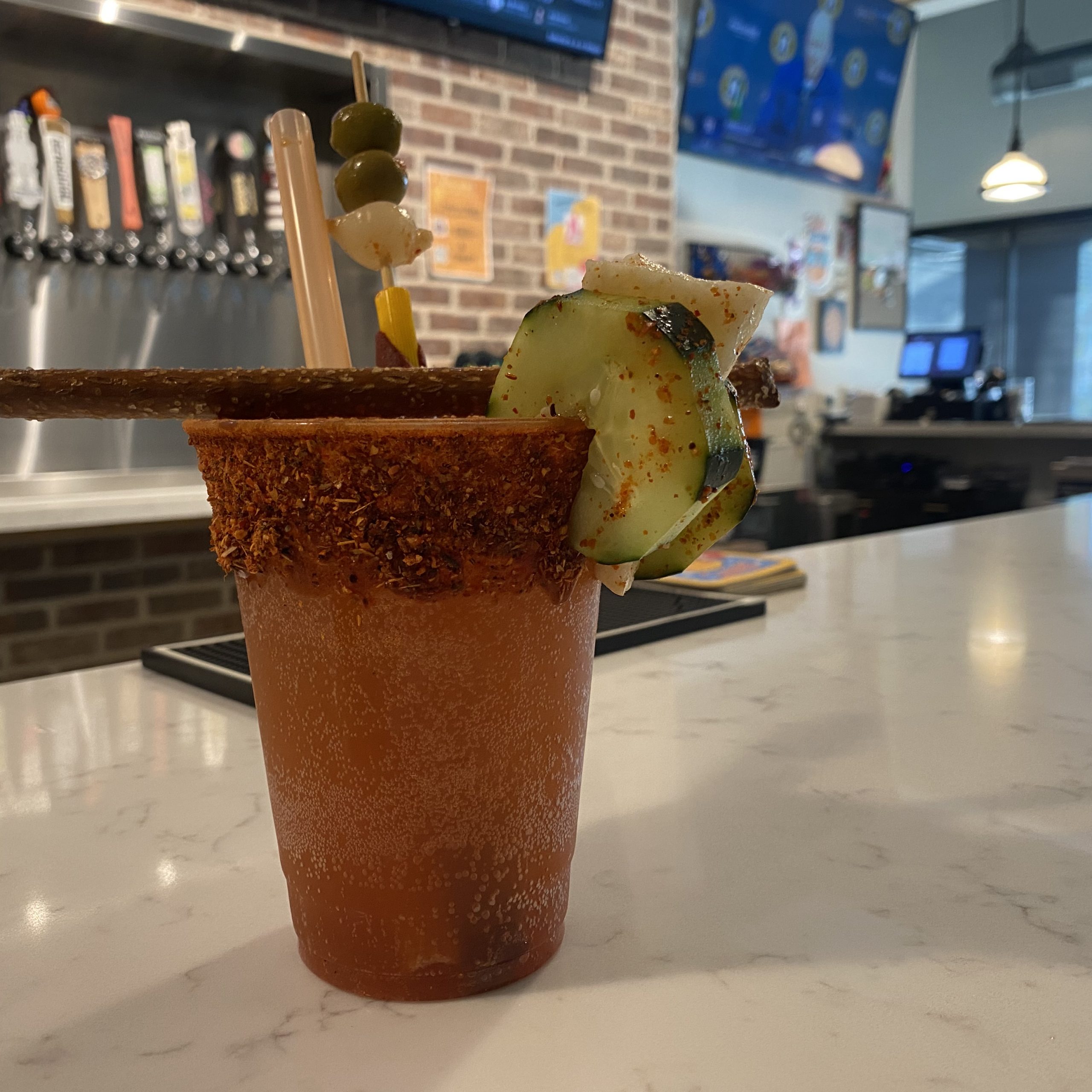 For me, the spice level was just right, not too spicy but enough to give it a bite of heat when you hit half way point of the drink. If bold spice isn't your thing, there's a line up of less spicy forward options like mango, pineapple, orange, or strawberry. You want something tangy? They offer pickle, cucumber, and lime. They even have a "tropickle" (a tropical pickle mix) that a local brewery made a pickle beer with and let me tell you it was one of the best pickle beers on the market. They even have a new beer collaboration coming very soon with Turkey Forrest Brewing that I'm very excited about. I hinted about this in my last article. Give it a read.
Space City Snax offers a wide variety of flavors they carry for purchase so you can make micheladas at home. I included a menu of their line up below of amazing mixes, rim dips, and snacks they offer. My personal favorite is the spicy gummies they offer as they pair especially well with lagers.. I've included a list of where you can find Space City Snax around town below for your reference. One of my go-to spots to pick up mix is at Big Owl because they have the Mango Chamoy michelada flavor. It has become my favorite way to mix up my beer drinking routine lately. Interested in other options or got an idea? Send Space City Snax a message on his Instagram page for more info.
Space City Snax will be featured as a community vendor during the Houston Beer Block Party. Ask your local brewery about Space City Snax, as Adrian will often be seen behind the bar mixing up new creations for you during vendor events. This michelada mix works well with nearly every light beer but don't be surprised if you see folks mixing with IPAs, wheats and other styles of beer.