Sinners & Saints Unite: Back Pew Brewing Is Opening!
If you've visited Houston bars serving craft beer in the past few months, chances are that you've noticed, or better yet tried, one of Back Pew Brewing's new offerings. They're now on tap at 40 local establishments, with more on the way. What you haven't been able to do, though, is visit their brewery. That changes this Saturday, March 5th, when Back Pew celebrates their grand opening. Recently, Houston Beer Guide contributor Cody Lee and I were lucky enough to receive an invite from founder and head brewer Bobby Harl to get a sneak peak of the brewery and sample some of their lineup.
What we tried
Back Pew will be offering two different lines: Saints and Sinners. The Saints line will consist of more traditional, "sessionable" beers, with lower ABVs and will pour under white tap handles. The Sinners line, denoted by black tap handles, will consist of more unorthodox and less common "big" beers, with higher ABVs. While we shared a beer with Bobby, he was quick to point out the available space in the brewery for packaging lines, which he hopes to have in place at some point in the next year.
From the Saints line, we tried their Blue Testament, an American pilsner with the heart of a traditional pilsner, and some added local personality as a result of being brewed with Texas blue corn. Cody was a fan and really enjoyed the unique sweetness the corn added to the beer. You should also look forward to trying Sweet Salvation (noticing a theme here?), a sweet-but-not-too-sweet, clean-finishing brown ale. Also available at the opening will be two newer Saints not yet on tap around town: Black Habit, a schwarzbier, and a yet to be named roggenbier. I enjoyed the roggenbier so much that I negotiated a growler fill. (What, you don't always have a few of those rolling around in your trunk?)
F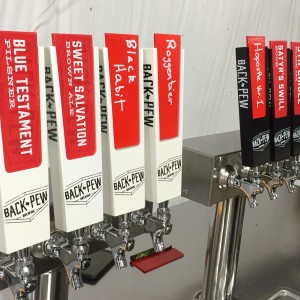 rom the Sinners line, we started with Satyr's Swill, a bigger, sweeter-drinking bock, followed by 9th Circle, a black IPA that certainly doesn't drink like every other black IPA you've ever had. (That's a good thing.) At Harl's advice, we both let it warm a bit after the first sip. There were definitely some pleasant changes, and I recommend you approach it the same way the first time. And don't worry, hopheads, your baby will be there at the opening as well: Hopostle (Vol. 1), a blend of a newer hop, called Idaho 7, and the tried-and-true Cascade hop.
Special beers will be brewed in the future for events and holidays, including the grand opening. For instance, St. Patrick's day will bring something new to the Saints and the Sinners lines in a traditional Irish red ale (Saints), and an Irish coffee imperial milk stout (Sinners). I'm pretty excited to be a sinner that day.
The grand opening
Harl and the rest of the Back Pew family will be on hand to talk about the brewery and the beers and, most importantly, to drink a few of them with you. Because Montgomery County has some different laws than Harris County, you'll be able to have a beer in the same room it was brewed in, with a view of the beautiful new 30 barrel system Back Pew Brewing employs. There will be food available for purchase thanks to Tin Roof BBQ, who has been perfecting a few special recipes using Back Pew Beer just for the event. The brewery is kid-friendly (but there's no playground) and dog-friendly; just make sure you clean up after your dog and keep them on a leash. The same applies for your kids, if they're anything like some of my friends' kids.
There's plenty of space out back as well (14 acres), and while we were speaking with Harl, he shared several ideas he has to make the brewery a great place to spend a day, including games, movie nights, and other special events. For the time being, though, the focus will remain on brewing a fantastic product (as it should be).
So if you don't have plans this Saturday, make the short drive up 59 and spend some time with the guys at Back Pew Brewing, eat some BBQ, and sample their tasty lineup! RSVP via Facebook
Back Pew Brewing is located at 26452 Sorters McClellan Rd., Porter, Tx. Keep up with news about new beers and future events at the brewery on Facebook and Twitter, or find their beers around town using the "Where to Drink" section on their website.