Don't Stick to What You Know… Explore Walking Stick Brewing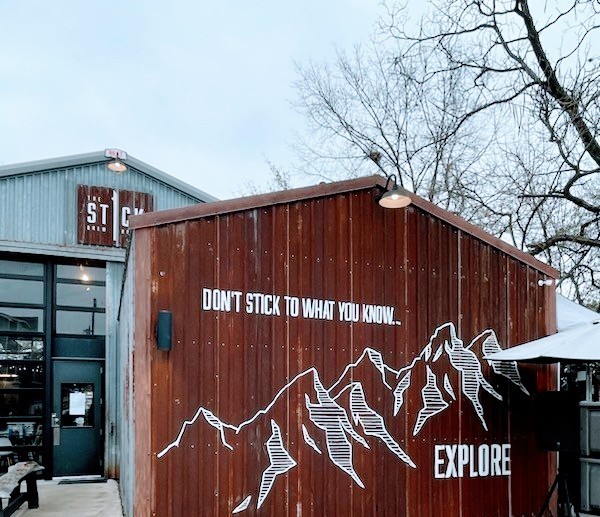 As I set foot onto the entrance I am greeted by a large mural painted on the side of that states "Don't Stick To What You Know… Explore", The words welcome you with a challenge and I was ready to explore Walking Stick Brewing.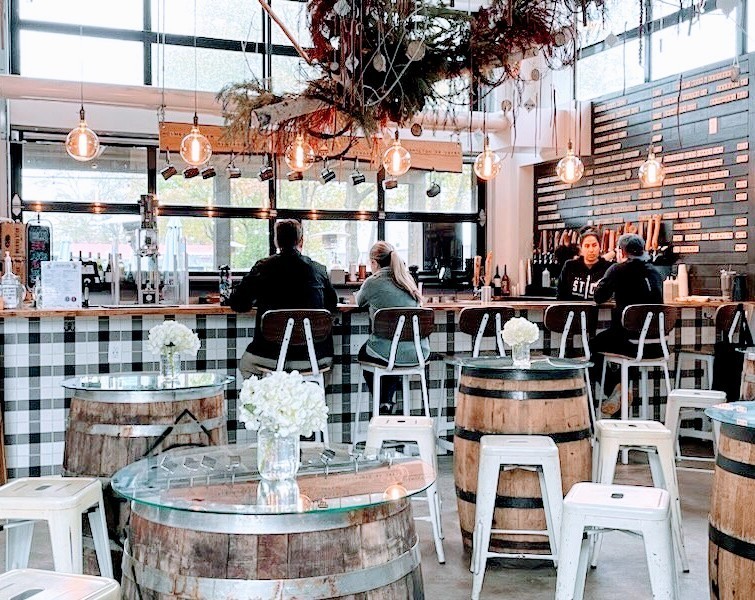 This repurposed welder's storage complex has been refitted and worked into a functioning beer hall straight out of the Colorado Rocky Mountains to great effect. You are granted an invitation to relax in a taproom that purposefully conjures up flashbacks to mountain beer lodge in heart of the Garden Oaks/ Oak Forest area (or GOOF to the locals). Elaborate decorations and lighting hanging from the ceiling with fresh cut flowers for each table.
Before I even get my first pour, I am greeted by Georgina Solis, Head Brewer of Walking Stick. I am treated to her history in brewing, and her passion for her craft. Georgina shows me the equipment and tanks that she uses daily to turn water and grains, yeast, and hops into the beer that Walking Stick has been serving the neighborhood and Houston at large since December of 2018. 
Georgina encourages me to try her favorite beer while I am in the tap room, the Pikes Peak Pilsner, the first recipe she created for Walking Stick when she moved over from Eureka Heights. The Pike's Peak is a 5.2% Czech style pilsner that is lightly malted and refreshing with a hint of sweetness to it. I am a firm believer that there are few finer things that a well-made lager or pilsner, and Pikes Peak more than qualifies.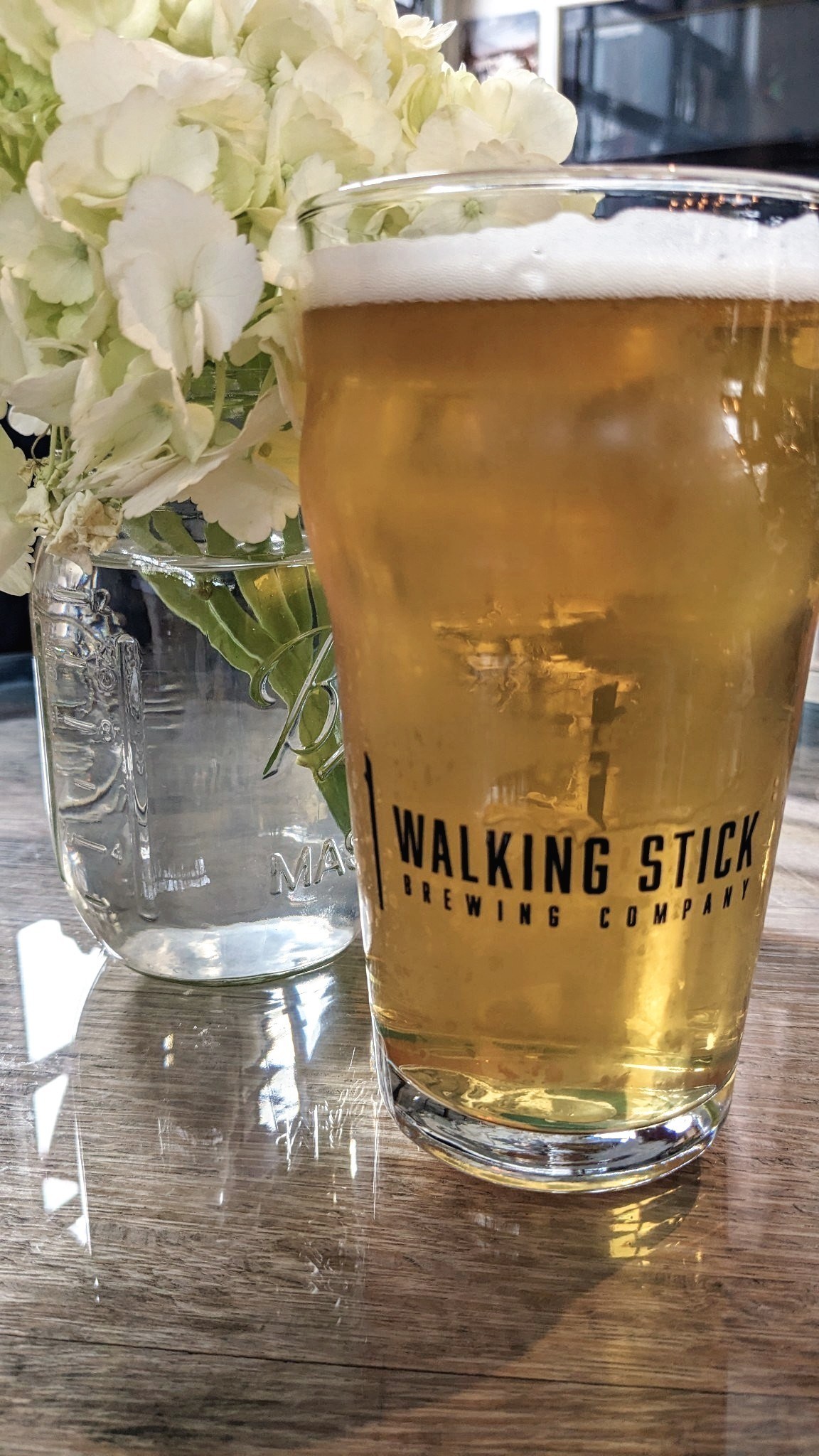 I settle more into my stool at the tap room bar top and sitting next to me at the bar top is the General Manager of Walking Stick, Tiare Austin. Tiare has been with the brewery since day one, starting off as an original beer tender. Over the last four plus years she has taken up the mission of helping build Walking Stick into a growing and thriving brewery. I was sipping on my Pike's Peak Pilsner while Tiare shared stories of the support from the local neighborhood during Covid, where patrons would purchase beer to go en masse, which kept employees working and helped the brewery stay open.
Tiare excused herself to continue working, so I order Walking Stick's Fourth Anniversary Strong Ale, the 14er. The 14er was brewed with peach and Tahitian vanilla to form a subtle beer that goes down very smooth, with a 10% ABV punch that settles well.
Next on my adventure was the Belford Pico de Gallo Berliner Weisse, a spicy mixture of roasted pepper, cilantro, and lime. Spicy food is great, but in my beer? The answer is absolutely yes. The spiciness was not overpowering, blended well with the lime to present a combination that exploded with flavor.
Walking Stick is family and dog friendly with lots of outdoor space both in front and out back of the tap room. If you are hungry there is Twiggy's, the onsite kitchen offering bites from 11am-3pm daily, as well as rotating food trucks during the week. Special Events during the week include a Running Club, themed trivia nights, and Sunday Yoga amongst other things. Every Wednesday nights are Refresh Night, where patrons are allowed to take home the flowers at each tabletop (vases not included) in preparation for a new batch. For those hikers in your life, Walking Stick also offers membership into the Summit Club, available to those that have summited some of the 58 different 14,000-foot mountain peaks in the state of Colorado.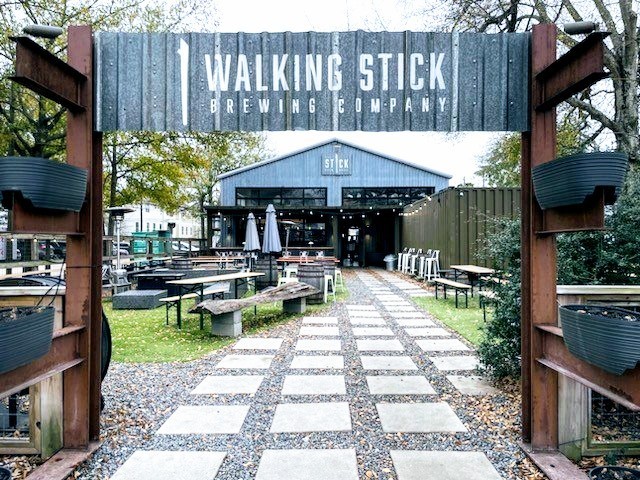 Walking Stick Brewing is located at 956 Judiway Street. Houston, 77018 @walkingstickbrewing on Instagram www.walkingstickbrewing.com
All photos by and used with permission of Chris Galloway (@libraryclg) and edited by Sophia Panda (@panda.sofia)