History is Being Brewed in Downtown Alvin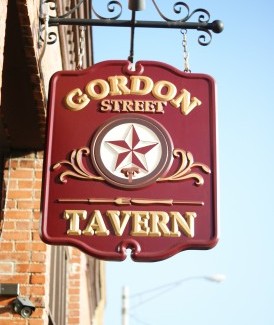 There's been a lot of talk in the Houston beer community about how the "solution to our problems" will be neighborhood-focused breweries. Houston's urban sprawl makes it unlikely that we will duplicate the brewery-every-mile format of more developed beer cities, but that also makes it the perfect environment to have a brewery (or two or three) catering specifically to their neighborhood. While some newer breweries have been getting all the attention, Gordon Street Tavern has been quietly building this exact kind of ultra-local brewpub in Alvin.
Located in a beautifully restored 100 year old building, originally home to a hardware company, Gordon Street Tavern has been quietly brewing their own beer since mid-April. When owner Henry Dillmann bought Gordon Street 2 years ago, chef Jay Peek convinced him to keep the craft beer selections. Well, the craft beer bug bit Henry hard, and he is now fulfilling many beer drinker's dreams: owning a brewery and sharing the craft beer gospel. He's doing good work too, craft currently makes up 60% of their beer sales and that percentage is constantly increasing. To top it off, their Hefeweizen is their top selling craft beer, an honor well deserved.
Owner Henry Dillmann has done a great job tying the history of the city of Alvin into the identity of Gordon Street. As you walk in, you can't help but see the arial photo of old Alvin filling up an entire wall. The tap handles used for the Gordon Street beers are railroad spikes, a tribute to Alvin's history as a railroad town. One of their flagship beers, "Shep N John's Golden Ale" is named after local celebrities: Shep the dog and John the goose, pets of town founder Alvin Morgan. All this makes Gordon Street feel less like a bar or restaurant and more like your friend's living room. Adding to this feeling is the kindness of the staff and customers. Henry's wife sat at the bar and ate dinner with my wife and I, and the ladies to the other side of us filled us in on the last 3 bands to play at Gordon Street during their live music Wednesdays. We didn't make it very far into the menu before ordering 4 appetizers. My favorite were the pretzel sticks, with some very spicy, house made, Hopadillo Mustard, but they had some stiff competition.
We talked Henry and Jay into giving us a tour of the brewery while visiting for the afternoon. Tucked away in the building next door is a 1 barrel electric brewery. Their fermentation room is a walk in freezer, with the temperature set in the high 60's. Although this is his first professional brewing job, Jay has been brewing at home for around 25 years, and the knowledge gained shows through in his operation. During our visit, they had their Hefeweizen and Shep N John's Golden Ale on tap.
The Hefeweizen is a traditional Bavarian Hefeweizen brewed with pilsner malt and wheat malt, noble hops, and a traditional Hefeweizen yeast strain. It is very light and easy to drink. The flavor is a very present but delicate banana which is followed by a clove spice, all flavors created by the yeast during fermentation, not additives. The sweetness of the grain comes in at the end to balance it all out. Shep N John's is their Golden Ale targeted at craft converts. It is an exceptional gateway beer. I could definitely see myself drinking a pint or two on the patio listening to some live music, especially in our summertime heat. It's a perfectly balanced golden ale, something that is much harder to execute than you may expect. It has a sweet malty aroma and flavor and a moderate amount of fruitiness from the American hop profile. It's brilliantly clear despite the fact that I didn't see any filtration equipment during our tour.
Based on these two beers, you may think they're brewing only "basic light beers" and playing it safe in the shallow end of the ocean of craft beer styles. While good execution of light styles is something all palates can enjoy, they are also brewing "beer nerd" beers. Tapping soon, they have a SMaSH (Single Malt and Single Hop) IPA, brewed with Vienna Malt and Amarillo hops. In the fermenter, they currently have an Oud Bruin, a sour brown ale Jay is aging until their 1 year brewing anniversary. They also recently brewed a Gose, a tart beer brewed with coriander and salt. The salt for that small batch came from the Galveston County salt domes, ancient underground salt deposits.
In addition to their house beers, their tap list is a well curated list of classic favorites and newer locals. When I visited they had Live Oak Hefe, Saint Arnold Endeavor, Lone Pint Yellow Rose, Texas Beer Refinery Gose, and the first Fetching Lab tap I've seen around town. And they're not afraid of sours and Brett beers either. Their current tap list has 5 of them. They keep their TapHunter page up-to-date, because they use tablets with the TapHunter app for their beer list. The drawback to this is they don't list prices, but everything is in the $4-6 range.
Gordon Street Tavern is a neighborhood pub. It's where people gather to watch the game, meet friends, and share stories. No matter where you're from, it feels like home. The next time you're in Alvin, whether you're picking strawberries at Froberg's Farm, passing through, or heading home, stop in at Gordon Street for a pint.