Houston Funk Fest Preview
There's a new beer festival making its debut in Houston on August 22nd. Organized by Jon Denman, host of the local craft beer and craft spirits focused radio show Drink of Ages, Houston Funk Fest will feature "over 50 wild, farmhouse and sour ales". Inspired by a recent trip to the South Denver Beer Fest, and a few funky beers, Denman convinced himself to turn his love for the beer style into a party.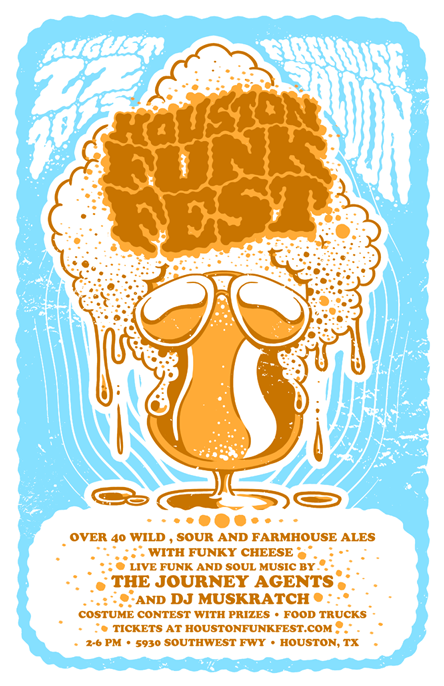 Houston Funk Fest owes its name to the "funky" flavors found in beers made with wild yeast and bacteria. To continue the theme, there will be funky cheeses as well as funk and soul music from local musicians The Journey Agents and DJ Muskratch.
For those worried about the heat, Denman says the party will be held inside "in the nice, cold air conditioning! We are in Houston and it is too damn hot to have a beer fest outside right now. Plus the sound in Firehouse [Saloon] is fantastic and with the live music, the dance floor is going to be grooving."
Fans of farmhouse ales (for which I've already admitted my affection), sour beers, and beers brewed with Brett won't want to miss this event. Denman has gathered an incredible selection of beers. There are beers from local brewers that I've never seen before (Saint Arnold's* Sorachi Ace Dubbel aged in red wine barrels, Texian's Texianer Weisse to name a few), breweries that to my knowledge have never been available in Houston (Funkwerks Brewing and Collective Brewing from Fort Collins and Fort Worth, respectively), and beers that are so expensive by the bottle that I've never tried them (Rodenbach's 2012 Vintage and Caractere Rouge).
Your ticket gets you a 7 ounce snifter and 8-3oz pours of your choosing. If you want to make a bigger dent in the beer list, an additional $5 gets you an extra 8 pours. I've already picked out my first 8 pours (and probably my second 8).
They are only selling 250 tickets, so get yours before they run out! https://www.eventbrite.com/e/houston-funk-fest-tickets-17693248984
Check out the taplist and give the Houston Funk Fest Facebook page a "like" while you're there: https://www.facebook.com/houstonfunkfest/
*Proper use of the possessive apostrophe