2015 Pumpkin Beer Roundup
Forget kettle sour debates, mega-corporate buyout concerns, or any the other arguments beer nerds love to quarrel over. Nothing is as divisive in the beer world as the word "pumpkin." A word that, for certain people, brings to the surface the most vile and powerful animosity imaginable. The kind typically stored deep in the underworld of their souls, bubbling up to unleash upon only the most truly evil things in life. For others, it is a welcomed friend that accompanies cooler weather, football, and upcoming holiday fervor. And though most pumpkin beers will never be loved by all (a statement true of all beer), I feel that with an open mind, everyone can find at least one option they don't hate. Maybe even love? Maybe.
Pumpkin has a distinct place in American beer history. I'll bore you with a very brief history lesson. Pumpkin was often used in colonial times in lieu of malt, which could be scarce, as shipments from Europe were expensive and more difficult to come by. Pumpkin contains fermentable sugars, which are obviously necessary to brew, so it was used for its alcohol making abilities, not its taste. Today, most pumpkin beers are more akin to liquid pumpkin pie than to those early gourd-based beverages.
While most pumpkin beers today contain a well-pronounced spice profile that tends to dominate the nose and palate, there is a wide-range of varying base styles available. Here in Houston, we are lucky to have an assortment of these options accessible to us, and not just from breweries outside our borders. The following are four bottled selections you are likely to find on the shelves around town, made by local breweries, and each unique and tasty in its own way. (This is not a ranking. Order is in no way an endorsement of one option over another. Try them all!)
Karbach Krunkin Pumpkin
Available in four-pack, 12 oz. cans
7.9-8.5% ABV (depending on vintage)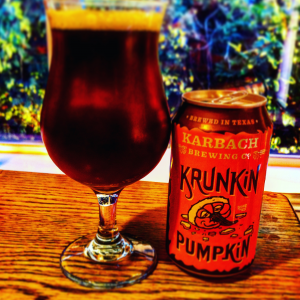 Karbach Brewing's Krunkin Pumpkin has been an annual fall release since 2012. Though there has been some variation from year to year, the recipe has been honed-in and is quite delicious. Coming in under 9% ABV makes this one of the more "casually drinkable" options of the four I will cover in this article. Of course I am being a bit facetious. But I do find this to be a great late-afternoon porch option, rather than a dessert beer, which most pumpkin beers tend to be.
A delectable balance of sweet malt, pumpkin, spices, and hops, all dancing in aromatic unison. This year's rendition was the freshest I've had, being lucky enough to find cans only a few days old. This allowed me to enjoy the play of the well-pronounced hops as they worked in harmony with the other wonderful aromas, rather than being masked by the spices. Taking a sip you first notice the caramel sweetness of the malt, followed by hints of pumpkin, a solid amount of clove and allspice, and finish with a sweet almond extract-like flavor new to me in this beer, which added greatly to the already complex yet balanced flavor profile. And while this beer has all the key elements you expect in a pumpkin pie flavored beverage, it never takes you so far away that you forget it is beer. The hops and malt provide the foundation of this delightfully spiced amber.
No Label Nightmare On 1st Street
Available in 22 oz. Bombers
9.3% ABV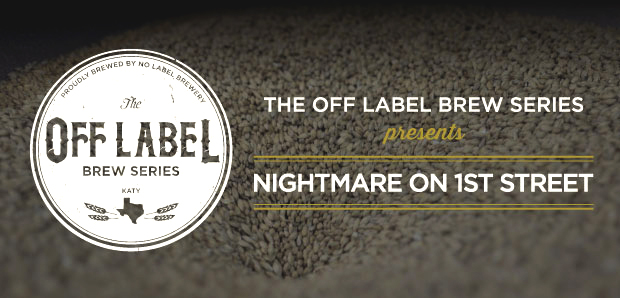 A true hit and part of the Off Label specialty series, No Label's Nightmare On 1st Street was one of the best beers (period) to come from the Houston area last year. Well-received and highly sought after, this one did not sit on shelves for very long last year. (You should have no trouble finding it this year, as it is plentiful.)
Incredibly complex, yet superbly balanced, this beer presents you with many great flavors. A malty, sweet background with pumpkin and the standard spices present; allspice, clove, nutmeg. And though I did not pick up as much cinnamon and ginger as others have, they are both assuredly present. But to me, no particular spice stands out much above any other; they have found a possibly perfect, harmonious combination.
Another element that makes this beer great is that it creates a nostalgic and tangible homage to Halloween. The aroma is like a candle, but without the artificial presence that other, lesser pumpkin beers sometimes impart. Along with the spices and pumpkin, I taste sugary sweet caramel corn and candy. Whimsical memories of fall carnivals and trick-or-treating walk along with me as I enjoy this great concoction.
I was lucky enough to find a couple of extra bottles last year to age. Recently I opened one to see how a year had treated it. All the key flavors were there, and still in balance. However, some overall fading had occurred, and I can't say it was improved by aging. A little shouldn't hurt, too much, but I suggest drinking it now to fully appreciate the spices. Like most brews, Nightmare is intended to be enjoyed fresh.
Buffalo Bayou Pumpkin Spice Latte
Available in 22 oz. Bombers
9% ABV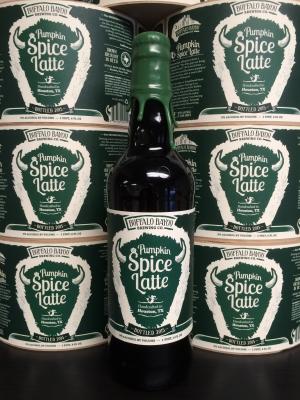 Like Nightmare On 1st Street, this is the second year for this fall selection. And while Nightmare is my Halloween beer, Buffalo Bayou's Pumpkin Spice Latte is now my Thanksgiving (and probably Christmas) beer. Taking one of my favorite holiday beers, Gingerbread Stout, Buffalo Bayou mashes in pumpkin and then ages it on coffee beans.
The aroma and taste are in unison: pumpkin, spice, sweet cream, toasted notes, and a touch of coffee. These flavors all work together delightfully to give you the closest experience to actually eating a piece of pumpkin pie topped with Cool Whip, while drinking a cup of coffee, after a big Thanksgiving meal. I adore this beer for being able to put me in that moment, and for its great execution of flavors working wonderfully together. Buffalo Bayou has a knack for creating complex experiences with many of their beers. This is another great example.
Saint Arnold Pumpkinator
Available in 22 oz. Bombers
10% ABV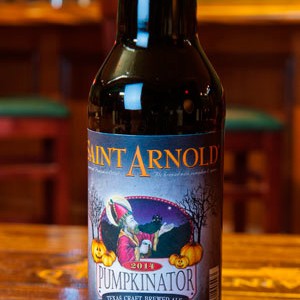 Certainly the most sought-after and highly coveted of the Houston pumpkin beers, Saint Arnold Pumpkinator is an imperial pumpkin stout that has built a large following, creating an almost mad fervor that drives people into stores every October, sometimes to buy cases at a time. (Important note: Pumpkinator will be released Monday, October 19th. It does not stay on shelves for very long, so grab a bottle or six while you can.)
Released originally as number 9 in Saint Arnold's Divine Reserve series, this beer has captivated beer drinkers of all types since 2009. Both pumpkin beer haters and lovers have found common ground with this one, as it tends to have a relatively small pumpkin presence (compared to others), and is dominated mostly by spices over a fantastic imperial stout base. Loads of cinnamon and other pumpkin pie spices almost overwhelm both your nose and tongue. Graham cracker sits underneath, giving this one a cinnamon cereal quality. Pumpkin, toasted notes, molasses, and dark fruit flavors come out as it warms. A complex and wonderful beverage, perfect for cooler weather and holiday gatherings.
For those that wish to seek out more pumpkin flavor, a more prominent stout presence, or maybe just a little less spice, aging this one can do all of these things. But the prominent flavors are strong and will remain mostly intact for years, allowing this one to be enjoyed for many years to come.
Love them or hate them, pumpkin beers are here to stay. Go out and find one you like. Cheers!