The Most Houston Beer Ever?
Being a craft beer fan in the Lone Star State, particularly Houston, is much different than other locations. We're not intensely known for a style of IPA (yet), we don't have very cold winters so we're not huge stout drinkers, and our state regulations on beer are more strict than many others.
But I think I've found the "Most Houston" beer ever for fellow Bayou City dwellers to enjoy.
A beer that represents The City of Syrup should be crisp and refreshing to help us get through the intense heat. After spending hours in weather conditions that scare most people, the last thing I want to do is try to chug an Imperial Stout or Triple IPA. I crave something light, golden, thirst-quenching, carbonated, clean, and not too hoppy or boozy! Sounds pretty awesome, right?
How about we add one more Houston element to the mix. Let's name it after one of our City's most notable historic figures! The Allen brothers founded the city of Houston in 1836 and named it in honor of Sam Houston, the first and third President of The Republic of Texas. Who better to represent our hometown?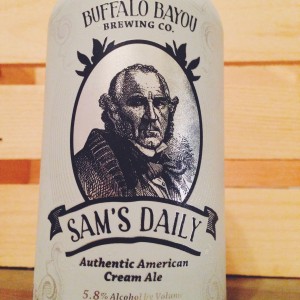 Introducing Buffalo Bayou Brewing Company's Sam's Daily Cream Ale. They teamed up with local bar owner Brad Moore (ownership in Lei Low, The Honeymoon, OKRA Charity Bar, etc.) to create this beauty. It's everything you want to beat the heat and comes in a sweet can showcasing Sam Houston's handsome mugshot. And at only 5.8% ABV, it won't knock you on your rear if you consume more than a couple. This should be a new staple within your craft beer repertoire.
I like to think that if that giant Sam Houston statue in Huntsville, TX decided to break lose and crush a beer this would be the one he drinks! I'd pay good money to see that…
So go to your local beer shop and seek out Sam's Daily cream ale. Cheers to the beers.