Introducing Shoot the Moon
If you run in local craft beer circles on the social medias – which I assume you do if you've found this group – then you've no doubt heard about the recently opened Shoot the Moon located in the recently redeveloped Spring Branch Village shopping center at 8155 Long Point Road.
Although having just barely wrapped up their soft opening, the buzz surrounding this first-in-Houston self-serve bar must have worked because there was barely an empty seat when we arrived around 7:30 on Saturday evening. As you enter, you're guided by a partition to the counter where, unless you need to re-up on some wings, may be your last direct interaction with the staff for your entire visit. That's not to say the staff is at all unnecessary. The young lady at the counter greeted guests and when asked how all of this works, she patiently explained to the old man in front of her that if you want to order food, you can do that with her at the counter. For everything else, she will give you a card, linked to your own credit card, that you will use to serve yourself from the massive tap wall to your left. When it is time to call it a night, you simply drop that card into one of the metal lock boxes at the door where I presume they will be erased and reused. (Spoiler alert – the old man in front of her was me.)
In addition to the counter staff, I noticed throughout our stay that at any given point, there were no fewer than 3-4 employees working the dining room to pick up, wipe down and generally maintain the cleanliness of the facility. They were not there to wait tables or interfere with your experience, but I'm sure if you had a question they would be happy to help you.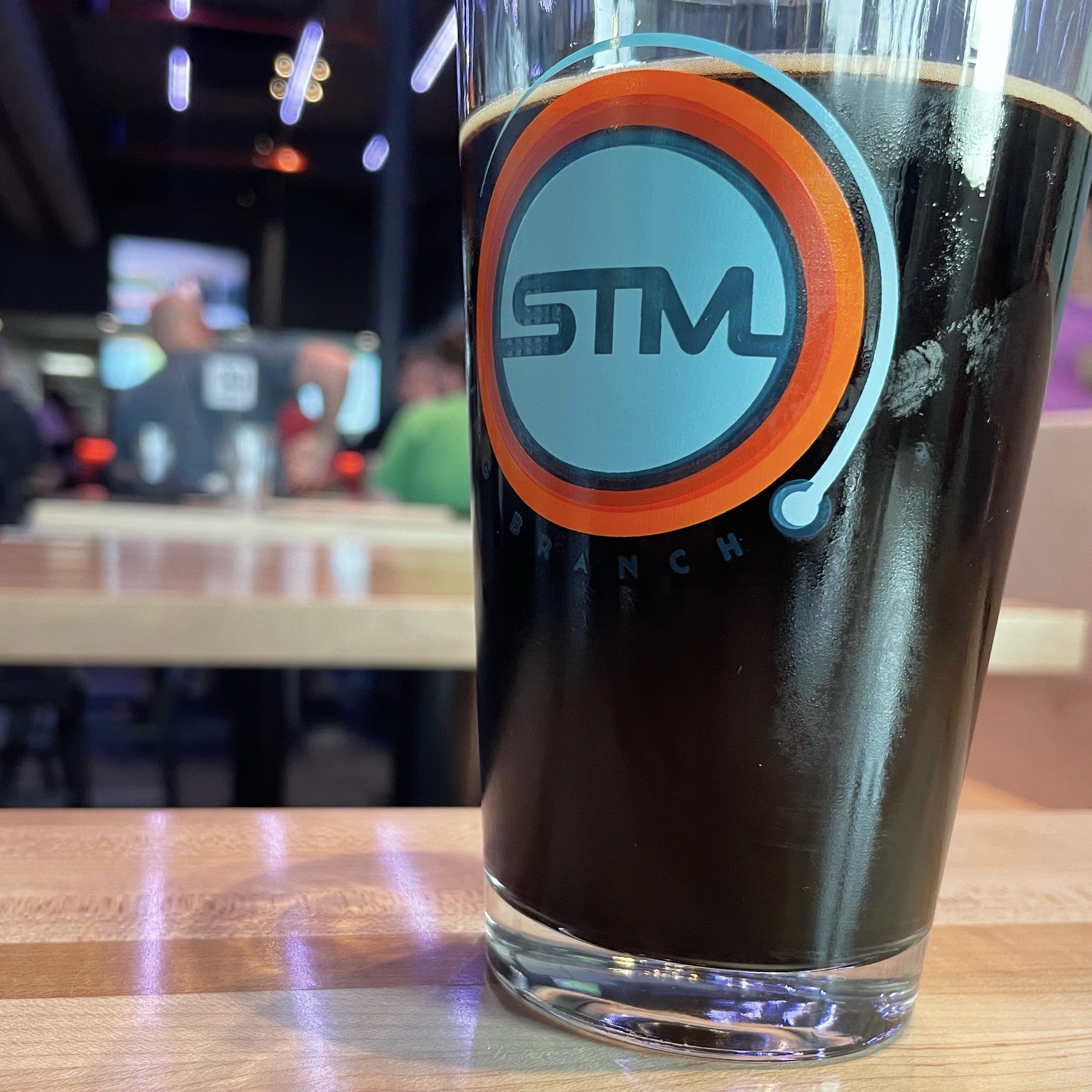 Once we'd made it through the entry gauntlet, we browsed the massive tap wall and quickly noticed a wide range of drink options. In addition to beers and ciders, there was an array of wines, straight liquors, a few common cocktails, and non-alcoholic options like sodas. We made our selections and wound our way to one of the few open tables. The seating area is essentially a sports bar & grill atmosphere. The room was on the noisy side with loud bar music and an open environment void of anything to baffle the sound. There were a dozen TVs on the perimeter walls tuned to various sporting events and in one case a Star Wars marathon. If you'd prefer a section that may make conversation a little easier, there is also a covered patio with lots of fans. This also appears to be a generally family-friendly establishment. There were a number of families with children there when we were, predominantly on the patio but we did see one or two in the dining room as well. It's quite possible that the patio is dog friendly as well, but we didn't see any good boys during our trip and I didn't ask.
Now for the main event: the food and beverages. On this trip we didn't actually eat, but my second hand review of the food is that it appeared to be a mix of fairly typical pub fare like pizzas and wings, along with more traditional entrees. Everything we saw being delivered to neighboring tables looked and smelled great, and I regretted my decision not to arrive hungry.
Since this is a beer-centric blog and the focus of my trek was "research," I'm glossing over the whole array of drink options and keying in on the beer taps. This is honestly the part I was most impressed with. A big challenge for bars and restaurants that carry a large selection of beers is to please as many people as possible. I liken it to political banter (relax and just go with me here; I promise this won't get uncomfortable.) It often seems like retailers have a difficult time knowing what their customers want, because the loudest groups are the extremes. On one end you have the "globo-beer is evil and should be destroyed" party (it's like I'm looking in a mirror) and on the other there is the "craft beer snobs are a bunch of neck-bearded dorks who live with their moms" caucus. I have no research to back this up, but my guess is that the reality is that most people are somewhere in the middle of this bell curve. On a regular old Tuesday night at Chili's they're perfectly happy to have a Bud Light with dinner, but are also interested in trying out the new craft brewery that just opened near their office for happy hour. You see the parallel? I told you it wouldn't get weird. Anyway, as I said, this is the most impressive part. The taps have a broad range of beer choices from one of my go-to macros in Lone Star and Texas craft staple Shiner Bock, to gateway crafts like Live Oak Hefe and Saint Arnold H-Town Pils, to more hardcore enthusiast options including IPAs, sours, and barrel aged stouts. There are even a few well-selected classic imports like Gulden Draak and Petrus.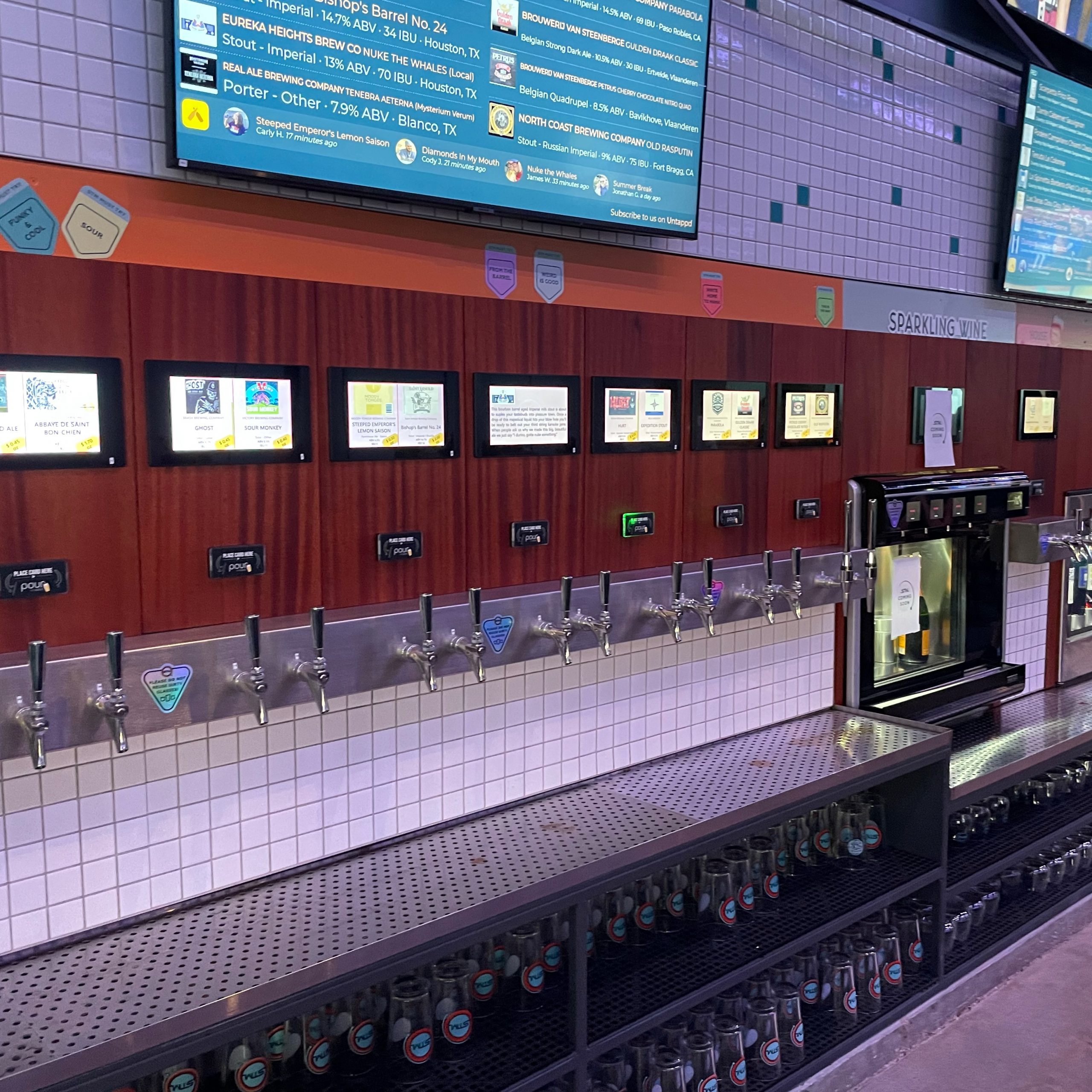 And the fact that everything is self-serve is a great enticement for non craft beer drinkers to try different beer styles that they might have thought about but were too intimidated by to dive in head first. The ability to pour just an ounce or two of something new takes away some of the hesitation, knowing that you're not committed to a whole snifter of a high ABV quad.
Other than the elevated noise levels, the only criticism I have is that the pricing model seems a little confusing and inconsistent even to me, a grizzled craft beer veteran. I imagine it could be at least a little daunting to rookies as well. Because of the way everything is poured to the amount you want, the taps indicate pricing on a per ounce basis which seems reasonable. The issue with this is that it is not how beer has traditionally been priced throughout history, so these numbers can seem nebulous. Me as a regular old guy who went to public schools can't equate that to the price of "a beer." The screen in front of you helps by keeping a running tab so you can see what you've spent so far, but keep in mind it's giving you the total on your card, not for each drink served.
As to the inconsistency of the pricing, I will give an example. The first beer I had was a Nuke the Whales, a 13% limited release imperial stout by Eureka Heights. This beer is listed at $1.30/oz. A beer like this is typically served as a 10 ounce pour which comes out to $13 for a drink. In my experience, that is a little on the high side, even for a limited release or barrel program beer. And there were a handful of beers on the menu that were priced above that level. Contrast that with my second beer, a pint of Diamonds In My Mouths which is an 8% NEIPA from SpindleTap. This one rings up at $0.40/oz or $6.40 for a 16 oz pour. That's a very reasonable price, and frankly probably a little lower than I would expect for an entire pint of a higher ABV hazy like that. The takeaway here is that unless you're going to The Hangover levels of consumption, none of these are going to break the bank, but if you really pay attention there are some bargains to be had here as well.
So overall impressions on my first experience at Shoot the Moon…you can expect an open, clean, and vibrant space, helpful but minimally intrusive staff, a food menu that's not overwhelming but broad enough to please most tastes, and a drink selection that would be the envy of just about any non-specialty bar. I can see this becoming a regular stop in my rotation, and if the early crowds are any indication you will likely see more of these or similar concepts popping up throughout the area in the near future. Cheers!