Karbach Staycation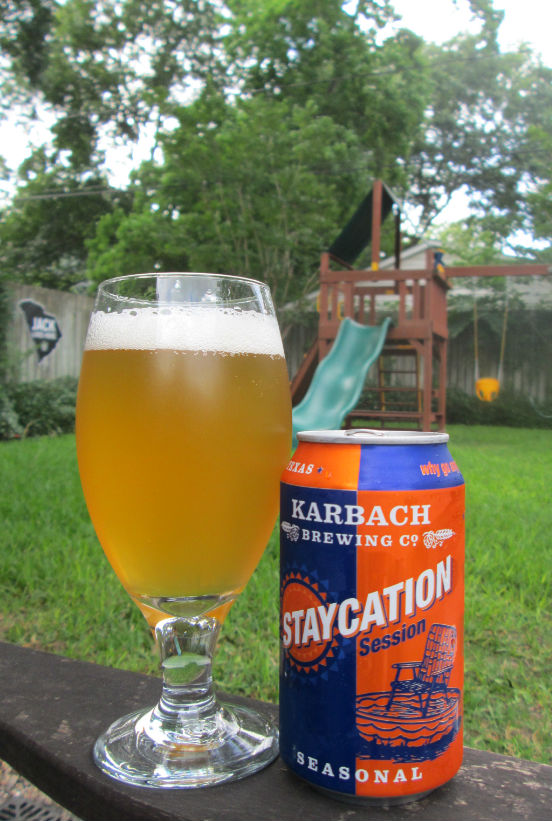 Gone are the sweaters and hoodies and henleys, out are the vented shirts and pearl snaps and guayaberas. It's been a wet spring in Houston, but when the rains leave the moisture stays, and the humidity has descended like a biodome over our fair burg. With the peacoats go the porters, with the scarves the stouts. The body on beers people are reaching for generally tracks inversely with the mercury in their thermometers, and Houstonians become a sort of antipodal Game of Thrones cast, whispering ominously to one another, "Summer is coming." To beat the heat, fridges are stocked with light bodied lagers and pilsners, kölschs, goses, and witbiers. And while Houston's ideal beer may be the saison, Karbach has just released a session ale to complement their Barn Burner and Love Street Summer Seasonal.
Receiving TABC label approval back in March, the seasonal cans are starting to hit retail shelves across Karbach's distribution footprint. Staycation uses a malt blend of barley and wheat for a light body, and the relatively new Mandarina Bavaria hops – a Cascade descendant – add a distinctly citrusy component, heavy on tangerine. You may remember the Icon Gold released last year by Saint Arnold, another Mandarina Wheat, but Karbach dials back the alcohol and the bitterness a bit with their new summer seasonal, coming in at 4.8% ABV and 25 IBU. No one flavor component really leaps off the page here, rather each commingles subtly and smoothly for a refreshing finish. After trimming the hedges in 90 degree heat, you don't want a Double IPA that's just going to further dessicate your tongue, or an Imperial Stout that would be like chugging a milkshake instead of Gatorade. This sessionable ale you can crush several of, drop your core temperature, and still drive that lawnmower in a straight line.
While the rest of the country enjoys lower gas prices, they may actually be more inclined to pack up the family roadster. In Houston, however, where much of the population works in the oil industry, those falling prices generally have the opposite effect. So fire up the grill, fill the kiddie pool – go ahead and light some citronella torches – and enjoy a Karbach Staycation.