Review: Saint Arnold Bishop's Barrel 15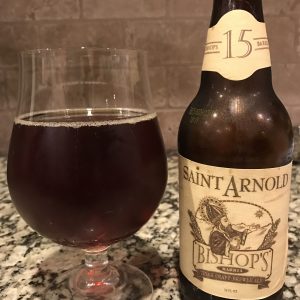 I don't eat a lot of fruit. When drinking an IPA I couldn't tell you the difference between mango or passion fruit, as many reviews do. "It tastes fruity" or "that has a lot of citrus" may be about as far as I get, so don't look for my review of the next Brash IPA any time soon. I do like whiskey, chocolate, vanilla, and big boozy beers a ton, though, and I think that makes me pretty qualified to review the new WhistlePig Rye Whiskey barrel aged barleywine from Saint Arnold.
I went with a trusty tulip glass and poured the entire bottle in quickly. The beer had a very thin head and the color reminded me of a tawny port or very aged whiskey. What I immediately noticed was the aroma. The rye whiskey dominated the smell, especially the booze, and I was surprised, as I took the bottle to the recycling bin, how soon I smelled it again. I was several yards away from the beer and it lingered in the air as if Yankee Candle made a whiskey-scented candle. Upon first taste I got a cherry-plum type of flavor (I told you, I'm horrible at picking out the fruit), a slight floral taste, tons of chocolaty malt, and a lingering vanilla booze. As it and I warmed up a bit (it is 13.1% ABV, the highest ABV ever bottled by Saint Arnold), other notes started to become more pronounced. That fruit note changed a bit and lingered a bit longer, plus I would occasionally get the rye spice from the barrel mixed in. The next layer was the chocolate, but it came in without the heavy malt I tasted when cold. Finally, I got a layer of vanilla and coconut, and throughout all of it you get booze. Somehow that booze never overpowered and stayed fairly balanced. I'm guessing the base English Barleywine was a massive malt bomb, but that was intentional to balance the rye whiskey and kept it from becoming a boozy mess. The silkiness of this beer may be its best trait. I've had dessert wines that didn't coat my mouth that much. It was the perfect mouthfeel for this type of beer.
Overall I liked it quite a bit, and I'm glad I bought 3 bottles. I think this beer will age very well, as the booziness cools and the flavors round out a bit more. I hope you've gotten a chance to try it, as it's well worth seeking out. Let me know what you think of it in the comments below.