Saucer Turns Sweet Sixteen
She's sixteen, she's beautiful, and her beer will be yours and mine. Flying Saucer Houston is celebrating its sixteenth anniversary on August 14 with some amazing beers and sweets from local eateries. The Saucer will have special tappings, a complete bottle list featuring some beers Saucer has never offered before (psst… a little birdie told me that list includes Wicked Weed!), and four dessert pairings, including a German chocolate cake flight, an anniversary cake from Fluff Bake Bar, and ice cream floats courtesy of Cloud 10 Creamery.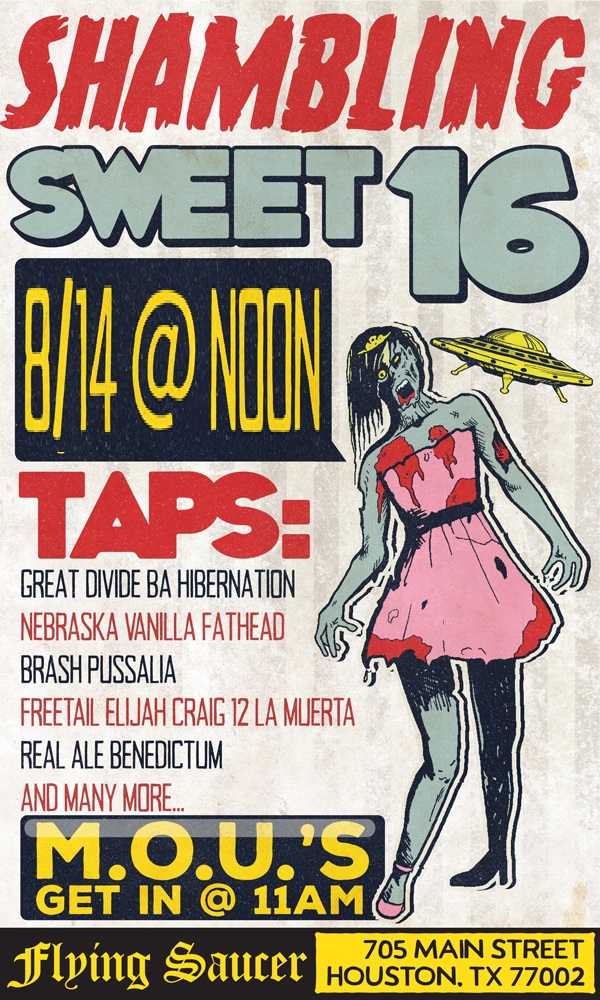 The tap list includes the new Brash Double IPA, Pussalia, which I hear is dry-hopped and "the dankiest beer" they've ever made; I can't wait to try that one. A couple of my personal favorites, Deschutes Abyss and Real Ale Four Horsemen, will also be on tap. New kids on the block Eureka Heights will be represented with their Space Train IPA and Buckle Bunny Cream Ale.
Locally beloved Lone Pint Yellow Rose will be on cask, and La Muerta, Elijah Craig 12 La Muerta and Elijah Craig 12 Coconut La Muerta from our friends in San Antonio, Freetail, will also be available. I'm excited for the three different casks of my favorite Houston IPA, Saint Arnold Art Car. Other beers on the tap list include: Ballast Point Barrel Aged Indra Kunindra, Deschutes Black Butte XXIV & XXV, Real Ale Benedictum, Great Divide BA Hibernation, Nebraska Coffee Fathead and Vanilla Fathead, Destihl Blueberry Gose and, last but not least, I'm really looking forward to trying the new-to-Texas Tallgrass Wooden Rooster and Buffalo Sweat.
The party starts at noon. Hope to see you there!
For more information visit Flying Saucer Houston's website: http://www.beerknurd.com/locations/houston-flying-saucer.