Top-Rated Beers & Breweries in Houston: August 2015
Every quarter, Brew York New York compiles a list of the top-rated beers and breweries in NYC, using data found on Untappd. Since I spend quite a bit of time in NYC myself, I love this list as it answers two questions dear to me: What should I drink next? and Which ones have I already drank?
And because I also love excel and tedious data entry (ugh), I decided to create this exercise for Houston beers and breweries. The findings are kinda fun, though sadly, the love of my life did not make the #1 spot. I suspect foul play and am in the process of requesting a recount.
To make this list, I included all Houston-area beers with at least 100 Untappd check-ins. I excluded any beers that are part of a series except for the latest in the series, and I excluded any one-time releases that have not had significant activity in the last several months or prior vintages of active beers. The resulting 188 beers, from 18 breweries, were then weighted using a Bayesian estimate based on total check-ins and ratings. I should note that I had also hoped to do a similar comparison using BeerAdvocate numbers as well (I did this same exercise some time ago on Twitter and was able to include BA ratings) but due to their recent rating system change, there is simply not enough data. Sadly, there were no qualifying beers from a few breweries, each of which I hope will show up on the next iteration of this list.
And finally a disclaimer: obviously all ratings should be taken lightly. Ratings are subject to the whims of rarity, perceived excitement, and even personal vendettas from groups of people. This is just a fun exercise but should not be considered a reflection of my opinion or the opinion of Houston Beer Guide.
The Top Ten Beers in the Houston area, weighted: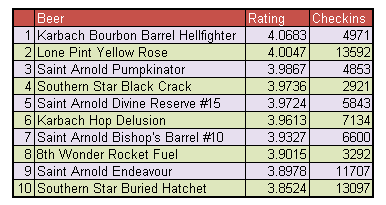 The chart is pretty heavily dominated by Saint Arnold (4/10), but Karbach (2/10) and Southern Star (2/10) also both have multiple spots. This should come as no surprise. When ranking the breweries using the same methodology among all the cumulative beers, these three all appear in the top five.
The Top Ten Breweries in the Houston area, weighted: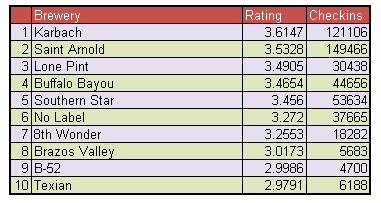 Check back in the future when things have changed; Brash's debut was too recent to affect the standings (not enough volume) but that will certainly change in the future, and as beers rise and fall, I'll be sure to update!