Adopt-a-Bastard at Brash: Arrogant Bastard Hits the Road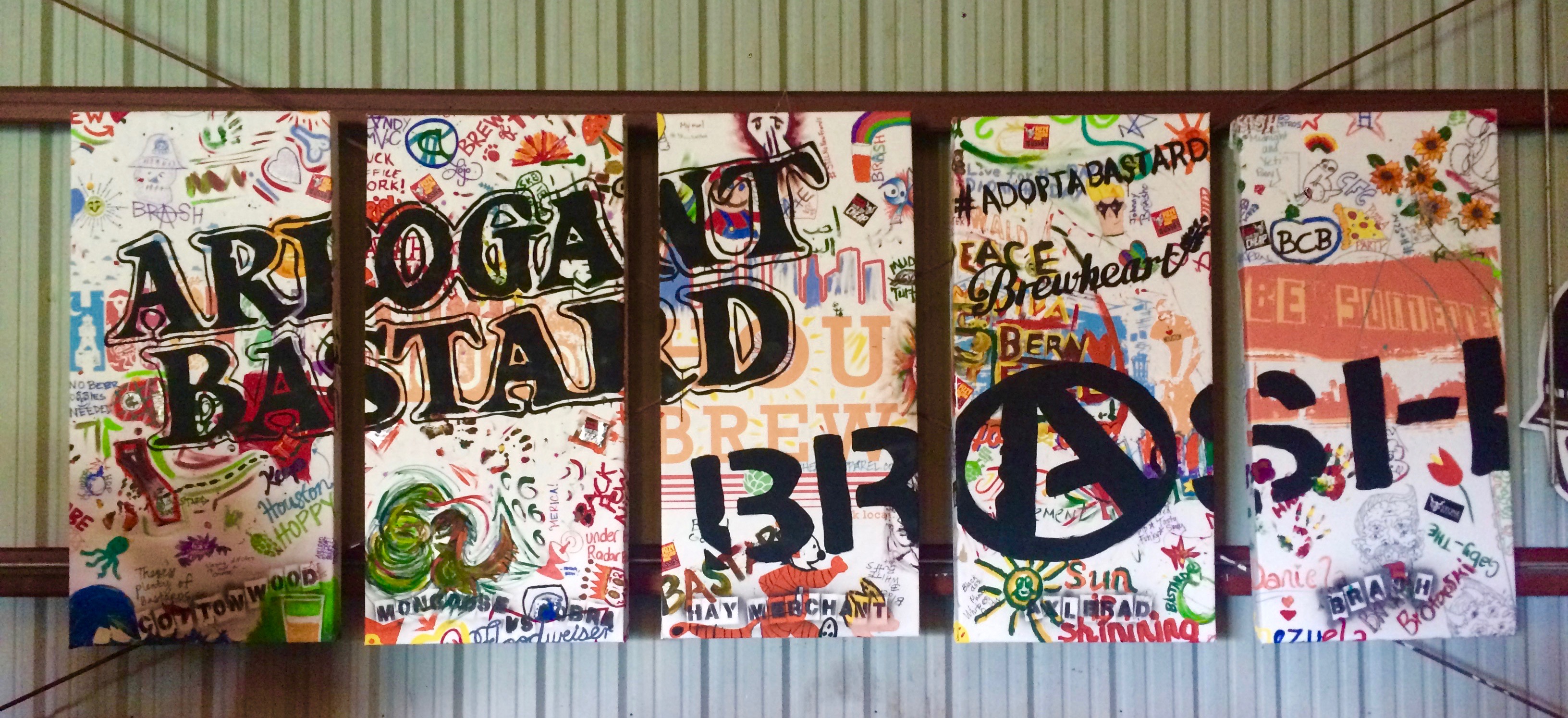 Late last summer, Stone Brewing Company, the largest brewery in Southern California, made a big two-fold announcement. First, what is arguably the cockiest beer in America would branch out to become his own product line. Second, as has happened to the best of us, the Arrogant Bastard was finally sent packing and hitting the road.
When the fathers of Arrogant Bastard, Greg Koch and Steve Wagner, first made the announcement on a website dedicated to the Jack Kerouac of beers, there was a bit of confusion. No one was really sure what it meant: was Stone discontinuing the Bastard? Was the Bastard being contract brewed? If you still aren't sure, the purpose of Arrogant Bastard Hits the Road is to collaborate with some of the best breweries in the country to create small batches of Stone's delicious and most well recognized beer, their American Strong Ale. The Bastard chose master brewhouses like Maine, Great Divide, The Bruery and Houston's very own Brash to spread the gift of "liquid arrogance," throw a good party, and donate funds to charity. After 20 years of living it up in Escondido, it was time to spread those gargoyle wings and fly.
Brashland was buzzing with people Saturday at the Adopt-a-Bastard event. I walked into the comforting and familiar scent of delicious hops in the air, bouncy basslines from Houston funk band, the Journey Agents, and pockets of people laughing and enjoying what is surely one of Houston's last breezy weekends. Excitement was in the air as Brash is the youngest, and smallest brewery on the Arrogant Bastard's tour, as well as the only brewery in Texas to be chosen to brew Stone's most boastful beer.
"I think Stone's beginnings in '96 are not that far removed from where we are now, ya know? We're trying to do something a little different, we have an aggressive approach to things and we do things we want to do," Ben Fullelove, owner and mastermind behind Brash, said. "I think they saw in us a reflection of where they came from. It's insanely flattering."
After grabbing my tickets I headed over to the bar for my first beer of the day. I took a second to look over my pint, and what I observed was Brash's take on Arrogant Bastard: a darker and slightly cloudier version of the familiar amber color, with just the right amount of head. My initial sip of Houston's version of this smug brew reminded of why its brand relies on a "hated by many, loved by few" slogan. At first, the hops were big and bitter, almost too much, but soon the harshness gave way to a smoother, more caramel finish.
Fullelove shared that the process for brewing the Bastard was more complex than Stone just emailing over a recipe.
"The home brew recipe is on the internet, if you want to make Arrogant Bastard, you can make it," Fullelove said. "But the chances of it tasting close to the real thing are pretty slim without water profiles, mash and fermentation temperatures, and starting gravities. The things that are gonna make a beer with accurate color and profile."
After finishing my pint I came to realize what Brash allowed for, and did incredibly well, was to bring us the haughty ale at its peak freshness. I've drank several Bastards in my craft beer experience, but never was the bite quite this stinging. I enjoyed it. I found myself worthy, and so did Brash.
"Vince Mandeville is an amazing brewer and he was able to take that recipe and fit it into our system," said Brash assistant brewer Allen Schneider. "The level of freshness is high. We made it, kegged it yesterday, we timed just right so we knew beer was going to be ready to go and serve today."
Drinking an Arrogant Bastard this fresh was not unlike the moment when a pompous jerk crashes into conversation; he throws you off initially and you aren't sure what to make of him, but ultimately he wins you over once you get to know him.
Walking around Brashland, I ran into fellow beer nerd Aaron Cantu and asked him what he thought about Brash's version of the Bastard. He told me he felt like the beer took him back to the first time he had ever tasted the Strong Ale.
"It was my gateway craft beer," he said. "When I had it today it took me back to what it was like to taste so much hop for the first time, it was a cool throwback."
Brash's Arrogant Bastard delivered to Houston what is the freshest version of the beer we could experience without having to leave the city. It sat perfectly among Brash's increasingly popular and hoppy Cali Green and EZ7, as well as other Stone favorites like Old Guardian and Double Bastard.
Craft beer veteran Diane Adams said Saturday's Adopt-a-Bastard felt like "an old school beer event; people are here to hang out and have a good time, there's no pretension." A dunking booth made the event fun and proceeds donated to The Center, a local non-profit, gave it a deeper purpose beyond just creating a beer-first for Houston.
Houston has a growing beer community but Fullelove points to the growing number of successes like Lone Pint's Yellow Rose and small breweries like Texas Beer Refinery joining Houston craft beer staples like Saint Arnold and Karbach as proof that the beer scene is on the rise.
"Craft beer in Houston is still in its infancy compared to San Diego, so things like this bring attention to our craft beer scene," Fullelove said. "It's gonna take a lot of different players to make a really rich beer community here in Houston, and when you see people doing a lot of interesting things like this, it's all just really good for our scene."