Good Beer, Great Cause – Back Pew Brews up Kolsch to Benefit Addi's Faith
Supporting local charities, non-profits and social causes have always been a big part of the vibrant Houston craft brewing scene. As local breweries have started operations across the Houston area, a part of stitching themselves into the fabric of their local communities has been supporting causes Houstonians care about. Houston craft beer people have demonstrated their passion for seeking out good beer made locally, and marrying that passion with raising awareness for worthy causes is a big part of why so many breweries seek out those types of partnerships with charitable organizations as an early step in building their businesses.
It's in this locally focused, charitable spirit that Back Pew Brewing Company in Porter has begun a partnership with Addi's Faith, a Kingwood-based charity. Part of the proceeds of the Addi's Faith Kolsch will go to the organization, whose mission is to both support researchers working towards a cure for childhood brain cancer and provide services to families impacted by the disease. Addi's Faith approached Bobby Harl, president and brewer at Back Pew, and asked him to design a beer that would be approachable for just about anyone and easy to drink during the heat of the late Houston summer. Addi's Faith Founder and President Amber Bender told me, 'We went to Back Pew first because they are local, make a great beer, and we enjoy going there on the weekends to hang out."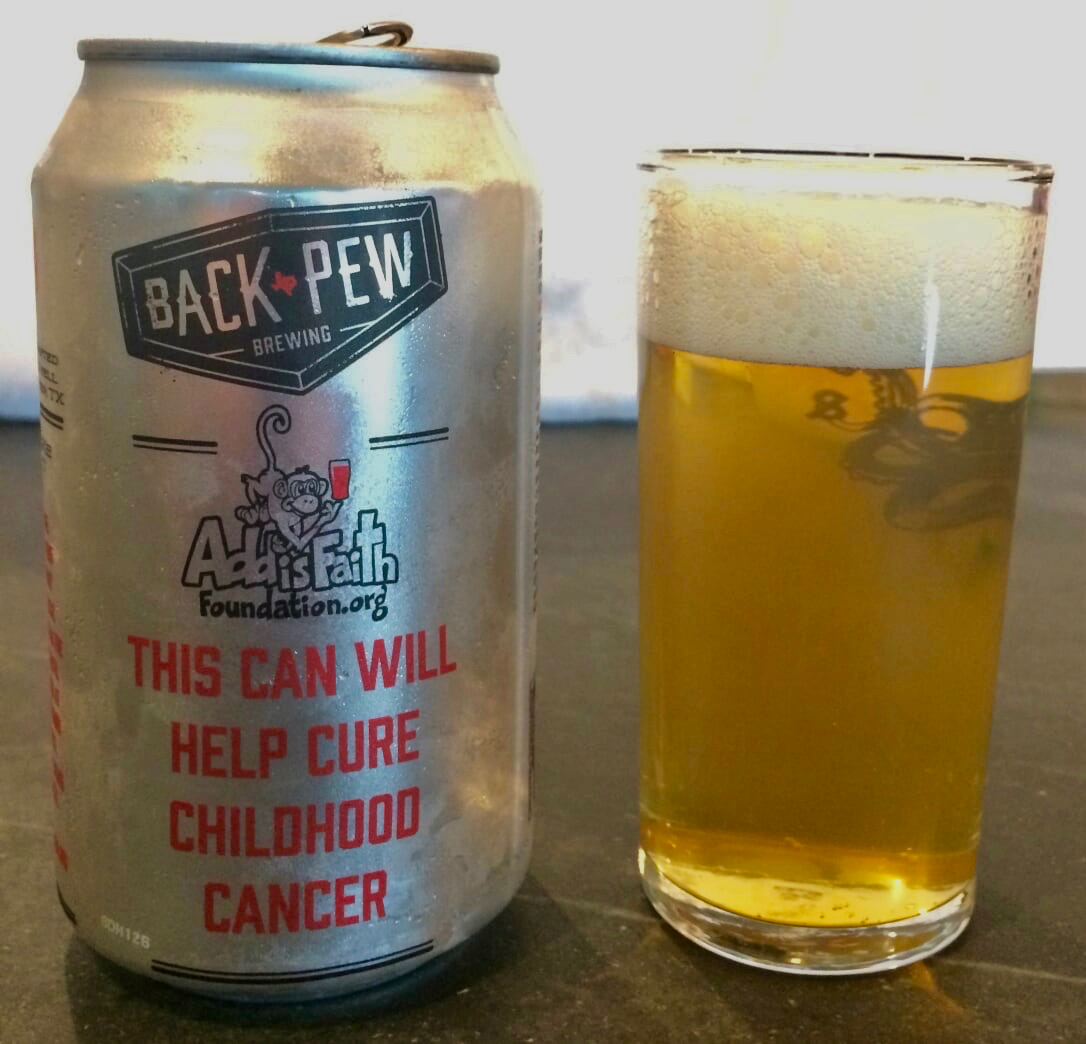 Bobby leveraged his expertise in German styles and designed a Kolsch brewed with a slight twist – using Northern Brewer (a hop with a distinct minty-like bitterness) along with noble hops. Bobby's skill shows in this example of the classic style from Cologne. The beer pours straw gold with a bright white head, with a delicate malty sweet aroma. The taste of the beer is also slightly sweet and bready, with a crisp bitterness and an ever-so-slight fruitiness. The hint of Northern Brewer evergreen/mint helps reinforce the clean, dry finish. Bobby said he would like to coax a little more of the pear-like flavors from the yeast in future versions, but the balance of this beer is pretty perfect in this single batch offering.
Back Pew sees this beer as a first step in what should be an annual effort to help support Addi's Faith during September, which is also Childhood Cancer Awareness Month. The style of the beer may change year-on-year, but the mission remains the same – raise awareness of the disease Addi's Faith is focused on, and bring the focus of the community on their organization in an engaging way.
Although not much of this tasty Kolsch will be left on shelves and taps around town through the waning days of September, if you've missed getting your taste of the brew I highly recommend taking a close look at the history and accomplishments of Addi's Faith. Specifically, watch the video story below of how Amber and her husband responded to the loss of their daughter Addison Faith to the disease just shy of her second birthday in 2008. From that foundation of tragedy and loss, they've built a legacy through Addi's Faith, raising over $1 million for research on pediatric brain cancer treatment, as well as outreach and support for families that have heard those terrifying four words themselves: 'Your child has cancer…'
Amber and the leaders of Addi's Faith have done incredible things in the past 11 years. Now it's our turn – the craft beer community of Houston – to do our part. This Back Pew Kolsch represents a tasty beginning to what promises to be another chapter in the long happy story of charitable support from the Houston beer community. Learn more about Addi's Faith and how to support their mission here.