Have Your Cookie and Drink It, Too
Forget cookies and milk — cookies and beer is where it's at. As craft beer has become more popular, interest in beer and food pairing has increased. Some of the most creative pairings involve a favorite American treat: Girl Scout cookies. As articles of Girl Scout cookie pairings spread across social media, Ballast Point Brewing and Spirits acknowledged the trend by hosting Victory at Sea Girl Scout cookie pairings across the country. Flying Saucer Houston offered a flight including the original Victory at Sea Imperial Porter and its coconut, peanut butter, and peppermint variants.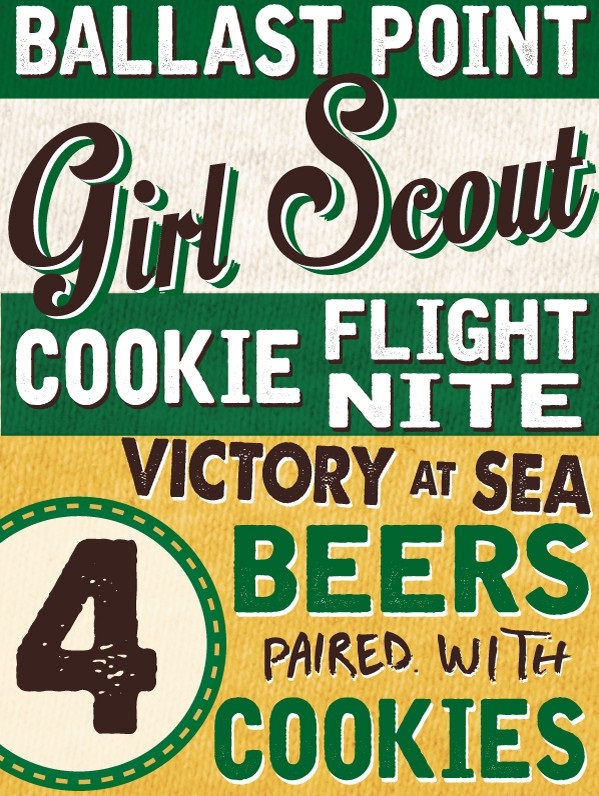 Ballast Point's original Victory at Sea is brewed with San Diego's Caffe Calabria coffee, and has vanilla and dark chocolate notes. Malty and boozy, the bold beer has a slightly bitter, but not acidic, finish. Paired with Shortbread and Thanks-A-Lots, fudge-dipped shortbread cookies, Victory at Sea took on different flavor profiles: the Shortbread cookies made the chocolate notes more apparent, and the Thanks-A-Lots made the porter taste more coffee-forward. The thick breadiness of both cookies soaked up the booziness in a satisfying way; much like shortbread and tea, and made the beer seem less heavy.
Coconut Victory at Sea was paired with Caramel deLites: vanilla cookies covered in caramel, topped with toasted coconut, and striped with chocolate. While apparent in the aroma, the coconut is very faint in the flavor of the beer, which is slightly sweeter than the original Victory at Sea. While the Caramel deLites made the coconut taste more prominent in the porter, I was hoping the pairing would create more than a slight coconut accent in the flavor of the brew.
An instantly recognizable classic, America's much beloved Thin Mints were paired with Peppermint Victory at Sea, which tastes very strongly of mint. The minty, fudgy-coated chocolate wafers amplified the mint flavor of the already peppermint-forward beer, making it overpowering for my taste.
Finally, Girl Scouts love peanut butter so much that it is a major ingredient in two of their cookies: the chocolate-covered vanilla cookies layered with peanut butter called Peanut Butter Patties, and Peanut Butter Sandwiches, which are crispy oatmeal cookies with a peanut butter filling. Peanut Butter Victory at Sea met my "Goldilocks standard" for flavored beers — the peanut butter was not too strong or too faint — it was just right. A perfect complement to both cookies, the Peanut Butter Victory at Sea is peanut butter forward, but has chocolate and coffee notes in the background. The oatmeal in the Peanut Butter Sandwiches went well with the maltiness of the beer and soaked up the slight bitterness of the coffee. The Peanut Butter Patties brought out more of the peanut butter flavor in the porter, and left a lingering present: a thin coating on the tongue that created a chocolate finish with each sip.
Looking for Houston beers to approximate this tasting? Try Brash Cortado or 8th Wonder Rocket Fuel with Thanks-A-Lots and Shortbread. Clear Lake's Saloon Door brews a peanut butter and chocolate stout perfect for Peanut Butter Sandwiches and Patties. While we have a dearth of mint porters or stouts in town, Southern Star Buried Hatchet pairs well with Thin Mints. Without a coconut beer available year-round to accompany Caramel deLites, bourbon barrel-aged beers go quite nicely with the caramel, vanilla and coconut flavor combination: try them with Saint Arnold Bishop's Barrel brews or Karbach Bourbon Barrel Hellfighter when they are available.
Don't want to stop there? If you're interested in local beers to pair with the remaining two Girl Scout cookie varieties offered in the Houston area, try Saint Arnold Art Car with Lemonades, a winning citrusy combination; and Buffalo Bayou Rotundone with Cranberry Citrus Crisps: the slight tang and subtle spice of the saison play well off the zesty, whole-grain cookies.
Featured Image from Little Brownie Bakers