Saint Arnold Icon Blue Coffee Porter Review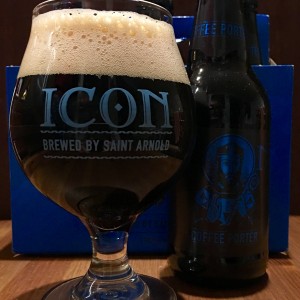 Saint Arnold Brewing's new Icon Blue is a nice addition to an already great series. A coffee porter full of flavor, yet light enough to enjoy casually (and now available in six-packs!).
Saint Arnold's first-ever coffee beer was made by adding over 45 lbs. of ground espresso from local roasters, Java Pura Coffee, to a light porter developed by brewer Eddie Gutierrez. As noted on the Saint Arnold website, "adding ground coffee rather than brewed makes the finished beer fruitier and more aromatic. The fresh, raw coffee aroma we were seeking illustrates why using a high quality coffee is important. The result of all this is Icon Blue, a medium bodied porter with a balance of chocolate, roast and coffee flavors. There is a mild sweetness that is balanced by both the coffee and the combination of Bravo and Willamette hops."
Neither the coffee nor the base beer dominates this well-balanced brew, though both are certainly present. The nose reveals light coffee roast, along with chocolate, earthy notes, and a touch of hops. The mouthfeel is medium bodied at best. And though it may be a tad thin for my liking, it serves this particular beer well as a nice casual drinker, suitable for many occasions. The flavors are a well-mixed assortment of coffee, chocolate, leathery notes, sweetness, and even a touch of peanut butter. A clean finish and medium-light body will have you knocking this one back a tad faster than you probably should.
For those who crave huge coffee flavor, you might find this one a little lacking. But if you're like me and prefer a nice balance, where the coffee is present but not overpowering, then this beer is for you. Smooth and easy-drinking with lots of great flavor, Icon Blue Coffee Porter is not to be missed.
Saint Arnold's decision to switch the Icon series from four-packs to six-packs while keeping the price the same is another great reason to seek this one out (and those still to come). More beer for the same price? Yes, please!