The Patron Saint of Hops (Saint Arnold and Untappd team up to release Houston's first beer badge!)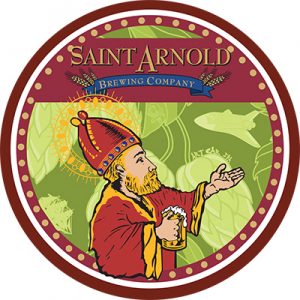 Starting this Friday, you will finally be able to unlock an Untappd badge by enjoying beers from a brewery right here in Houston. The "Patron Saint of Hops" badge will showcase Saint Arnold Brewery's delicious collection of hoppy beers, and from April 22 – May 22 you will be able to unlock it. To earn this highly coveted honor, check into any two of the following four hoppy Saint Arnold beers: Endeavour Double IPA, Elissa IPA, Art Car IPA, and the new Icon Green 7220 Pale Ale (due to arrive next week).
For far too long, regional Untappd badges have eluded the Houston area (and Texas, for that matter). But now we finally have a badge that we get to call our own. Untappd co-founder, Greg Avola, pointed out some very interesting and noteworthy numbers regarding the Houston craft beer Untappd market: "Houston is the 15th highest area in the world on Untappd in the last 30 days, and we're thrilled to be able to showcase one of its most popular breweries." These are very telling numbers and reveal just how impressive the Houston craft beer market is. Greg further emphasized the novelty, "we are excited to work with our first brewery from Texas for a badge."
Untappd has been a very successful and highly useful app, helping to draw thousands of craft beer newbies and veterans alike deeper into the welcoming arms of its community. On HBG, it's guided the beer rankings, for example. Badges have always been a fun way to lead drinkers to new options or to simply revisit and enjoy ones they already have come to love. And as a self-proclaimed "badge-hunter" I look forward to unlocking this one while enjoying some of the best local hoppy brews available.
Check out the untappd write-up for more info!