Top-Rated Beers & Breweries in Houston: March 2016
Every quarter, Brew York New York compiles a list of the top-rated beers and breweries in NYC, using data found on Untappd. Starting last August, I've done the same exercise for Houston each quarter. Here's the quarterly update for March, with a special March twist below.
A quick reminder of the methodology: To make this list, I started with all Houston-area beers with at least 100 Untappd check-ins. I then excluded any beers that have had less than 5% growth in activity since last quarter. The resulting 202 beers from 24 breweries were then weighted using a Bayesian estimate based on total check-ins and ratings. And finally: obviously all ratings should be taken lightly. Ratings are subject to the whims of rarity, perceived excitement, and even personal vendettas from groups of people. This is just a fun exercise but should not be considered a reflection of my opinion or the opinion of Houston Beer Guide.
Last time around, we only had 193 beers from 21 breweries. For the second quarter in a row, three more breweries have qualified for this list, indicative of the city's steady brewery growth.
The Top Ten Beers in the Houston area, weighted: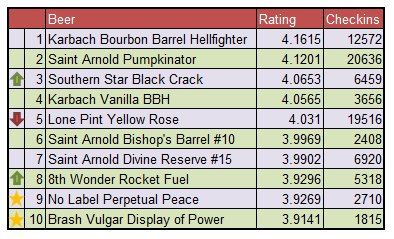 Atop the chart, not much has changed from last quarter. Southern Star Black Crack rose two spots, largely due to the latest successful release. And sadly, my love of Yellow Rose can't save it from another quarterly drop. Near the bottom, however, the real excitement occurs: the first sighting in the Top 10 of a Brash beer (likely a sign of more to come), as well as the first time that a No Label beer has made the chart. This year's Perpetual Peace release has been incredibly highly reviewed and the Single Barrel variety helped as well. Clearly a good sign from the Katy brewery.
The Top Ten Breweries in the Houston area, weighted: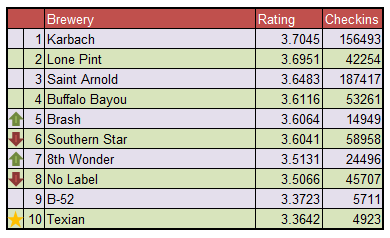 Again, the top of the chart remains unchanged. Much more exciting: Brash's rise into the Top 5, as well as Texian's return on the chart, something obviously bolstered by their recent focus on funky & sour beers. Texian's return dethrones Brazos Valley, which has fallen completely off the chart, something likely affected by their lack of a new qualifying beer since last quarter.
What do you think? It's March and that means one major thing for sports fans, and a similar thing for Houston beer fans. You've seen the rankings above, but now we want you to vote in our own March beer bracket with the top 64 Houston beers. Check it out here!