Top-Rated Beers & Breweries in Houston: November 2015
Every quarter, Brew York New York compiles a list of the top-rated beers and breweries in NYC, using data found on Untappd. Last August, I did the same exercise for Houston, and as promised, here's the quarterly update for November!
A quick reminder of the methodology: To make this list, I started with all Houston-area beers with at least 100 Untappd check-ins. I then excluded any beers that have had less than 5% growth in activity since last quarter. The resulting 193 beers from 21 breweries were then weighted using a Bayesian estimate based on total check-ins and ratings. And finally: obviously all ratings should be taken lightly. Ratings are subject to the whims of rarity, perceived excitement, and even personal vendettas from groups of people. This is just a fun exercise but should not be considered a reflection of my opinion or the opinion of Houston Beer Guide.
Last time around, we only had 188 beers from 18 breweries. It's exciting that in three months, three more breweries have qualified for this list (including one that finds itself on the Top Ten Breweries list). In addition, to upgrade the chart from last quarter, I've added helpful up/down arrows and yellow stars to indicate when a beer/brewery is new to the Top Ten list. Without further ado:
The Top Ten Beers in the Houston area, weighted: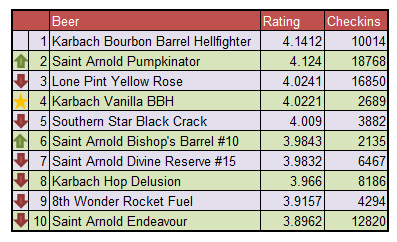 Not much has changed since August in terms of the content. BBH still holds the top spot. The only newcomer is its vanilla variant, coming in at #4. Other entries moved around a bit, and only Southern Star Buried Hatchet fell off the list. I had expected Brash beers to make the list this time, but they just barely missed, due, still, to volume. A bit more activity will almost certainly propel at least one entry onto next quarter's list. Indeed, without even a single beer on the list, they managed to fare pretty well in the top brewery list.
The Top Ten Breweries in the Houston area, weighted: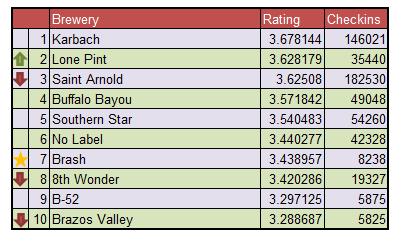 Brash, as the newcomer, is rising with a bullet, and knocked Texian off the list. What will these lists look like in three months when even more new breweries have new offerings? Be sure to check back next year as we see how these lists look early in 2016!