B-52 Second Anniversary Celebration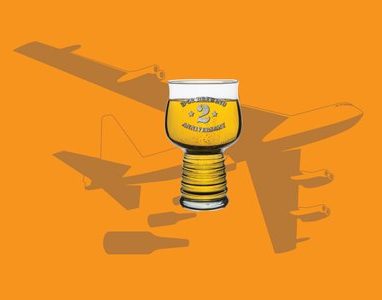 What's a fitting present for a brewery celebrating two years of producing delicious brews? Your presence! B-52 Brewing in Conroe is hosting its second anniversary bash on June 4th, and they want you there. The brewery will be serving over 20 different beers for the event, including the premiere of their Berliner Weisse and the release of their Bourbon for Breakfast stout. The Berliner Weisse was re-fermented with fruit in oak barrels, and will be available in five flavors: blackberry, raspberry, cucumber-lime, apricot and strawberry. Variants of Bourbon for Breakfast, their Breakfast Stout aged in Yellow Rose bourbon barrels, will include vanilla, cacoa nibs and coconut for the event. Also on tap will be B-52's Brett Double IPA fermented in oak barrels and many other limited release options.
Kids and dogs on leashes are welcome at the event. The brewery's own root beer will be available for all, as well as lemonade and soda. Food trucks and an artisan farmer's market will be on the premises to keep you fed throughout the afternoon. The festivities for the event include day-long games, prizes and live music. General admission tickets are $30 and include limited edition Berliner Weisse glassware, eight drink tickets, access to limited-release beers, first access to limited release bottles to go, music and games. The general admission ticket will also give you the opportunity to try some of the wines being offered at the event, and you are free to interchange between beer and wine as you please. Non-drinkers can purchase "Designated Driver" tickets for $15, which include three pours of lemonade or root beer and limited edition Berliner Weisse glassware.
Where: B-52 Brewing Co. – 12470 Milroy Lane, Conroe, TX 77304

When: Saturday, June 4, from 12 p.m. to 7 p.m.

Buy tickets here: https://www.eventbrite.com/e/b-52-brewing-2nd-anniversary-party-tickets-24439437014
Update:
With the threat of rain this weekend, B-52 has decided to accept tickets the following weekend (June 11th). Ticket sales will also be extended, assuming they don't sell out. From their Facebook post: "If you do come the second weekend, you will still be guaranteed souvenir glassware and access to all the scheduled tap releases (14 total); however, the other experimental/limited release taps will be first come, first serve, so we still recommend attending the first weekend if possible. All ticket holders will still be guaranteed access to purchase the specialty bottles TO-GO regardless of which day you attend."  Keep an eye on their Facebook for more information.