Beer Festivals Houston Beer Month
Grateful for HOU – Celebrating Houston Beer Month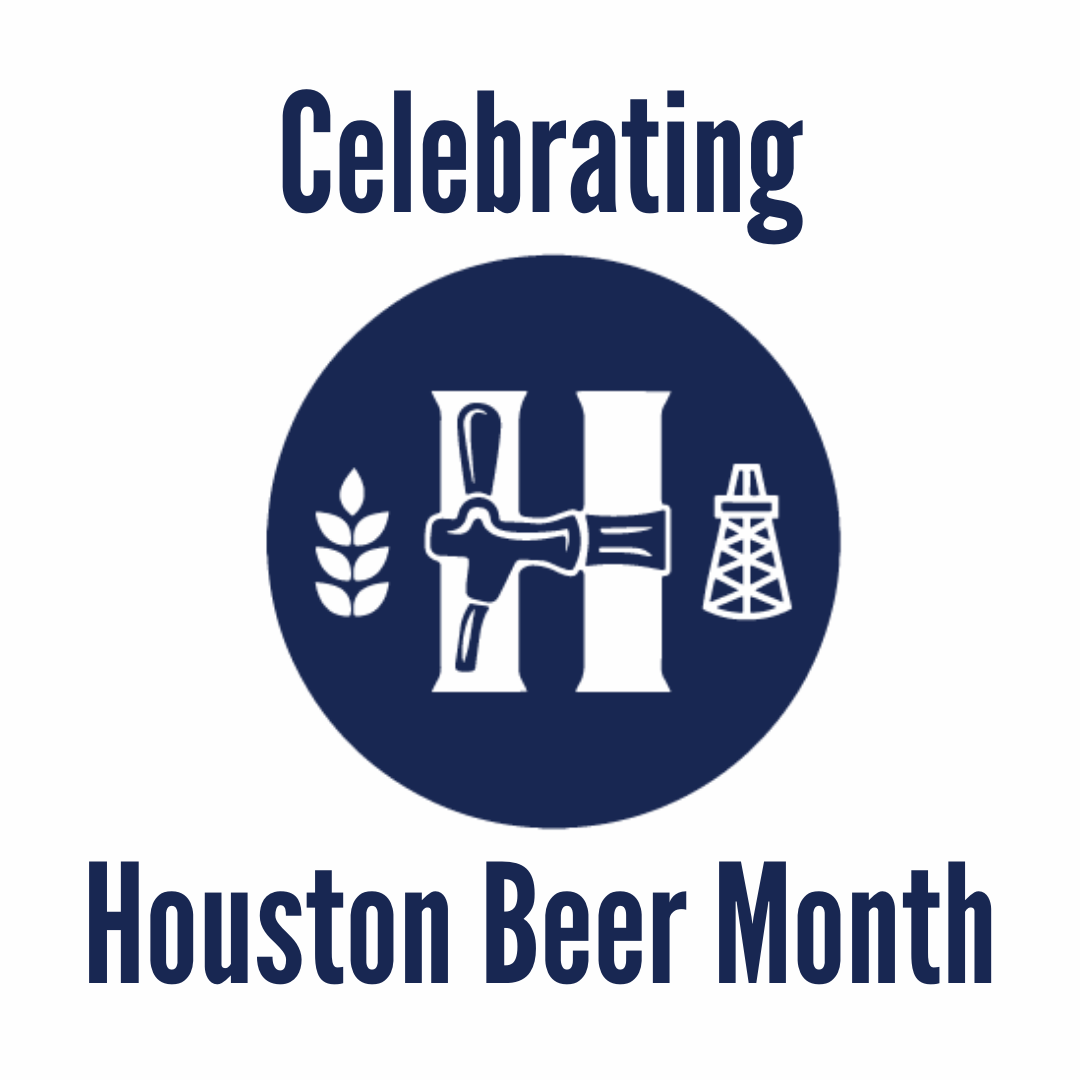 August is for supporting local beer.
Why? Because we said so. *wink. Plus, have you taken a look at the craft beer scene in our city lately? Ooof, it's rough out there and this industry can use your support yet again.
With new breweries closing (Black Page Brewing Co.), the lack of public excitement about enjoying craft beer on social media, and the ever-shrinking beer budget that we ALL have been impacted by – it's no surprise that these local businesses depend on your support to simply exist. Craft beer sales are down nationwide (yet again), and our city has undoubtedly been affected in more ways than one since 2020. So how does this change in beer buying habits impact the local craft beer business? This is a great conversation starter to have with any local brewery owner. Rising costs and reduced traffic in the taproom are all points covered but one commonality brewery owners often echo is you. As a local beer supporter, you are the reason they are still operating and serving beer. They are beyond grateful for your continued support every time you visit or buy their products.
What is Houston Beer Month anyways?
Jerry Garcia once said "People need celebration in their life. It's part of what it means to be human. We need magic and bliss and power, myth, and celebration in our lives. And music is a good way to encapsulate a lot of it.". I like to believe that this is statement is true, and the element of bliss I take from this is enjoying a delicious craft beer beverage made by awesome people I call friends. I enjoy this, and so do you.
In many craft beer cities, you will often see a week-long celebration of local beer being promoted generally in the style of "This City Beer Week". Houston is so large; we figured a month-long celebration was more appropriate for our big style. We hope by spotlighting this city's great beer by creating focus to supporting local beer and expand the message that Houston Beer matters, and it's here to stay.
What can I do to help?
August is the time to drink up and speak up for this industry.
We are asking all Houston beer supporters to show mad love to their local breweries in celebration all month by sharing their social media posts, tagging locally made beer on social media and showing love for all things Houston beer any way they can! Visit any Houston area brewery, buy beer to go or taproom merch, talk to a bartender, make a new friend. Your presence matters.
During the month of August, Houston Beer Guide accepts guest community contributors for those that want to share their love for Houston beer with us. Write about Houston beer, and we will give you a platform to share it with others. Check out the quick writing guidelines below and tell us why you love Houston with beer reviews, photography and stories of great craft beer and comradery. Don't forget to tag us at @HoustonBeer and use hashtag #HoustonBeerMonth for reposts.
Guest Contributor Writing Guidelines for August
Articles should be at least 2-3 paragraphs max
Articles should be focused on your honest experience about beer or brewery, ideally positive with an engaging story or subject.
Must include an original photo with our article. Submitting multiple photos is also accepted.
Email your submissions to cheers@HoustonBeerGuide.com – along with your full name and photo of yourself. Don't forget to share your social media handles.

The #Houstonbeer summer event of the year!
Enjoy beer samples from 12 breweries, live music, local food and street vendors. This limited ticket festival is designed so that you can get to know other members of this great community in a laid back block party setting – much like you would experience getting to know your neighbors. Pull up a chair, pop up your 10×10, put on those flip flops and let's hang out.
Read about the full event details here: Houston Beer Block Party – Houston Beer Guide
2023 Participating Breweries:
(VIP) Saloon Door Brewery – Webster TX
(VIP) Back Pew Brewing – Porter TX
(VIP) Vallensons' Brewing Co – Pearland TX
(VIP) No Label Brewing – Katy TX
(VIP) Turkey Forrest Brewing – Houston TX
Backyard Brewing Company – Dickinson TX
Excalibur Brewing – Spring TX
Astral Brewing – Houston TX
Galveston Island Brewing – Galveston TX
Ingenious Brewing Company – Humble TX
Texas Leaguer Brewing Company – Missouri City TX
Beer Festival Charity Fundraiser with Southern Smoke Foundation
We are so very GRATEFUL for this beer community.
This year, we decided to create a fundraiser to give back to the food and beverage industry's hard-working beer workers. This year, the benefiter is Houston founded non-profit organization, Southern Smoke Foundation. The Southern Smoke Foundation supports members of the food and beverage industry in crisis nationwide through emergency relief funding and provides accessible, no-cost mental health services through its mental health program, Behind You. 
 This initiative is so important to us that we decided to make it extra special by offering a unique gift to anyone that donates. 
 Donate $20 or more to this cause using the link below and you will recieve with this unique event poster designed by award winning beer artist Chris Hernandez as a special thank you!
Donate today:
LINK: Southern Smoke Foundation | Kindful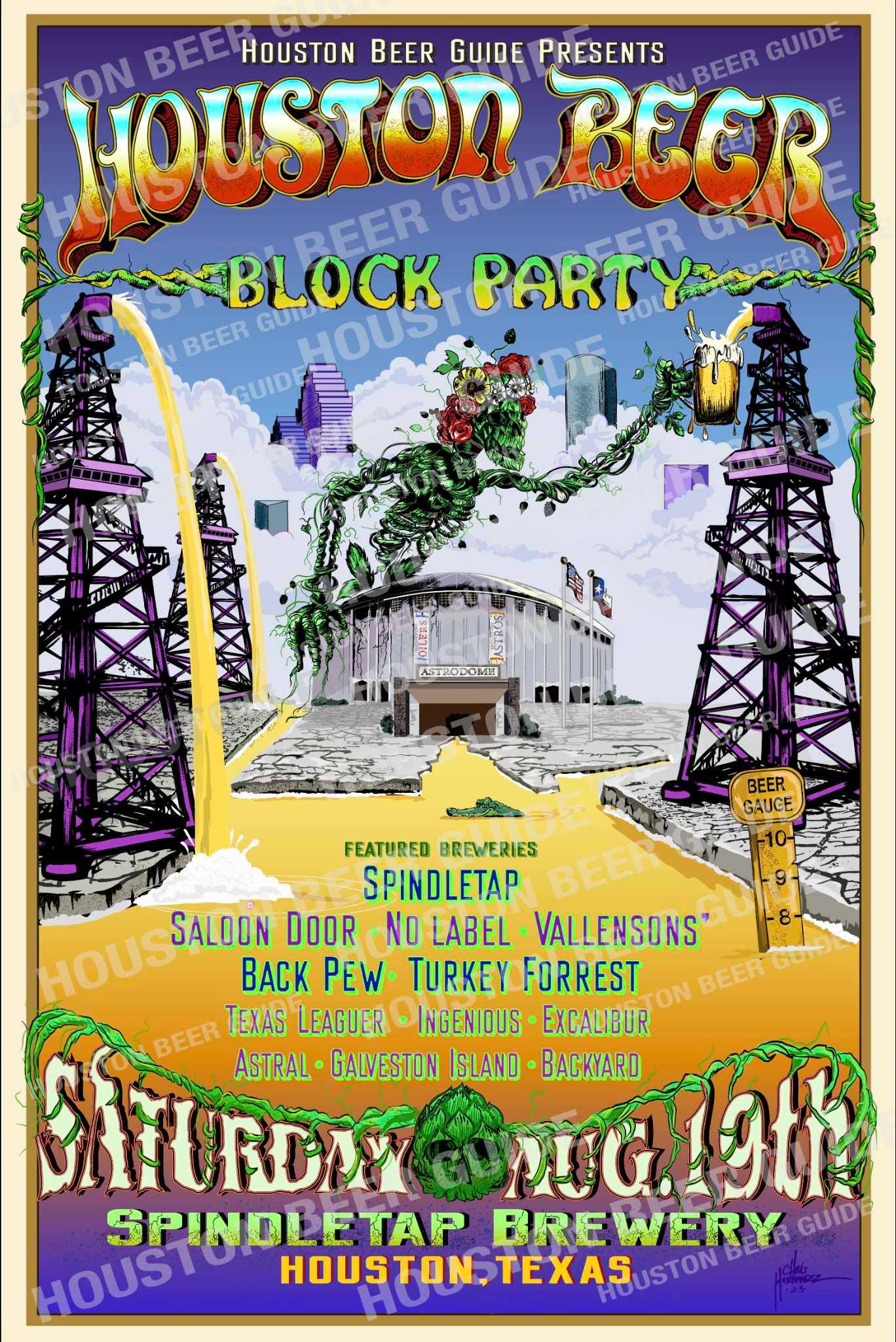 Join us in celebrating this city's great beer and amazing community with Houston Beer. Reach out to our contributor team by emailing cheers@houstonbeerguide.com. See you at the block party!