Houston Beer Guide Bracket 2016
It's March! For college sports fans, it's time for basketball, beers, and brackets. This year, while Houston hosts much of the basketball action, Houston Beer Guide asks you to fill out a different type of bracket: Houston beers!
Using the same methodology as the Beer Ranking posts, the seeds below are based on the top 64 rated beers in Houston based on weighted rankings.
Voting for the Round of 8 ends Thursday night, March 31st. The Round of 4 will begin Friday, April 1st. We'll update results on Facebook and Twitter as well.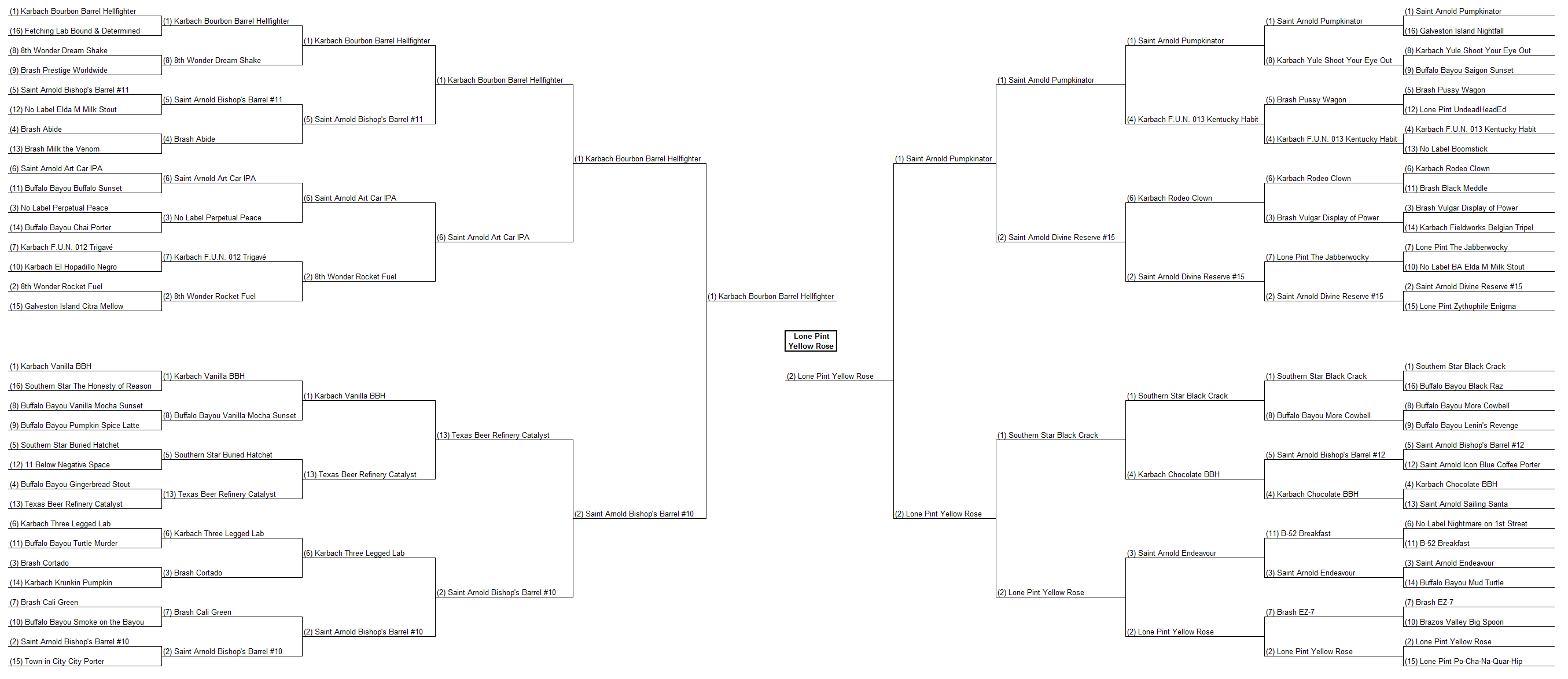 [Direct link to the full-sized bracket here]
Update #1:
Well the first round is in the books and it appears the seeding wasn't as absurd as some thought: chalk won almost every matchup, with just two exceptions. The contenders from B-52 and Texas Beer Refinery live on, winning as underdogs and heading to the Round of 32 below. Maybe we were right when we said, "You should be drinking Texas Beer Refinery."
Update #2:
After the relatively predictable Round One, the Round of 32 went a lot differently, with several upsets. While Texas Beer Refinery continues their Cinderella story as a 13-seed (now facing a very tough Vanilla BBH 1-seed), the joy hasn't been shared by everybody: Buffalo Bayou, Brash, B-52, and No Label were each eliminated in the bloodbath. One clear takeaway as we enter the Sweet Sixteen: the commonly "hyped" styles are clearly winning. Of the remaining sixteen beers, only two are styles other than IPA or Porter/Stout, and both of those, BB10 & FUN 013, are barrel-aged (as are five others at this stage). What will make it out of this round on Sunday to enter the Elite Eight of Houston Beers? There's no certainties at this point, though I certainly hope my Yellow Rose is still alive!
Update #3:
As we enter the Elite Eight, the bracket tells two very different stories. On the right side, an unexciting previous round led to all the highest seeds progressing, and this round pits Black Crack against Yellow Rose, as well as a face-off between two Saint Arnold stouts. On the left side of the bracket, however, a completely different drama has unfolded with the Cinderella story TBR Catalyst knocking out one of my expected Final Four picks, and the fourth overall seed Vanilla BBH. It faces a heavy competitor in Bishop's Barrel #10, but don't be surprised if the magic continues. Meanwhile, another upset occurred in the previous round and the juicy newcomer Art Car IPA advances to face off against the number one overall seed and competition favorite, BBH. Vote below and come back on Thursday when we enter the Final Four.
Update #4:
With so much drama in the HBG, it's kinda hard being a beer bracket referee. We're down to our last four beers, and as the Final Four comes to Houston in the basketball sense, we've also got the Final Four here. Sadly, the Cinderella story from TBR didn't make it past the last round, but nonetheless it lives on in my heart. On the left side of the bracket, number one overall seed Karbach BBH faces off against Saint Arnold BB10 in a battle of two bourbon-barrel-aged beers: a porter and a barleywine. The bourbon champion will move on to face a non-barrel-aged winner from the right side of the bracket, where my favorite, Lone Pint Yellow Rose (fingers crossed y'all), goes up against the annual autumn delight, Saint Arnold Pumpkinator. Who will make it to the championship? Vote below and come back on Saturday afternoon for the championship matchup!
Update #5:
This is it! From a field of sixty-four competitors, only one shall be victorious. Who will take home glory and who will take home defeat? (Except, not real defeat, because, either way both competitors are delicious.) We're down to the final competition: Lone Pint Yellow Rose and Karbach Bourbon Barrel Hellfighter. Two of Houston's most beloved beers and two of the country's most exciting styles: bourbon-barrel-aged anything and mosaic-hopped anything. Vote below for your pick.
Update #6:
That's it for our inaugural Houston Beer Guide Bracket. Obviously I'm thrilled with the result (read: WOO YELLOW ROSE FTW) and I hope you are too. What would you like to see us change next year? How can we make this bracket even better? Sound off in the comments below!
Championship Results:
Championship – Karbach vs. Lone Pint (903 Votes)
Bourbon Barrel Hellfighter — 42.4%
Yellow Rose — 57.6%
Final Four Results:
Game 1 – Karbach vs. Saint Arnold (592 Votes)
Bourbon Barrel Hellfighter – 56.3%
Bishop's Barrel #10 – 43.7%
Game 2 – Saint Arnold vs. Lone Pint (637 Votes)
Pumpkinator – 23.7%
Yellow Rose – 76.3%
Elite 8 Results:
We had a little bit of a hiccup with this round. Someone decided to vote 2000+ times in an attempt to ruin it for everyone. We pulled the poll early, so there were fewer overall votes. We took the raw voting data and filtered it for 1 vote per IP address. Going forward the polls will self-regulate to one vote per IP address. We will also "check the tapes" before we publish the results.
Game 1 – Karbach vs. Saint Arnold (588 Votes)
Bourbon Barrel Hellfighter – 55.1%
Art Car – 44.9%
Game 2 – Texas Beer Refinery vs. Saint Arnold (619 Votes)
Catalyst – 41.4%
Bishop's Barrel #10 – 58.6%
Game 3 – Saint Arnold vs. Saint Arnold (562 Votes)
Pumpkinator – 52.5%
Divine Reserve #15 – 47.5%
Game 4 – Southern Star vs. Lone Pint (610 Votes)
Black Crack – 31.3%
Yellow Rose – 68.7%
Round of 16 Results:
Game 1 – Karbach vs. Saint Arnold (2316 Votes)

Bourbon Barrel Hellfighter — 56.3%

Bishop's Barrel #11 — 43.7%
Game 2 – Saint Arnold vs. 8th Wonder (2026 Votes)
Art Car — 52.1%
Rocket Fuel — 47.9%
Game 3 – Karbach vs. Texas Beer Refinery (2842 Votes)
Vanilla BBH — 46.4%
Catalyst — 53.6%
Game 4 – Karbach vs. Saint Arnold (2510 Votes)
Three Legged Lab — 49.1%
Bishop's Barrel #10 — 50.9%

Game 5 – Saint Arnold vs Karbach (2510 Votes)

Pumpkinator — 52.8%

F.U.N. 013 Kentucky Habit — 47.2%
Game 6 – Karbach vs. Saint Arnold (2528 Votes)
Rodeo Clown — 47.9%
Divine Reserve 15 — 52.1%
Game 7 – Southern Star vs. Karbach (2454 Votes)
Black Crack — 51.7%
Chocolate BBH — 48.3%
Game 8 – Saint Arnold vs. Lone Pint (2050 Votes)
Endeavour — 30.8%
Yellow Rose — 69.2%

Round of 32 Results:
Game 1 – Karbach vs. 8th Wonder (1579 Votes)

Bourbon Barrel Hellfighter — 71.8%

Dream Shake — 28.2%
Game 2 – Saint Arnold vs. Brash (1494 Votes)
Bishop's Barrel #11 — 70.1%
Abide — 29.9%
Game 3 – Saint Arnold vs. No Label (1673 Votes)
Art Car — 59.1%
Perpetual Peace — 40.9%
Game 4 – Karbach vs. 8th Wonder (1591 Votes)
F.U.N. 012 Trigave — 38.7%
Rocket Fuel — 61.3%
Game 5 – Karbach vs. Buffalo Bayou (1515 Votes)
Vanilla BBH — 77.5%
Vanilla Mocha Sunset — 22.5%
Game 6 – Southern Star vs. Texas Beer Refinery (2150 Votes)
Buried Hatchet — 49.3%
Catalyst — 50.7%
Game 7 – Karbach vs. Brash (1490 Votes)
Three Legged Lab — 55.6%
Cortado — 44.4%
Game 8 – Brash vs. Saint Arnold (1444 Votes)
Cali Green — 37.3%
Bishop's Barrel #10 — 62.7%

Game 9 – Saint Arnold vs. Karbach (1631 Votes)

Pumpkinator — 60.2%

Yule Shoot Your Eye Out — 39.8%
Game 10 – Brash vs. Karbach (1472 Votes)
Pussy Wagon — 49.0%
F.U.N. 013 Kentucky Habit — 51.0%
Game 11 – Karbach vs. Brash (1550 Votes)
Rodeo Clown — 56.9%
Vulgar Display of Power — 43.1%
Game 12 – Lone Pint vs. Saint Arnold (1472 Votes)
The Jabberwocky — 33.2%
Divine Reserve #15 — 66.8%
Game 13 – Southern Star vs. Buffalo Bayou (1417 Votes)
Black Crack — 60.8%
More Cowbell — 39.2%
Game 14 – Saint Arnold vs. Karbach (1555 Votes)
Bishop's Barrel #12 — 47.4%
Chocolate BBH — 52.6%
Game 15 – B-52 vs. Saint Arnold (1458 Votes)
Breakfast Stout — 42.4%
Endeavour — 57.6%
Game 16 – Brash vs. Lone Pint (1431 Votes)
EZ-7 — 20.9%
Yellow Rose — 79.1%

Round of 64 Results:
Game 1 – Karbach vs. Fetching Lab (1341 Votes)
Bourbon Barrel Hellfighter — 84.6%

Bound & Determined — 15.4%
Game 2 – 8th Wonder vs. Brash (1311 Votes)
Dream Shake — 53.4%
Prestige Worldwide — 46.6%
Game 3 – Saint Arnold vs. No Label (1314 Votes)
Bishop's Barrel #11 — 73.8%
Elda M. Milk Stout — 26.2%
Game 4 – Brash vs. Brash (1120 Votes)
Abide — 59.9%
Milk the Venom — 40.1%
Game 5 – Saint Arnold vs. Buffalo Bayou (1313 Votes)
Art Car — 73.7%
Buffalo Sunset — 26.3%
Game 6 – No Label vs. Buffalo Bayou (1248 Votes)
Perpetual Peace — 69.6%
Chai Porter — 30.4%
Game 7 – Karbach vs. Karbach (1277 Votes)
F.U.N. 012 Trigave — 50.7%
El Hopadillo Negro — 49.3%
Game 8 – 8th Wonder vs. Galveston Island (1296 Votes)
Rocket Fuel — 73.6%
Citra Mellow — 26.4%
Game 9 – Karbach vs. Southern Star (1241 Votes)
Vanilla BBH — 74.9%
Honesty of Reason — 25.1%
Game 10 – Buffalo Bayou vs. Buffalo Bayou (1136 Votes)
Vanilla Mocha Sunset — 68.6%
Pumpkin Spice Latte — 31.4%
Game 11 – Southern Star vs. 11 Below (1256 Votes)
Buried Hatchet — 71.2%
Negative Space — 28.8%
Game 12 – Buffalo Bayou vs. Texas Beer Refinery (1591 Votes)
Gingerbread Stout — 42.4%
Catalyst — 57.6%
Game 13 – Karbach vs. Buffalo Bayou (1241 Votes)
Three Legged Lab — 70.6%
Turtle Murder — 29.4%
Game 14 – Brash vs. Karbach (1229 Votes)
Cortado — 56.2%
Krunkin Pumpkin — 43.8%
Game 15 – Brash vs. Buffalo Bayou (1171 Votes)
Cali Green — 63.7%
Smoke on the Bayou — 36.3%
Game 16 – Saint Arnold vs. Town in City (1184 Votes)
Bishop's Barrel #10 — 78.4%
City Porter — 21.6%

Game 17 – Saint Arnold vs. Galveston Island (1225 Votes)
Pumpkinator — 74.8%

Nightfall — 25.2%
Game 18 – Karbach vs. Buffalo Bayou (1214 Votes)
Yule Shoot Your Eye Out — 72.7%
Saigon Sunset — 27.3%
Game 19 – Brash vs. Lone Pint (1177 Votes)
Pussy Wagon — 61.8%
UndeadHeadEd — 38.2%
Game 20 – Karbach vs. No Label (1187 Votes)
F.U.N. 013 Kentucky Habit — 63.7%
Boomstick — 36.3%
Game 21 – Karbach vs. Brash (1212 Votes)
Rodeo Clown — 62.7%
Black Meddle — 37.3%
Game 22 – Brash vs. Karbach (1250 Votes)
Vulgar Display of Power — 56.8%
Fieldworks Belgian Tripel — 43.2%
Game 23 – Lone Pint vs. No Label (1169 Votes)
The Jabberwocky — 63.0%
BA Elda M. Milk Stout — 37.0%
Game 24 – Saint Arnold vs Lone Pint (1170 Votes)
Divine Reserve #15 — 71.5%
Zythophile Enigma — 28.5%
Game 25 – Southern Star vs. Buffalo Bayou (1133 Votes)
Black Crack — 79.4%
Black Raz — 20.6%
Game 26 – Buffalo Bayou vs Buffalo Bayou (1089 Votes)
More Cowbell — 71.4%
Lenin's Revenge — 28.6%
Game 27 – Saint Arnold vs. Saint Arnold (1,124 Votes)
Bishop's Barrel #12 — 64.3%
Icon Blue Coffee Porter — 35.7%
Game 28 – Karbach vs. Saint Arnold (1154 Votes)
Chocolate BBH — 68.0%
Sailing Santa — 32.0%
Game 29 – No Label vs. B52 (1109 Votes)
Nightmare on 1st Street — 49.0%
Breakfast Stout — 51.0%
Game 30 – Saint Arnold vs. Buffalo Bayou (1147 Votes)
Endeavour — 77.2%
Mud Turtle — 22.8%
Game 31 – Brash vs. Brazos Valley (1089 Votes)
EZ-7 — 62.2%
Big Spoon — 37.8%
Game 32 – Lone Pint vs. Lone Pint (1177 Votes)
Yellow Rose — 89.0%
Po-cha-na-quar-hip — 11.0%