Houston Beer Guide Bracket 2017
Contributions by Nathan Miller, Jose Luis Cubria, Kenneth Krampota, Josh Frink and HBG Staff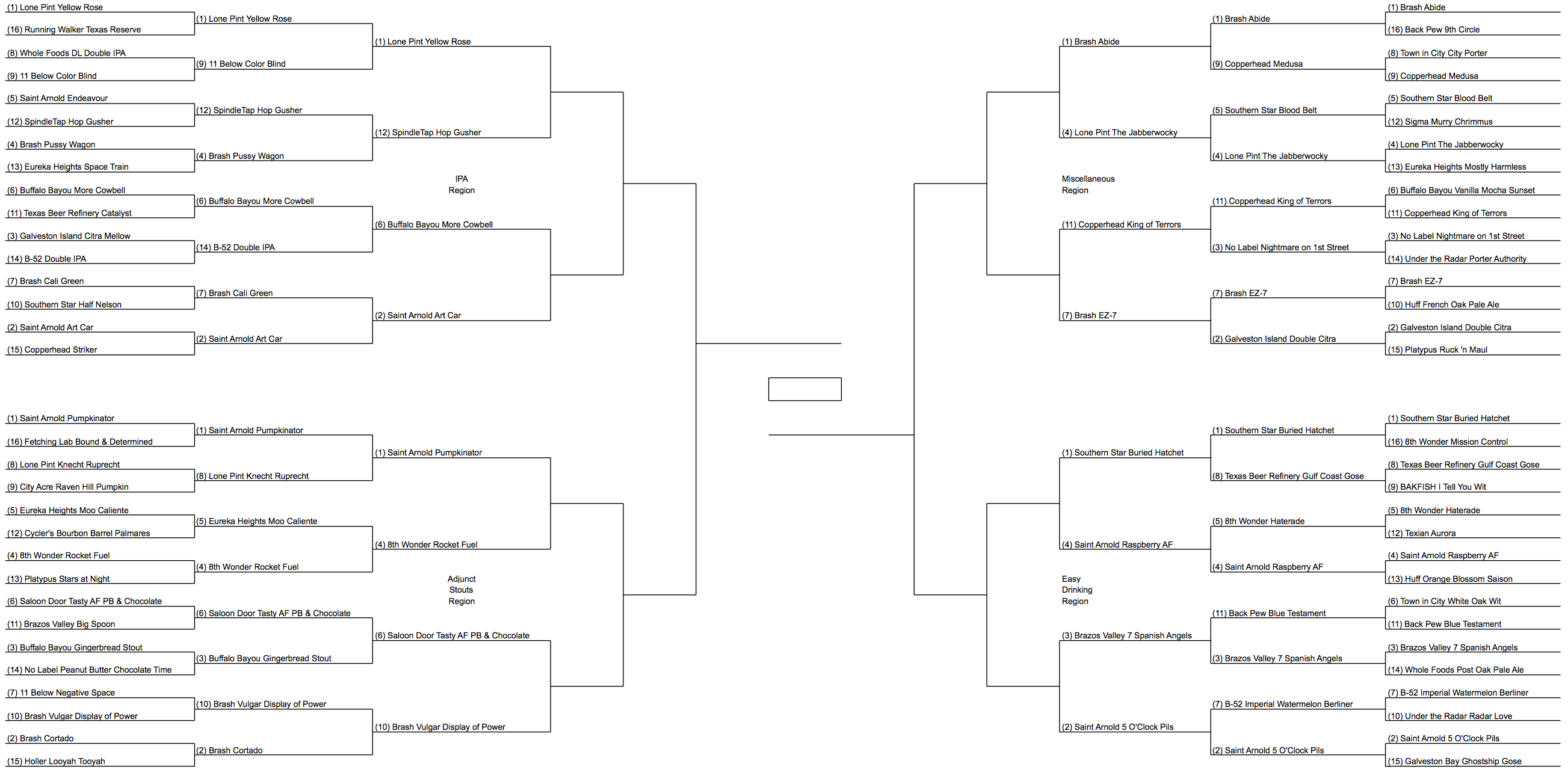 (Click here to for a zoomable version)
Yo that IPA Region is stacked! Mostly Harmless got screwed, though. Pumpkinator vs. Rocket Fuel in the Sweet 16 is gonna be brutal. I've got EZ7 as my Cinderella. Think Yellow Rose can win it all again?
Welcome to the 2017 edition of the Houston Beer Guide Bracket. Last year's bracket was a blast, with some nail-biters, a ballot-stuffing scandal, a handful of upsets, and Lone Pint Yellow Rose ultimately cruising to the title.
We've made some changes compared to last year, when we used weighted Untappd rankings to fill out the field from 1 to 64. This year, we still leaned on ratings, but we also opened up the selection process to the HBG staff, our own version of the NCAA's selection committee. We awarded "automatic bids" to breweries that wouldn't have qualified based solely on rankings. We eliminated one-time releases (no Divine Reserves, Bishop's Barrels, etc.). And we limited the field to independent craft breweries — you know what that means.
Enough with the pregame analysis. Let's get to the #HBGBracket. Voting for the first round ends Monday night, March 20th. The second round will begin Tuesday, March 21st. We'll update results on Facebook and Twitter.
Update #1:
The first round has wrapped up and there were quite a few surprises. 12-seed SpindleTap Hop Gusher took down 5-seed Saint Arnold Endeavour, with a respectable win of 56%. In our far north vs. far south matchup, 14-seed B-52 Double IPA beat 3-seed Galveston Island Citra Mellow. Copperhead King of Terrors managed to eke out a win against Buffalo Bayou Vanilla Mocha Sunset, in a match decided by just 13 votes. In the battle of Clear Lake, Texas Beer Refinery's Gulf Coast Gose held its ground against BAKFISH I Tell You Wit. Unfortunately, Texas Beer Refinery Catalyst wasn't able to repeat last year's Cinderella run. Yellow Rose continued last year's tradition of dominating the competition, knocking out newcomer Running Walker Texas Reserve. Check out the rest of the results at the bottom of the page.
Update #2:
Well that was certainly interesting. The majority of this round went to chalk, with the 1-seeds doing especially well. Dig into the middle of the field a little bit, and you'll see some very surprising results. 12-seed SpindleTap Hop Gusher continued its Cinderella run, leading 4-seed Brash Pussy Wagon the entire round. At the 24-hour mark, Brash Vulgar Display of Power vs Brash Cortado was exactly 50/50, but lower-seeded VDoP eventually won out. 11-seed Copperhead King of Terrors managed another narrow victory, this time over 3-seed No Label Nightmare on 1st Street. There were no upsets in the Easy Drinking region, dashing the chances of a Pilsner head-to-head between Back Pew and Saint Arnold. How will old-standard Buried Hatchet fare against new-hotness Raspberry AF in the next round? Last year's champion, Lone Pint Yellow Rose, faces Cinderella; is there a stunning upset on the horizon? Will King of Terrors be able to sneak past Brash EZ-7 and into the Elite 8? It's all up to you.
Sweet 16: Ends Monday, March 27th @ 7PM
Keep up to date with the results on our social media:

Facebook: HoustonBeerGuide
Twitter: @HoustonBeer
Instagram: @HoustonBeer
Round of 32 Results:
Game 1: Lone Pint v. 11 Below (1,451 Votes)
(1) Yellow Rose – 80.6%
(9) Color Blind – 19.4%
Game 2: SpindleTap v Brash (2,093 Votes)
(12) Hop Gusher – 52.7%
(4) Pussy Wagon – 47.3%
Game 3: Buffalo Bayou v B-52 (1,441 Votes)
(6) More Cowbell – 52.2%
(14) Double IPA – 47.8%
Game 4: Brash v Saint Arnold (1,530 Votes)
(7) Cali Green – 40.1%
(2) Art Car – 59.9%
Game 5: Saint Arnold v Lone Pint (1,427 Votes)
(1) Pumpkinator – 64.1%
(8) Knecht Ruprecht – 35.9%
Game 6: Eureka Heights v 8th Wonder (1,433 Votes)
(5) Moo Caliente – 43.4%
(4) Rocket Fuel – 56.6%
Game 7: Saloon Door v Buffalo Bayou (1,466 Votes)
(6) Tasty AF – 59.0%
(3) Gingerbread Stout – 41.0%
Game 8: Brash v Brash (1,305 Votes)
(10) Vulgar Display of Power – 51.1%
(2) Cortado – 48.9%
Game 9: Brash v Copperhead (1,339 Votes)
(1) Abide – 64.5%
(9) Medusa – 35.5%
Game 10: Southern Star v Lone Pint (1,269 Votes)
(5) Blood Belt – 44.1%
(4) The Jabberwocky – 55.9%
Game 11: Copperhead v No Label (1,244 Votes)
(11) King of Terrors – 51.6%
(3) Nightmare on 1st Street – 48.4%
Game 12: Brash v Galveston Island (1,339 Votes)
(7) EZ-7 – 62.1%
(2) Double Citra – 37.9%
Game 13: Southern Star v Texas Beer Refinery (1,290 Votes)
(1) Buried Hatchet – 73.9%
(8) Gulf Coast Gose – 26.1%
Game 14: 8th Wonder v Saint Arnold (1,292 Votes)
(5) Haterade – 39.8%
(4) Raspberry AF – 60.2%
Game 15: Back Pew v Brazos Valley (1,192 Votes)
(11) Blue Testament – 41.3%
(3) 7 Spanish Angels – 58.7%
Game 16: B-52 v Saint Arnold (1,325 Votes)
(7) Imperial Watermelon Berliner – 39.2%
(2) 5 O'Clock Pils – 60.8%
Round of 64 Results:
Game 1: Lone Pint v Running Walker (995 Votes)
(1) Yellow Rose – 86.0%
(16) Texas Reserve – 14.0%
Game 2: Whole Foods Market v 11 Below (866 Votes)
(8) DL Double IPA – 40.2%
(9) Color Blind – 59.8%
Game 3: Saint Arnold v SpindleTap (1394 Votes)
(5) Endeavour – 44.0%
(12) Hop Gusher – 56.0%
Game 4: Brash v Eureka Heights (942 Votes)
(4) Pussy Wagon – 72.0%
(13) Space Train – 28.0%
Game 5: Buffalo Bayou v Texas Beer Refinery (923 Votes)
(6) More Cowbell – 62.5%
(11) Catalyst – 37.5%
Game 6: Galveston Island v B-52 (907 Votes)
(3) Citra Mellow – 41.3%
(14) Double IPA – 58.7%
Game 7: Brash v Southern Star (907 Votes)
(7) Cali Green – 59.9%
(10) Half Nelson – 40.1%
Game 8: Saint Arnold v Copperhead (987 Votes)
(2) Art Car – 74.0%
(15) Striker – 26.0%
Game 9: Saint Arnold v Fetching Lab (940 Votes)
(1) Pumpkinator – 72.3%
(16) Bound & Determined – 27.7%
Game 10: Lone Pint v City Acre (825 Votes)
(8) Knecht Ruprecht – 64.2%
(9) Raven Hill Pumpkin – 35.8%
Game 11: Eureka Heights v Cycler's (845 Votes)
(5) Moo Caliente – 63.0%
(12) Bourbon Barrel Palmares – 37.0%
Game 12: 8th Wonder v Platypus (897 Votes)
(4) Rocket Fuel – 75.3%
(13) Stars at Night – 24.7%
Game 13: Saloon Door v Brazos Valley (872 Votes)
(6) Tasty AF – 56.2%
(11) Big Spoon – 43.8%
Game 14: Buffalo Bayou v No Label (844 Votes)
(3) Gingerbread Stout – 54.3%
(14) Peanut Butter Chocolate Time – 45.7%
Game 15: 11 Below v Brash (857 Votes)
(7) Negative Space – 39.3%
(10) Vulgar Display of Power – 60.7%
Game 16: Brash v Holler (831 Votes)
(2) Brash Cortado – 72.8%
(15) Looyah Tooyah – 27.2%
Game 17: Brash v Back Pew (815 Votes)
(1) Abide – 66.0%
(16) 9th Circle – 34.0%
Game 18: Town in City v Copperhead (807 Votes)
(8) City Porter – 41.9%
(9) Medusa – 58.1%
Game 19: Southern Star v Sigma (789 Votes)
(5) Blood Belt – 67.6%
(12) Murry Chrimmus – 32.4%
Game 20: Lone Pint v Eureka Heights (819 Votes)
(4) The Jabberwocky – 54.1%
(13) Mostly Harmless – 45.9%
Game 21: Buffalo Bayou v Copperhead (793 Votes)
(6) Vanilla Mocha Sunset – 49.2%
(11) King of Terrors – 50.8%
Game 22: No Label v Under the Radar (760 Votes)
(3) Nightmare on 1st Street – 69.9%
(14) Porter Authority – 30.1%
Game 23: Brash v Huff (792 Votes)
(7) EZ-7 – 75.0%
(10) French Oak Pale Ale – 25.0%
Game 24: Galveston Island v Platypus (743 Votes)
(2) Double Citra – 71.2%
(15) Ruck 'n Maul – 28.8%
Game 25: Southern Star v 8th Wonder (815 Votes)
(1) Buried Hatchet – 73.6%
(16) Mission Control – 26.4%
Game 26: Texas Beer Refinery v BAKFISH (736 Votes)
(8) Gulf Coast Gose – 55.6%
(9) I Tell You Wit – 44.4%
Game 27: 8th Wonder v Texian (740 Votes)
(5) 8th Wonder Haterade – 67.2%
(12) Texian Aurora – 32.8%
Game 28: Saint Arnold v Huff (779 Votes)
(4) Raspberry AF – 72.8%

(13) Orange Blossom Saison – 27.2%
Game 29: Town in City v Back Pew (730 Votes)
(6) White Oak Wit – 37.8%
(11) Blue Testament – 62.2%
Game 30: Brazos Valley v Whole Foods Market (736 Votes)
(3) 7 Spanish Angels – 59.9%
(14) Post Oak Pale Ale – 40.1%
Game 31: B-52 v Under the Radar (733 Votes)
(7) Imperial Watermelon Berliner – 67.7%
(10) Radar Love – 32.3%
Game 32: Saint Arnold v Galveston Bay (812 Votes)
(2) 5 O'Clock Pils – 76.4%
(15) Ghostship Gose – 23.6%