If It's Thursday, Whole Foods Market Has the Best Beer Deal in Town
Whole Foods Market now has what is undoubtedly the best beer deal in town. On Thursdays, every draft beer is $2 after 3PM. Let me repeat that: every draft beer is $2 after 3PM. That's not a typo. I checked. Twice.
Even the fine print is awesome:
This special is valid at every location with a bar in the greater Houston area. (I think that's all of them, but feel free to correct me in the comments.)
This only applies to draft beers served in 8-16 ounce pours. (Again, I think that's the vast majority of the beers they have on tap.)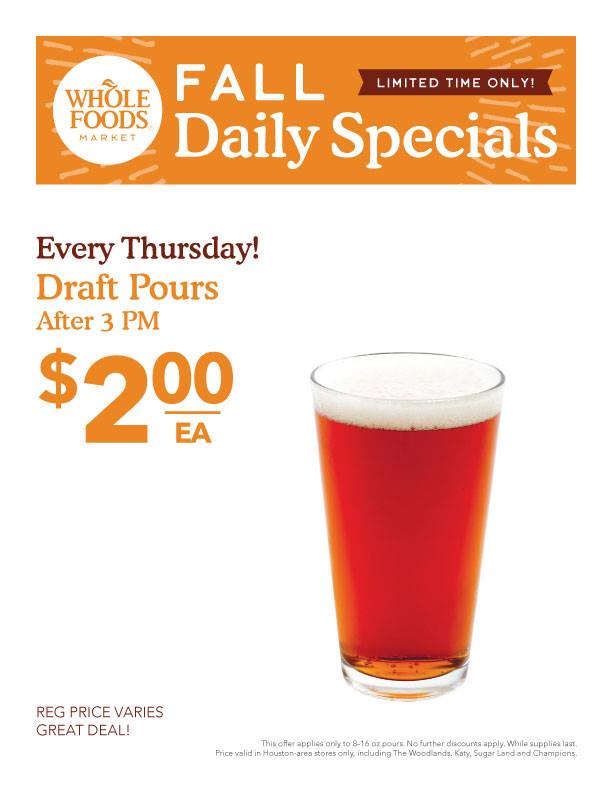 As of the time that I am posting this, I found Whole Foods bars with Karbach Brewing F.U.N. beers, Brash Brewing Abide, various Funkwerks beers (one of my current favorite breweries), 8th Wonder Brewery Instant Classic (one of my favorite new local beers), and 12% ABV Founders Brewing Devil Dancer (if you really want to get your money's worth). If you haven't been to the brewery in the Post Oak location, you no longer have an excuse!
Check out the Tap Hunter links below for semi up-to-date tap lists at each location.
Whole Foods Market Montrose
https://www.taphunter.com/location/whole-foods-market-montrose/6011610797703168
Whole Foods Market Kirby
https://www.taphunter.com/location/whole-foods-market-kirby/5608335833300992
Whole Foods Market Post Oak
https://www.taphunter.com/location/whole-foods-market-post-oak/5816669442146304
Whole Foods Market Bellaire
https://www.taphunter.com/location/whole-foods-market-bellaire/5611821199261696
Whole Foods Market Voss
https://www.taphunter.com/location/whole-foods-market-voss/5260785151377408
Whole Foods Market Wilcrest
https://www.taphunter.com/location/whole-foods-market-wilcrest/6349803686461440
Whole Foods Market Sugar Land
https://www.taphunter.com/location/whole-foods-market-sugar-land/6188749960511488
Whole Foods Market Champions
https://www.taphunter.com/location/whole-foods-market-champions/4851873712439296
Whole Foods Market Katy
https://www.taphunter.com/location/whole-foods-market-katy/5406849322975232
Whole Foods Market the Woodlands
https://www.taphunter.com/location/whole-foods-market-the-woodlands/5224272202039296